Survey by Opinium suggests Nigel Farage would be 20 seats short of a majority, with Conservatives reduced to 26 MPs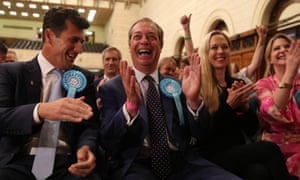 Nigel Farage's Brexit party has surged into first place as voters' favourites, according to a new poll. It is the first time the party has achieved top position in a national poll. The results suggest hundreds of Conservative seats are at risk.
The Brexit party's support increased by two points to 26% of the vote in the latest Opinium poll – for the Observer – which asked people how they would vote in the next Westminster election.