The 100 best nonfiction books of all time: the full list
By Robert McCrum  – The Guardian
After two years of careful reading, moving backwards through time, Robert McCrum has concluded his selection of the 100 greatest nonfiction books. Take a quick look at five centuries of great writing.: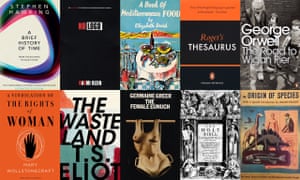 1. The Sixth Extinction by Elizabeth Kolbert (2014) 
An engrossing account of the looming catastrophe caused by ecology's "neighbours from hell" – mankind.
2. The Year of Magical Thinking by Joan Didion (2005)
This steely and devastating examination of the author's grief following the sudden death of her husband changed the nature of writing about bereavement.