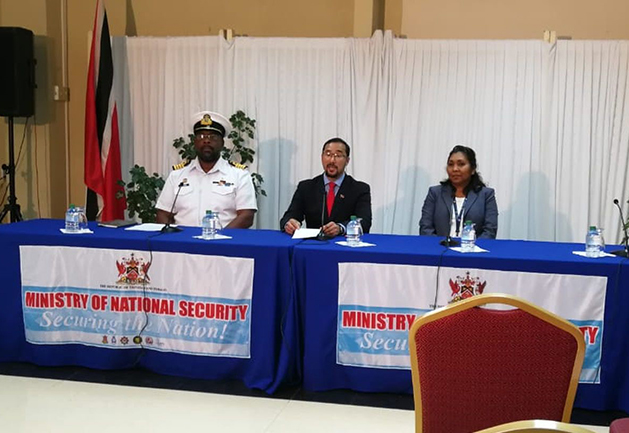 (Trinidad Guardian) Na­tion­al Se­cu­ri­ty Min­is­ter Stu­art Young has an­nounced that from Mon­day, the Gov­ern­ment of Trinidad and To­ba­go will im­ple­ment a visa sys­tem for Venezue­lans wish­ing to come to Trinidad and To­ba­go.
The min­is­ter made the an­nounce­ment at a news con­fer­ence in Port-of-Spain at the end of the Venezue­lan reg­is­tra­tion process.
"From Mon­day morn­ing we will be im­ple­ment­ing visas for Venezue­lans to come to Trinidad and To­ba­go," Young said.           
"The visas will be is­sued by the em­bassy in Cara­cas, Venezuela, and the on­ly Venezue­lans who will be al­lowed to en­ter our le­gal ports of en­try will be those with visas," Young added.
Un­til now, Venezue­lans were free to trav­el to this coun­try on hol­i­day and busi­ness with­out the re­quire­ment of visas, for as long as 90 days.
The min­is­ter says the gov­ern­ment will now be able to de­ter­mine who is al­lowed to come to this coun­try via the visa pol­i­cy.
The min­is­ter said ini­tial fig­ures sug­gest that just over 15,000 per­sons reg­is­tered.
He promised to give a fur­ther up­date on the num­bers, in­clud­ing those of the men, women and chil­dren who were reg­is­tered.
————————-
Anti-migrant protest erupts in Trinidad
(Trinidad Express) On the night before the final day of the Venezuelan migrant registration process, a protest erupted outside the Queens Park Oval in Port of Spain, triggering a police response led by Commissioner Gary Griffith
"Close the borders" the protesters chanted as Griffith met and spoke with several people warning of the danger of demonstrating at night and warning them to stay off the road.
"Call the election" and "Rowley must go" others yelled.
Friday. June 14, 2019 will mark the final day of the two week long registration process that Government has ordered, which will given Venezuelan nationals the right to seek employment on a temporary basis.
The Queens Park Oval is one of three registration centres which have all been overwhelmed by the number of Venezuelans seeking to register.
There have been calls for the registration deadline to be extended but this is being rejected by Government.
There is no accurate count of how many Venezuelans have crossed over into Trinidad, fleeing the economic and political chaos in Venezuela.
Some believe it could number in the tens of thousands.
There has been a backlash from a significant portion of the local population which many condemning Government's policy of allowing in so many Venezuelans.
Some have called for mass arrests and deportations.