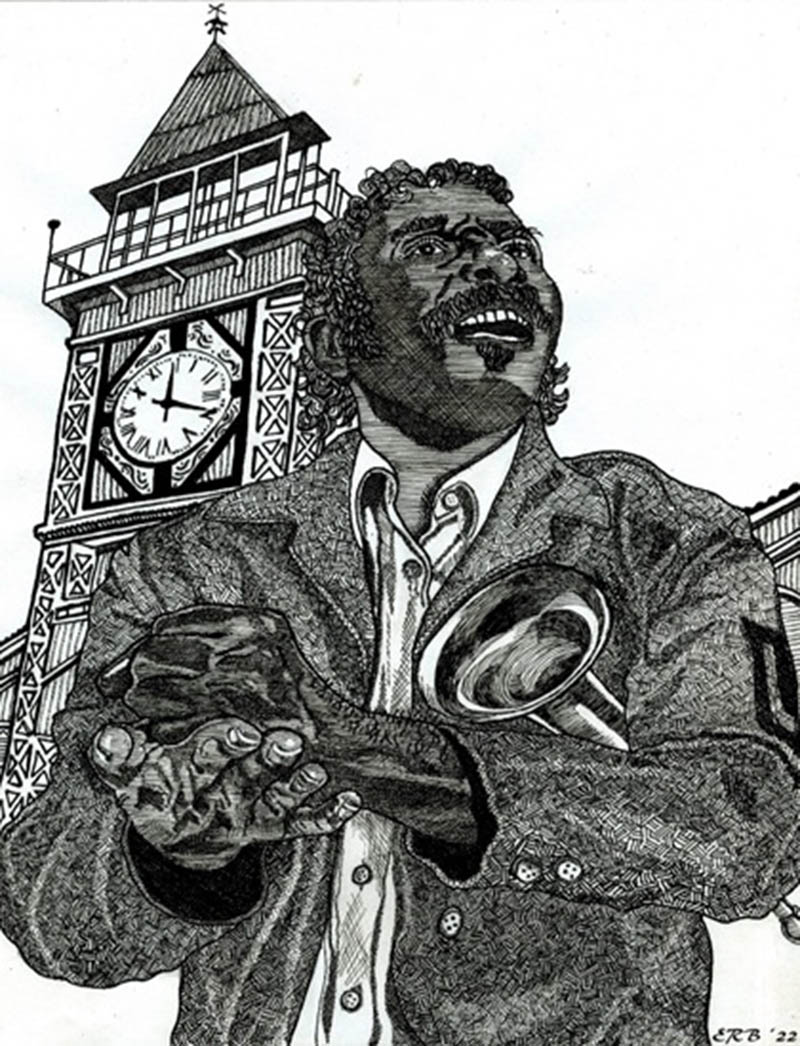 The so called 'Angel Gabriel' riots in British Guiana (Guyana) in 1856 has generally been passed over as another of many local riots in the colony. This in spite of the immensity of its size as a riot, its reception at a global level, its layered origins, and of course the international footprint and character of the riot's main protagonist, John Sayers Orr, whose nom de guerre 'angel Gabriel' stuck as an attractive descriptive. But the radical footprint of Orr is no exaggeration. If he had lived in the present, Orr might have be deemed an intercontinental 'ballistic' missile.
There are only two known published articles on the 1856 riots in Guyana, namely VO Chan's "The Riots of 1856 in British Guiana,"(1970)  and Mark Doyle's  more updated, "The Angel Gabriel in the Tropics: British Guiana 1856" (2016). These and other assessments have focused both on Orr, his apparent aberrant interventions and hold on the masses, and the wider context and undercurrents and conditions prevailing in Guyana that allowed Orr to almost seamlessly intervene.           
ORR AKA THE 'ANGEL GABRIEL'
But who was John Sayers Orr and why was this "angel Gabriel" so charismatic in Guyana in 1856? There are snippets of Orr's life but no full biography. Indeed, Orr's life story tends to be mainly accommodated by his locations in cities across the world, where he consistently interrupted the 'peace.' He was born around 1800 in British Guiana, while his well-positioned white father, John Orr, who had a shared ownership in plantation La Penitence, passed away in 1804. Orr was definitely of 'mixed' descent. His mother was black or 'colored.' According to Edinburgh's Caledonian Mercury, "the Guiana reports noted that Orr was a 'creole' and his mother was 'a respectable coloured woman"(and according to Doyle possibly enslaved). While the British press made no mention of Orr's African descent, he was described elsewhere as "a mulatto, half Scottish and half Negro." One report even claimed that by Orr's own account, "he came from Demerara to Greenock at the age of three with a brother and sister".
Errol Brewster's rendition of Orr, produced especially for this piece, is a triumph of depiction. Here is Orr, anger intact, with the Stabroek Market, site of so many battles, in the background.  He is pounding his fist, bullhorn (from whence he gained the title archangel Gabriel) tucked under his arm. The image is, in essence, a great artistic capture of Orr's likely rage, dress and race.
His mother Mary Ann Orr, in a letter to the black owned Creole after his death in late 1856, highlighted two important dimensions about Orr. The first was the fact, corroborated elsewhere, that he may have detested the soubriquet "angel Gabriel". Orr's mother also let slip, perhaps in an attempt to validate her son's "respectable" status or origins, that Orr's lineage came mainly from the planter class and persons with high level colonial jobs. Interestingly, among Orr's 'sponsors' when he was a young man was Charles Bean of plantation Belle Alliance fame. Bean was the planter at the centre of the repression against the 1834 Essequibo protest of apprenticed labourers led by Damon, another celebrated Guyanese rebel.
Based on his intercontinental arrivals and departures, disturbances and riots in his wake, there is one main unifying chord in the strains of rage that Orr embodied. This was his anti Papist, anti-Catholic obsession. The Glasgow Herald noted Orr spoke "rampant anti-papistical froth and lies". Orr's role in disturbances, linked to anti-Papal and anti-Catholic activities, across continents reads like a travel guide of unrest. His radical footprint reportedly began in London, where he was arrested in 1832. He reappeared in London again in 1848, and then later across the pond in Montreal, Canada. Between 1850 and 1851, protests spawned by Orr occurred in Edinburgh and Greenock (Scotland), and Liverpool. Orr inspired more protests in Boston, New York, Bath (Maine), and Manchester (New Hampshire) in 1854. One report states that in April 1854, "an immense crowd gathered' to hear him on Boston Common, where the police took him into custody to protect him." A "senior policeman" tasked with protecting Boston from Orr described him thusly:
"poor illiterate, half breed Scotchman with more impudence than brains, who with a three-cornered hat and a cockade on his head, and an old brass horn on his head…took advantage of the political excitement then existing, and travelled about the city and suburbs from place to place tooting his horn, collecting crowds in the streets, delivering that he called Political Lectures, and passing round the hat for contributions."
By one estimate, Orr was arrested about 20 times in his international harangues tour and the amalgam of his ideology was evident in his popular refrain in some of the major cities of the world:
 "Scorn be on those who rob us of our rights

Purgatory for popery and the Pope

Freedom to man be he black or white

Rule Britannia!"
Then there was Orr's association with the Know Nothing Party in the USA (which at its height had about 43 representatives in Congress) and known for its rare combination of xenophobia of things Catholic and immigrant and a general anti-slavery position.
With all these associations and influences, Doyle aptly describes Orr's ideology as a "unique blend of egalitarianism, anti-Catholicism, and British imperialism."
Orr's altercations in cities did not end. Before his dramatic and fateful return to Guyana in December 1855, he was again in the news in Greenock for disturbances. It took only about two months before Orr made his presence felt in his original homeland.
The colonial press, local and global, the governor and his spokespersons, even modern interpretations of the 1856 riots, tend to focus on Orr as a "magic mulatto" who at one sweep inflamed the black masses. But this angle denies agency to African Guyanese at the time. As far as the reports were concerned, the Guyanese blacks were unhinged, especially when led by women, "part of the rabble," and that destruction was in their DNA. These racist and sexist effusions permeated the print of the colonial press throughout and after 1856. It would be repeated in the 1889 'cent bread' riot.
In early 1856, Orr began to speak near the Stabroek market square, where his experience as a native son and his international notoriety appeared to coalesce. At first he appealed to the Governor, Phillip Wodehouse, for "protection." Wodehouse told Orr that he was entitled to ordinary protection, as long as he remained peaceful. Shortly thereafter, according to the Governor's later Despatches to the Secretary of State for the Colonies, Orr began "walking about the town, carrying a flag, wearing a badge, and blowing a horn at the corners of the streets followed by small groups of the rabble of the place." In Wodehouse's barely coded language, 'rabble' was a reference to members of the black population. Not long after Orr had delivered a few harangues against the Portuguese, the Catholic Church and merged his anti Papist messages with the conditions in the colony, the colonial state began to take notice and monitor Orr's activities.
According to the state supporting Royal Gazette, Orr took it to a new level on February 10th when he "mounted the town pump, in front Stabroek Market, armed with a dagger and life preserver, and addressed a large crowd of persons in a most inflammatory manner. The evidence of one policeman calculated the crowd to be upward of a thousand people. Orr reportedly accused the Portuguese of coming to Guiana to drive poor creoles out of business." For his "seditious language" on that occasion, and for convening an unlawful assembly, Orr was arrested and committed to stand trial before the Supreme Court.
The Creole in November 1856 noted that after he was arrested, Orr's "supporters subscribed a large sum of money to retain the services of an eminent counsel."
This was the moment everything came to a head. Orr's jailing after his astronomical 500 pounds bail was the 'spark' factor for his supporters. He was eventually convicted of holding an unlawful assembly, libel, and exciting a riot and was sentenced to three years in prison.
The list of issues simmering in Guyana, especially for the black population, was wide ranging, including high taxes; the unequal treatment of African Guyanese and Portuguese Guyanese before the courts; the cholera epidemic (and measles and dysentery) compounding general problems; drought and specific issues like restrictions on the village movement; the treatment of black female prisoners including the use of foot and stocks punishment formerly used under slavery; and criticism of funds paid towards Indian immigration; and of course important for the principal targets of the rioting, the feelings of black retail customers that some Portuguese shopkeepers were routinely cheating them in over the counter purchases.
Governor Wodehouse's racist and sexist statements about the black population also fueled the fires. And with good reason. Wodehouse was infamous for his uncluttered racism and sexism, calling women arrested during the riots "the most vicious and savage class of the community."
THE RIOTS
The outline of the riots are stark and involved all three counties. The anti-Portuguese violence, directed mostly at shops was widespread and destructive. One report stated that "Creoles, sometimes accompanied by East Indians and African immigrants, broke the windows and door of shops, consumed or dumped barrels of liquor… and that women and children were especially prominent in the raids." In many instances, houses were burnt and/or ransacked and property stolen.
The riots against Portuguese businesses and citizens swept across the country, and attacks occurred against the Portuguese and other victims in many towns and cities apart from Georgetown, including Mocha, Rome, Supply, Nismes, Best, Friendship, Buxton, Mahaicony, LBI, Belladrum, Mahaica, Diamond, Hopetown, Ann's Grove, and Canal No 1. Some villages were spared for unknown reasons. But in Georgetown, the worse rioting occurred in Charlestown.
In the course of suppressing the rioting, the governor requested help from other British colonies because he did not trust black policemen, deeming them "unreliable." By the time the riots began to wane 6 days after Orr was detained, "200 Barbadian troops" were entrenched in the colony. There was even assistance from Dutch and French "ships of war," inclusive of the Dutch ship Curacao, which took part in the "suppression of the riots." Doyle asserts that the French assistance may have stemmed from solidarity arising out of the French-English alliance in the active Crimean War.
During, and in the aftermath of the riots several ordinances were proclaimed by Governor Wodehouse including one that warned: "any person who shall assault another not of the same race as himself, destroy property, throw stones or other missiles, or who shall carry arms or weapons in the streets, or make use of language calculated to provoke a breach of the peace, shall be liable on conviction to a fine of $100, or imprisonment for any period not exceeding six months, or to be punished by flogging not exceeding 39 lashes."
Unsurprisingly, the governor's Despatches also accused an African-Guyanese Mutual Aid Society of "having accumulated a fund for the purpose of establishing a trading association, the result of which together with the influence of the man Orr, was the destruction of the Portuguese property." The governor never brought evidence to support this allegation, nor did he ever institute charges against any member of the organisation.
These stringent measures in the wake of the riots worsened the conditions of the working people and the unemployed, and especially the African Guyanese population. One of the most discussed issues in the Creole, which Paloma Mohamed, in a study (2011) described as an extremely popular newspaper with the coloured and blacks in the colony, was the poll tax instituted by the governor after the riots as reparations (worth $250,000) for the Portuguese. This tax, described as a "cruel and oppressive enactment," created enormous hardship for the black population. The Creole would go on to deem Wodehouse's reign as governor as "the most disastrous that the colony had ever endured." Pointedly, Doyle's piece recalls that on leaving the colony for a short visit abroad in 1857, Wodehouse achieved "the dubious distinction of being 'the only Governor ever to be stoned in British Guiana." He and his party were jeered by a "crowd of some two or three thousand strong gathered at the wharf to throw stones, plantain stalks, and offal at the governor's party, striking Mrs Wodehouse on the forehead, slicing open the ear of the chief justice, and wounding a bishop."
For his part, Orr, as Doyle speculates, must have spent his sentence in prison "quarrying granite by day and attending (perhaps leading) evangelical chapel services in the evening."  In 1887, a letter writer named Leetor, a former inmate of the Mazaruni prison, affirms that Orr died in 1856, claiming the famed agitator was the only convict whose bones were interred there. He listed the headstone as containing the following inscription:- "Convict No. 323: John Sayers Orr, died 27th November, 1856, aged 55 while undergoing Penal servitude for originating the riot of 1856."