Guyana Chronicle –  March 16, 2022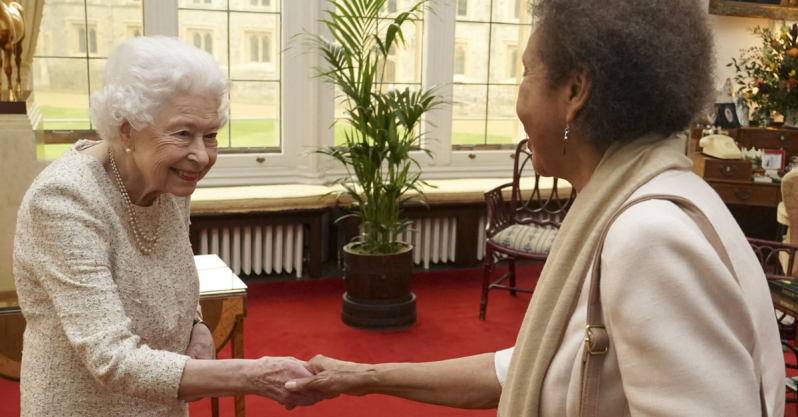 GUYANA-BORN poet, Grace Nichols was honoured today by Queen Elizabeth II as she was presented with the Queen's Gold Medal for Poetry 2021 at Windsor Castle in the United Kingdom.
.
According to the the royal website in December 2021 when the award was first announced: "The Gold Medal for Poetry was established by King George V in 1933 at the suggestion of the then Poet Laureate, John Masefield, and is awarded for excellence in poetry.       
.
"Each year's recipient is from the United Kingdom or a Commonwealth Realm. The Poetry Medal Committee unanimously recommended Grace Nichols as this year's recipient on the basis of her body of work, in particular her first collection of poetry I Is a Long-Memoried Woman (1983), prose and several books for younger readers."
.
The release also said Nichols moved to Britain at the age of 27.  "Her first collection of poetry I Is a Long-Memoried Woman (1983) won the Commonwealth Poetry Prize."
—
Biography – Grace Nichols – British Council
Grace Nichols was born in Georgetown, Guyana, in 1950 and grew up in a small country village on the Guyanese coast.
She moved to the city with her family when she was eight, an experience central to her first novel, Whole of a Morning Sky (1986), set in 1960s Guyana in the middle of the country's struggle for independence.
She worked as a teacher and journalist and, as part of a Diploma in Communications at the University of Guyana, spent time in some of the most remote areas of Guyana, a period that influenced her writings and initiated a strong interest in Guyanese folk tales, Amerindian myths and the South American civilisations of the Aztec and Inca. She has lived in the UK since 1977.