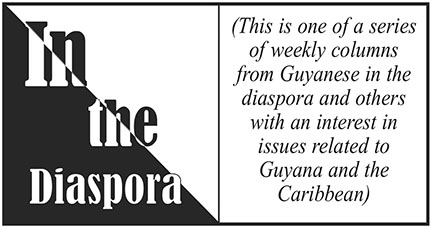 Red Thread's members are primarily grassroots women, who live daily with various forms of economic and social insecurity. Despite this, over three decades, we have built an organisation that advocates and organises with women, beginning with grassroots women, to cross divides  and transform our conditions.  Red Thread runs the Cora Belle and Clotil Walcott Self-Help Drop In Centre, which provides support for and advocates with survivors of domestic violence as well as low wage workers (https://redthreadguyana.org/)
Everywhere you turn you read about oil. How much better off Guyana and Guyanese will be. But most Guyanese are not seeing these benefits. Most Guyanese are catching hell to make ends meet while the oil companies – the beneficiaries of a disgraceful and lopsided production sharing agreement negotiated by the coalition government and upheld by the present administration – are laughing all the way to the bank.             
What does all this mean for the average Guyanese household?
According to a 2020 report by the Inter-American Development Bank, (Review of Financial Development and Inclusion for Guyana: Assessment and Options for Reform), 41.2% of Guyanese live on less than US$5.50 per day. With an estimated population of  780,000 people in Guyana, this translates to approximately 321,000 persons living on a total of US$1.77 million per day.
Let us compare this to the daily earnings by Exxon-Mobil (XOM) from the Liza-1 field. Daily oil production from Liza Destiny is estimated at 120,000 barrels/day. The market price of Liza oil is tied to global light sweet crude (North Brent) = USD 50/barrel for most of 2021, but the price is currently up to USD 80/barrel.  The daily income from Liza Destiny = 120,000 boe x USD 80/barrel = USD 9.6 million = GYD 1200 million.  Through 'profit oil', Guyana recovers  14.5 per cent, with XOM keeping 85.5 per cent, which amounts to US$8,208,000 per day.
In other words, XOM makes 4.6 times (USD 8,208,000/1.77 million) the amount that 41% of Guyanese live on per day!
To get a sense of how households are faring as they go about the everyday business of survival, Red Thread has begun to collect information on how people are coping – from pensioners on fixed incomes to rural folk with a small kitchen garden to urban residents.  First of all, it is clear to people who have to watch every last cent that they spend that prices are going up, putting many things out of reach and requiring new levels of rationing. In the last month alone, grassroots women have reported the following price increases: All prices in Guyana dollars app G$200 = $1 US.
One five kg bag of soap powder,  – from $1400 to $2100

One tub of margarine – from $2900 to $3300

One fifty pound bag of flour – from $3700 to $4400
A small bottle of Oil – from $340-$380 to $680

5L bottle of oil – from $2000 to $2500

Bread – from $300 to $400
These increases are not nearly matched by what households are earning. This week, as we approach Christmas, we share the budget, income information and meal plan of a household of two adults and a six-year-old child. One adult works as a security guard and earns $70,000.00/month (USD$350), which is higher than the legal minimum wage (and the same as the public sector minimum wage. According to an April Kaieteur News article, the national minimum wage is some G$44,200 or USD$221). The other adult is a nursing student and receives a stipend of $15,000/month (USD$75). The monthly income of this three-person household is $85,000.00 or USD$14 a day.
This household last shopped on December 5th. We share their grocery basket, which has now lasted for two weeks and counting; as of December 19th this household has not shopped again as the security guard does not get paid until December 20. They are unable to afford to buy fruit but received some mangoes from a friend in the last week.  They rarely purchase fresh meat or fish. Fortunately, they have been invited to the home of a friend on December 25th, as they have no extras to spend for the holidays.
Below is a description of meals that were prepared over the course of four days for the two adults and one six-year-old child from this household grocery list (for example, the one ounce of cheese has been stretched over three meals for three persons):
DAY ONE:
Breakfast: Bread and cheese
Lunch: Ochro and sausage and some dhal
Dinner: Bread and Cheese
DAY TWO:
Breakfast: Fried up some rice with onions and butter
Lunch: Ital Pakchoy
Dinner: Toast bread and tea (no milk)
DAY THREE:
Breakfast: Bread, eggs and tea (no milk)
Lunch: One order of Chinese food, divided among three persons – $1000.00
Dinner: Toast bread and drink
DAY FOUR:
Breakfast: One pack crix biscuits and some cheese
Lunch: Pumpkin with rice
Dinner: One pack crix biscuits and cheese
We do not need the nutritionists to tell us what is lacking in this food menu. This is the face of poverty. According to this grocery list, this household is spending a minimum of $77,440.00 a month on food, utilities, rent (USD$387.20). In fact as they tell us their costs are far more – for example this list does not include things like soap powder, toothpaste, there is no budget whatsoever for clothes.  Now that school is out, the six-year-old is left alone from 7 am – 3 pm as they cannot afford childcare and have no one to leave the child with (the workplace of the security guard is ten minutes away, so there is some checking on the child during the day before the nursing student returns home). This is a household with one working adult and another in school. They have no wiggle room and tell us that at the end of the month they have to make decisions about whether to pay rent or put some money down on the light bill or buy food.  (See more details in list below)
This is what the holiday season looks like in oil rich Guyana, behind the bright lights of Main Street lit up to celebrate Christmas when so many of households are going hungry. Let us be clear. It is the oil companies which have been given the most handsome handouts and which are raking in the profits while most Guyanese are living a hand to mouth existence. This is disgraceful. We do not need government handouts but what we are entitled to, a different set of priorities which puts the needs of ordinary Guyanese first, that recognises all of the work, waged and unwaged that we do to keep our families, our communities, the country going.
…
PRICE LIST OF SOME PRODUCTS AND EXPENSES