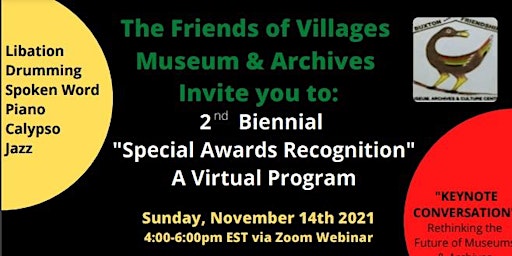 Sunday, November 14, 2021 4:00 PM (EST)
This event will be hosted online. Log in and check the event page for instructions to join.
Sign in with the account you used to register for this event, or purchase a ticket to attend at this link
EVENT DETAILS: Special Awards Recognition – Awardees Listed below: 
On November 14th, 2021 from 4 pm to 6 pm, The Friends of Villages Museum and Archives Inc." in the USA will be holding its "Second Biennial Special Awards Recognition" Virtual function.
Our Program is designed for your entertainment and education, with music, performers, and cultural presentations. Be part of history in supporting our Museum.
RETHINKING THE FUTURE OF MUSEUMS AND ARCHIVES
" A Key Note Conversation"
.
SPECIAL AWARDEES:
Eusi Kwayana – Humanitarian award.
Cyril Bryan – Trail Blazer of online Caribbean & International news service.
Deon Abrams – Community Activist.
Mrs. Evadney Talbot – Mother of the "Matriarchal Ark". ( Longevity Award).
Elaine Huntley- Mother of the African Ark.  (Posthumous)
MISSION OF BFMACC:- ( BUXTON/ FRIENDSHIP MUSEUM – ARCHIVES & CULTURE CENTER (BFMACC)), "To promote a greater understanding and provide opportunities aimed at rekindling the ancestral fortitude which can promote resilient entrepreneurial contributions in molding the socio-economic fabric of the villages and nation of Guyana."
Additional donations are welcome to support our Mission and goals for sustainability along with hiring a Museum Administrator in 2022.
Your generous donations will help us do that.
TOGETHER WE CAN DO GREAT THINGS.
SUPPORT OUR HISTORY