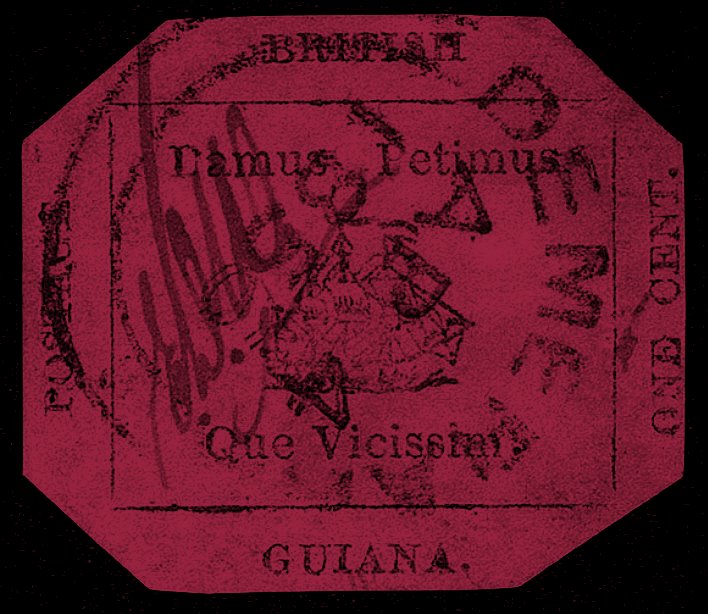 The stamp was sold by shoe designer and collector Stuart Weitzman The designer had bought it in 2014 for US$9.5 million and continued a tradition started by previous owners by adding his own flourish – a line drawing of a stiletto shoe and his initials – to the back of the stamp.       
The buyer of the stamp wished to remain anonymous, Sotheby's said.
In addition, Reuters said that a plate block of the 24 cent Inverted Jenny stamp, which was issued in 1918 for the first U.S. air mail letters, sold for $4.9 million. It is the most valuable U.S. stamp.
The Inverted Jenny, which was last sold at auction some 26 years ago for $2.9 million, is a collector's item because of a printing error in which its biplane design appears upside down.
— ******** —-
A recent Stabroek News editorial on the One Cent Black on Magenta stamp follows:
The One Cent Black on Magenta
(Published on May 14, 2021)
It would perhaps surprise younger Guyanese to know that the heritage item originating from this country that is most internationally famous is a tiny, octagonal piece of paper which the majority of them would have tossed in the rubbish had they encountered it in the course of their daily activities. Since the new generation spends much of its time with social media, WhatsApp and emails, the notion of a stamp must seem a rather alien concept, representing as it does a throwback to a bygone era when snail mail was all the rage. But in the specialised universe of philatelists there is a stamp which commands attention from all collectors without exception as well as from every serious media house on the planet. It is the rarest stamp in the world, and it comes from Guyana.
It is called the One Cent Black on Magenta, and its unprepossessing appearance notwithstanding, according to the Guardian it is expected to fetch anything up to US$15 million when it goes to auction on June 8th in New York. Its rarity is a consequence of the fact that it is the only one of its kind, and given the climatic conditions in this country and our casual approach to preservation, it is perhaps something of a miracle that it survived at all. To give some comparative idea of its value, perhaps, the online edition of the newspaper included a photograph of someone reading Shakespeare's First Folio, representing an original copy of his collected works from 1623 which sold in 2020 for US$9.97 million. Only six complete copies of this are known to exist, and it is the most expensive work of printed literature ever sold at auction.
As for the stamp, it is magenta in colour, is not perforated or gummed, and according to the 'bible' of British Guiana stamp history by Townsend and Howe, was printed in 1856 on a hand press by Baum and Dallas, the printers and publishers of the Official Gazette. The main design is that of a three-masted ship with the words 'Damus Petimus' above it and 'Que Vicissim' beneath it. It also carries the words 'British Guiana' and its denomination, 'One Cent'. (Damus Petimus Que Vicissim was the motto of British Guiana, and was a quotation from the Roman poet Horace, meaning, 'We give and we ask in return.') Stamps in the then British Guiana were normally imported from the metropolis, but for a time in 1856 there seems to have been a hiatus in supplies, and so the authorities resorted to printing locally.
It is no doubt difficult for citizens here to conceptualise just how much excitement the occasional appearance of the Magenta generates, but according to the Guardian "the stamp is something of a Holy Grail." It quoted David Beech, a philatelic expert who saw the stamp at an exhibition in Brussels in 1972: "You viewed the thing inside a small safe and there was a queue of people. It was a bit like seeing the crown jewels, you had about five seconds to peer into this dark safe." The Magenta has been sold at auction four times, and on each occasion it has secured a record price for a stamp.
Townsend and Howe relate the story of how the stamp was discovered, quoting an A D Ferguson, a leading philatelist in the then colony, who provided an account in the British Guiana Philatelic Journal (yes, Guyana once had its own philatelic journal). It was a 12-year-old schoolboy named Vernon Vaughan who started collecting stamps in 1872 who first came across it on a letter sheet the following year when searching through family papers for stamps. It seems he was not impressed by it, but nevertheless put it in his stamp album all the same. Subsequently, he decided to take a stamp out of the album to sell, and picked out the Magenta as the one he cared least about.
He offered it to N R McKinnon, a known collector, who initially was not interested, but then had second thoughts, and offered him six shillings, which he told the boy was a risk. Even in those days, six shillings was not an impressive sum. There are slightly different versions of what happened to it immediately thereafter, Ferguson saying that McKinnon kept it for ten years, and then sold it in London for £25, following which it was displayed at some exhibitions until it was bought for an undisclosed amount by Count Philipp La Rénotière von Ferrary of Paris. According to the Guardian this man "devoted his life to philately and amassed the greatest and most comprehensive collection of stamps in history." A different version has McKinnon holding it only until 1878, when it was sold to someone called Ridpath, who sold it on to Ferrary the same year. The first part of the latter's name notwithstanding, he was in fact German, and he left his collection to Germany when he died in 1917.
Thereafter, the Guardian takes up the question of ownership, relating that France seized the collection from Berlin in 1920 and sold it at auction. The proceeds from the sale were deducted from the amount Germany owed in war reparations to the allies. The newspaper described how the world greatest collectors sent representatives to the auction in 1922, which was won by the industrialist Arthur Hind, who made a fortune in the US manufacturing upholstery fabrics.
Later owners included an Australian engineer named Frederick T Small, while in 1980 an anonymous bidder bought the stamp for US$935,000. The Guardian says the purchaser turned out to be the millionaire John de Pont, who was convicted of murdering the wrestler Dave Schultz and later died in prison. The present owner is shoe designer Stuart Weitzmann.
Inevitably, perhaps, since this was the only one of its kind, there were accusations last century that the stamp was a fake if not an outright forgery, but this was eventually debunked after the Magenta was submitted to an expert committee in 1937. According to Townsend and Howe, in the course of its investigations the committee retained a photographic expert, Colonel Mansfield, who had often testified as an expert witness in court cases where documents were alleged to have been altered. He had no doubt that the Magenta had not been subject to any alterations.
And as for the rarity of the stamp, it is thought that this was a consequence of the fact that it was used for newspapers of the period, which were invariably disposed of after having been read. Townsend and Howe do raise one small query, however, and that is that Vaughan stated many years later that he had removed it from a letter sheet, not a newspaper, and they wonder if his memory was at fault. They do record nevertheless, that he retained his interest in stamps to the end of his days, and was prominent in the British Guiana Philatelic Society. He died in 1949.
Citizens here are probably wondering why a stamp being auctioned in New York should be of any concern here. After all, although it is from Guyana they probably think that it is not of Guyana, more especially since it is unlikely it will fall into the hands of any Guyanese multi-millionaire philatelist any time soon; after all that is a genus which belongs in a world of fantasy. For all of that the Magenta does represent a tiny example of this country's heritage, even although it escaped these shores many moons ago.
In fact, one is probably justified in claiming that it survived precisely because it escaped these shores many moons ago. Had it remained here it would have been eaten by bookworm, have crumbled into dust or been actively destroyed. We have had a very cavalier approach to our material heritage, both large and small, over the centuries, and modern governments have shown no inclination to remedy that failing.
Anything associated with paper particularly has a short lifespan here, and for some reason successive administrations have shown no embarrassment that if it were not for foreigners and foreign archives, we would not be able to piece together a very coherent account of our history. Does anyone in this country have a copy of the British Guiana Philatelic Journal for example? Does any local library? If it still exists anywhere the most likely place is maybe the British Library in London.
We have been little better where the built heritage is concerned, destroying so many of the structures which have given our urban areas in particular their character. And since our governments appear blessed with no imagination, our spaces are being filled with edifices which have no link to our unique building traditions, or to the local people who created them dating back to slavery times, and who then proceeded to enhance their style during the indentureship period. From the Cheddi Jagan airport to Mahaica, we might as well be living in small-town, mid-West America.
So perhaps we should look at what the Guardian calls "the most valuable object in the world" in terms of its "size, weight and material", not with detached eyes, but with a certain respect, since whatever its peregrinations around the world of millionaires, it is still a part of our heritage. Let it serve to remind us as to what we should be doing in terms of heritage preservation and conservation so we will have a link to our past in all its aspects, and will be able to make it meaningful. Every nation has a heritage, and we have a duty to look after ours.