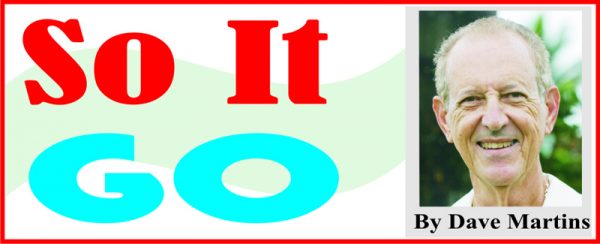 Coming back here to live some eleven years ago, I began writing a regular column for Stabroek News. Going through that file today, it struck me that the first column in that series is an interesting read today for the observations it contained, so here it is – the first SO IT GO:
Sense of humour has always been at play in my life and my work and so some of the columns in this series will be in that vein, but if you take  down to fundamentals I am basically an observer – that's where I start out; be careful what you say about me because I'm always paying attention – and the columns will reflect that.       
I hope that some of what I bring will be informative, and some entertaining, and some even stimulating. The best media expression, in fact, is the kind that stirs discussion, or other views, because that is how meaningful exchange takes place and early in the day it appears to me that meaningful exchange is often very lacking in Guyana – once you get out of the minibuses that is. Sometimes I will deal with the music scene, and my experiences there over the years, and on what's happening today, because I know there is interest in that. However, I'm deeply interested in this country and its people and our culture, particularly our culture, because that's who we are, and there will be much chat in that area.
At the outset, it will become obvious that I am generally a West Demerara country boy.  I was born there and grew up there, came to town only for school, and worked at Timehri (then Atkinson Field) until I migrated, so I really don't know Georgetown at all.  Telling me you're living on Laluni Street tells me nothing. In fact, most of what I know about Georgetown comes from my frequent visits here over the years since 1968 when Tradewinds became popular, and following my return here to live. Apart from Jerry Goveia (the Banks DIH Jerry), whom I knew at Atkinson, most of the Georgetown people I know now is a result of those musical visits and various social things I would be invited to. I don't go to a lot of such events – I'm also basically a shy person – but on the occasions when I went I learned a bit about Georgetown, and became exposed to things.
About 30 years ago, for instance, with the Tradewinds band at its peak, I ended up in a social gathering at the house of then PM, Hamilton Green in Georgetown, and the evening was memorable for me for two reasons: one was the collection of very stern-looking plain-clothes security people, quietly but obviously there – those dudes looked like they didn't play – and the second was the striking collection of massive Guyanese wood carvings adorning the place.
Understand, these were not small African masks or wooden heads of the kind you see in the craft outlets.  These were huge works, some of them as much as 4 feet across, carved from a single piece of wood and depicting a variety of shapes and concepts.  I had never seen such work before. It was like a slap in the face. Apart from the sheer beauty of these local woods – samaan, mahogany, etc. – the artistry in the carvings, some of them by Gary Thomas, was obvious. The styles of the carvers, and the designs of the works, were original and distinctive. They looked like no other carvings I had seen, and there was a particular Guyanese connection for me there. I found myself walking around the pieces and gaping at them. Going back to my time as a boy in Guyana, I had never seen such things. It was a revelation.
I was living in Grand Cayman at the time, but in the course of visits to Guyana over the next couple of years, I bought a samaan carving and a mahogany one from Gary, only to discover that getting them to Cayman, in one piece, was not an easy task.  However, a few months later, after I had written the musical Raise Up for the Guyana Commemoration Commission, on the occasion of the 150th anniversary of full Emancipation, good fortune arrived in the person of Ron Robinson, who had directed the play, and was now bringing it to Cayman for three performances.
I don't know what obeah Ron and Gem [Madhoo-Nascimento] performed, but they were able to get the airline people to agree to include these carvings with the baggage of the actors; no mean feat, that.  Remember, we're talking here about two backside-size pieces of wood, one of them about 5 feet high, each weighing close to 100 pounds, and, in their carved state, somewhat susceptible to damage.  I don't recall how they were packed – more obeah from Ron and Gem, probably – but the carvings arrived unblemished and were proudly displayed in my house in Cayman for many years, complementing the greenheart floors; they were a constant joy to me and my family.
Fast forward now to April 2009, with me a divorced man, returning to live in Guyana, and high on the list of items I wanted to bring was the Gary Thomas samaan carving, but here I was faced again with the transportation problem. With no access to obeah, I ended up recruiting a carpenter to build a six-foot-high box out of 5/8" plywood – it looked like something a fridge would come in – wrapped the carving in a big plastic tarp, stuffed some styrofoam around it,  secured the cover with 40-something screws, and shipped it to Guyana via Amerijet in Miami.
To cut a long story short, back in Guyana I eventually got my returning-home boxes cleared and had the fridge box delivered to my yard.  Travelling with Tradewinds over the years, I know what can happen to your trappings when the cargo handlers get hold of them, so I opened the box with some trepidation, but the samaan bird (it looks like a bird to me) was exactly as it was 30 years earlier when it had travelled north from GT.
The carving is now in the house where I live and every day, literally, I notice it, but it was only after several days, with the samaan "bird" standing tall in its new home, that the sentiment of the whole transaction hit me: a piece of Guyana, transformed by a Guyanese into art, acquired by another Guyanese and sent abroad, had come, three decades later, some 1,500 miles, back to its original home.
As I write this, I still have the carvings.  Indeed the samaan bird is near me in the living room downstairs. Sometimes, in life, things go full circle. Thank you, Gary Thomas, and Ron and Gem.