Honorary President and founder at Comité Bastille, a Think Tank on Tax Reform. (2006–present)
There are many reasons, but all of them were the consequence of three basic reasons without which England could have become a bigger Denmark, a respectable European nation but nothing else:
England is on an island of the right size, right climate and fertile soil to become home of a significant population. Japan is in a similar situation, but with the handicap of earthquakes. Both went through many wars and problems before they got united but they did it.      
This island had colossal reserves of coal, shale and pit, plus iron ore, offering the possibility of a massive industrial development built on low cost energy and on cast iron and steel. The steam engine was first designed as a pump in coal mines. Railways first were used in these mines to carry ore. Serious competition began after 1850 only, and mainly from Germany at first.
A series of kings and later heads of state had the intelligence of establishing constitutional laws encouraging free thought, free speech, free enterprise, free trade, and private property, including patent laws meaning intellectual property. Then, of establishing the most powerful navy on earth. And then, of using it not to England's selfish advantage but to establish freedom of the seas to the benefit of all, therefore of free trade, therefore of England first. In a nutshell, the English people were excellent at taking an innovative advantage of the natural heritages they owed to nature. Isambard Brunel, born a French royalist, carried alone a huge part of the undertaking. The British Empire was the consequence but history proved that this was going too far…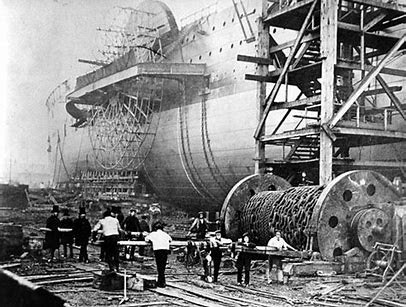 Isambard Brunel's Great Eastern, a testimony that the English people were once formidable engineers and manufacturers.
All the rest were consequences of the above. But I might add this: The British weather is temperate, but rather rainy and foggy. The British, thanks to 1, 2 and 3, were the first to grow an educated middle class. This weather encouraged them to stay more often home, by the fire, reading and writing, than other people. Women took an early advantage of it. A very rich literature resulted of it, increasing for other people the attraction to learn English… how could one explain such a constellation as Aphra Benn, Fanny Burney, Jane Austen, Virginia Woolf, Daphne du Maurier, the Bronte sisters, George Elliot… and later Agatha Christie and Joanne K. Rowling… an endless list ?
No, not Patricia Highsmith: She was Texan…
All this went down as a consequence of financialization which originated in the UK. See http://comitebastille.org/the-case-for-taxing-wealth-instead-of-income-and-earnings/
Why Did Britain Succeed?
Many debaters here rightfully state that Britain wasn't the only one to build an empire and exploit and sometimes loot others, to build railways and ships, to undertake research and develop technologies, etc., etc.
The question was: why did it succeed so well, to the extent, for instance, that the worlds of media, communications, science, law, standards, politics, trade, etc., speak and write English today? Even in the huge Asia? And not Italian (who first built the Roman Empire), Spanish, Portuguese ( they were the first European nation in building an empire) French (population in 1800 was 25 million against Britain's 10), German…?
My answer is: because of 1. and 2., and because of the politics, enterprises, and strategy stated in 3. which took advantage so well of 1. and 2. Without them you could be as smart as you wanted, you didn't have a chance.
What I wanted to suggest is: it's no use to eternally rehash the past. Only note that all the great English-British leaders of the past (say, since Henry VII reunited England and subsidized ship building) did something right at first: look at the facts instead of the myths, using your brains and reason instead of your emotions, define a strategy and then stay the course.
Boris Johnson says he has a strategy: build Singapore on Thames to be the first, and leader, of some seventy tax havens on the planet. At first look it might make sense. But will it federate the British people the way they were several times in the past? Or will it simply widen the gap between the Corporation of the City of London and the people in Newcastle, Birmingham and York?