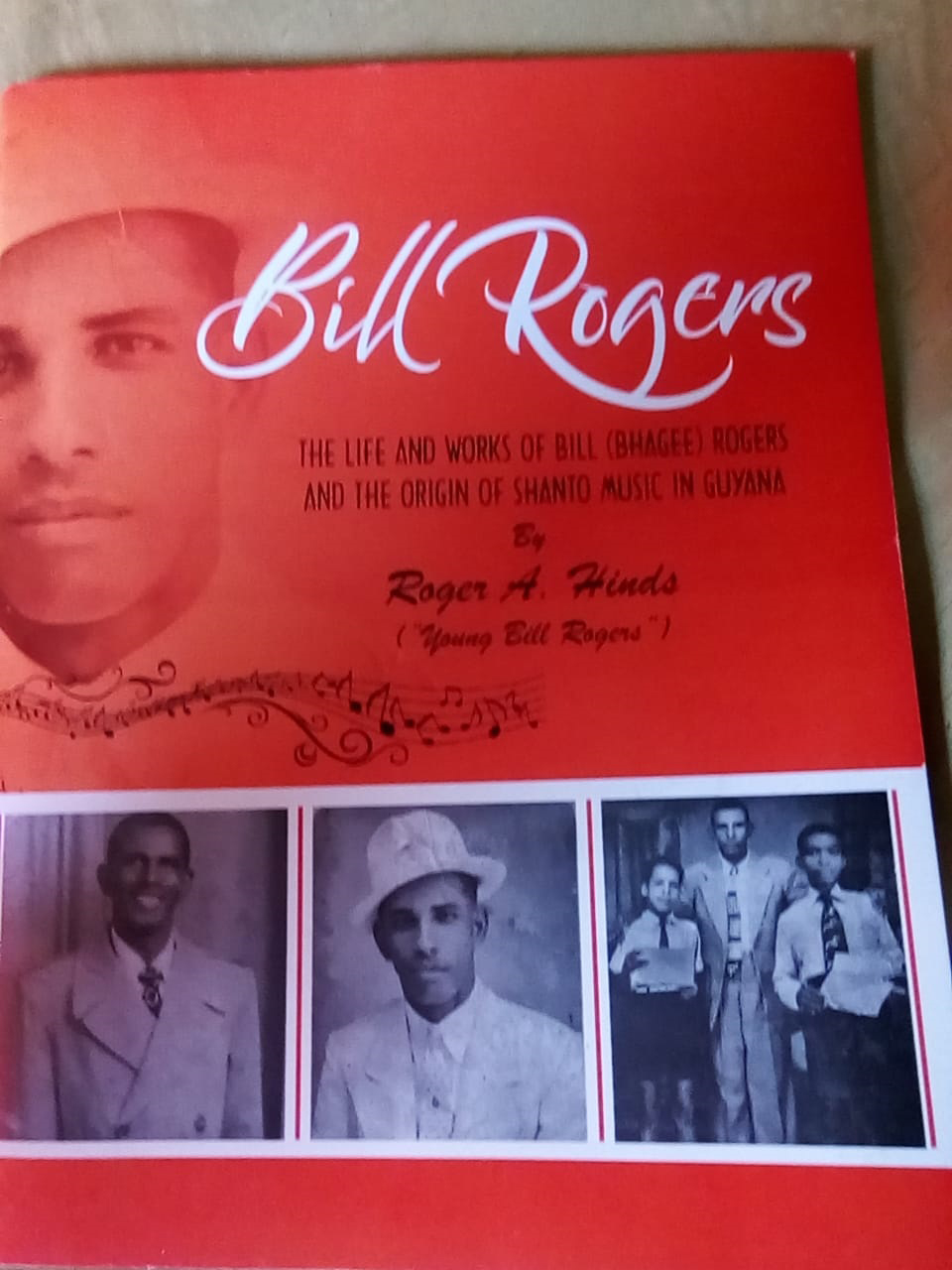 Bill Rogers is still a household name here so many decades after he was active in show business, musical recordings and popular entertainment in Guyana, the Caribbean, the USA and the UK. This speaks very eloquently to the impact and immortality of his songs, which are still played on the public airwaves. They are still remembered and even mouthed by many, some of whom were not even born yet when Rogers was performing. He remains a legend in Guyanese culture.
Dave Martins' "Not A Blade of Grass" is the Guyanese nation's unofficial second national anthem. If we assert that Rogers' "West Indian Weed Woman" or "The Weed Song" is not far behind in that category, it confirms that either of these songs is not only the work of a genius, but has earned its place in history and possesses the quality that make it stand out memorably above other popular songs that are characteristically ephemeral. ( See Music videos below)                 
 BOOK – Now reprinted and in circulation
Today, however, there is another reason to revisit the memory of Bill Rogers and reevaluate his indelible contribution to Guyanese society. A book about his life and work has just been reprinted and is now on sale and in circulation. It is titled Bill Rogers: The Life and Works of Bill (Bhagee) Rogers and the Origin of Shanto Music in Guyana. It was written by his son Roger A Hinds, a popular Guyanese calypsonian who goes by the name Young Bill Rogers. It was first published in 2008 by the Carifesta Secretariat in Georgetown at the time of the hosting of the Tenth Festival in Guyana. It was reprinted by the Department of Social Cohesion, Culture, Youth and Sport in 2020.
The author/biographer is well known in calypso circles and has the distinction of being crowned Calypso Monarch as well as winning the Chutney Monarchy at Mashramani. He was twice the winner of each – the Calypso in 2008 and 2012, and the Chutney in 2013 and 2015. He has represented Guyana in the International Chutney competition in Trinidad, and also at Carifesta.  Quite unsurprisingly, when there were short-lived attempts to revive the moribund Shanto music through national competitions, Hinds also captured the Shanto King title. Indeed, the Young Bill Rogers acknowledges learning at the feet of his father, who tutored him in music and stage performance.
Bill Rogers (September 2, 1906 – November 29, 1984), whose real name was Augustus Hinds, was born in Ketley Street, Charlestown, British Guiana (BG), of poor parentage. He was the last son in a family of ten children. His mother, Mary Hinds, was a housewife of Portuguese descent, while his father, James Hinds, was a stevedore of African descent on the Georgetown waterfront. He was a precocious talent and started performing as a boy, becoming an independent professional as early as 1919. He received drama training at the All Stars Club on Russell Street.
Everyone knew him as a calypsonian or shanto singer, but his activities and achievements were much wider than that. This publication by his son documents most of them but is characterised by a curtness of style in the narrative and is often wanting in some detail and completeness. In most cases there is much more to tell.
Rogers' career flourished during an age when popular entertainment in the Caribbean was perhaps more varied, but certainly much stronger and more viable for professionals than it is today. That is certainly the case for Guyana. There was much more of a lively, colourful and sustaining industry. Vaudeville reigned as the leading activity in show business, managed largely among lower-income communities and classes. There were variety shows always held in cinema houses, so that the same place where the working class went to see the Hollywood movies, they would go to see calypsonians, popular dancers, singers, string bands, steel bands, magicians/conjurors, comedians and other treats on stage.
Rogers was an impresario, who produced a variety of vaudeville shows at the heights of his career stretching from the 1920s to the 1960s. He linked up with Trinidad, where he often went to perform, and brought in several overseas performers for shows and competitions in such cinema houses as the Gaiety and the Globe Theatre in New Amsterdam, as well as the Metro, Capitol Theatre, the Olympic Cinema and the Roxy, although the handbills reproduced by Hinds do not specify if it was the Roxy in Trinidad or in British Guiana. Shows were also held in various halls and in Thomas Lands (then known as Plantation Thomas.)
What is mentioned in this book is borne out by other sources, such as the publication Calypso from France To Trinidad by The Roaring Lion, who recorded elements of the Trinidad-BG connection. Rogers had a thriving partnership with Trinidadians, many of whom performed in his shows in Guyana, such as leading calypsonians like Roaring Lion, King Radio, Lord Beginner, Attila De Hun, Lord Caresser and the Growling Tiger, among others. Surely there is nothing even vaguely resembling that kind of traffic on the popular stage or lively variety entertainment in Guyana today. The vaudeville era went out with Sam Chase and Jack Melo, Habeeb Khan, Rogers and other impresarios like Cyril Shaw and Vivian Lee.
The biography is highly indebted to the very scrupulous records Rogers kept. The files he compiled contain copies of fliers, handbills and several documents which are a researcher's dream. One could follow his career through these records, as Hinds obviously did, even though he also benefited from inside knowledge as a family member and student of the great man. At one point in the biography, Hinds mentions how Rogers' works were plagiarised by others, including the highly celebrated Harry Belafonte. The biographer comments, "These early experiences with plagiarism made Bill Rogers aware of the importance of copyrighting his materials in his own name and he was quick to sue anyone who violated his copyright".
There are two things worth noting here. First, while this might have played a part in Rogers deciding to keep such valuable records close, it might have helped to kill off Shanto as a national musical form. Researcher Ian Robertson suggests that Rogers was so meticulous in copyrighting his material that he copyrighted not only his lyrics, but Shanto music itself, so that no other composer could produce a Shanto without violating Rogers' copyright. Robertson cites Frank Pilgrim as the source of that disclosure.
Secondly, while Hinds mentions "early experiences with plagiarism", these infringements could not have taken place before the 1950s, and by that time Rogers' career was no longer "early".  This can very well mean Rogers was in the habit of saving and filing everything he did since the 1930s. Robertson also tells the story of negotiations led by himself and Deputy University of Guyana Librarian Joel Benjamin for the university to purchase Bill Rogers' papers. Robertson marvelled at the scrupulous, careful and thorough filing done by the Shantonian. The negotiations fell through.
Shanto itself, has been identified as one of Rogers' greatest contributions to Guyanese culture.  Hinds quotes critic Gordon Rohlehr who identifies Shanto and its great value in Caribbean music, comparing it with the calypso form. It is a folk form like the calypso, but has its own identity, including form and rhythm, which causes it to have extremely long lines, twice as long as any calypso. Apart from quoting Rohlehr, Hinds gives a definition of the Shanto, but credits Bill Rogers with its creation. "In 1949 Bill Rogers thought that 'shanto' would be a good local name. It was based on the older term 'shanties' which was used to describe songs on local topics and local folk songs. So the term Shanto was born…"
Bill Rogers: The Life and Works of Bill (Bhagee) Rogers and the Origin of Santo Music in Guyana includes several original photographs from the impresario's file. These are priceless. The book manages to cover all areas of the performer's life, including his trips to the USA and the UK. He was a pioneer in the recording of songs in big studios overseas and was the first Guyanese to do so. It details the songs recorded but is not very helpful with the dates of these songs. The book as a whole, needed more close editing than it was afforded.
But it is glossy with an attractive appearance. It offers valuable archival material and is of interest to researchers and those eager to learn about one of Guyana's cultural legends. All those who remember Augustus 'Bill Rogers' Hinds for his Shanto songs, will now get to know him much better, and learn of the contributions he made to Guyana's popular culture during the great era of the vaudeville in the Caribbean. This will be new knowledge for most readers.
Source: Stabroek News – By Al Creighton – 
*********************************************************
Old Shanto Calypsos: B.G. Bhaji; The Weed Song;; Jimmy Black Pudding and Souse – By Bill Rogers
Real Old Guyana Calypso – Bill Rogers
Here are three really vintage Guyanese calypso recordings by Bill Rogers (Real name Augustus Hinds), a very popular Guyanese singer from the 1930's and 1940's. This type of music was called "Shanto". Have a listen and a laugh at the lyrics as they scroll down as the music is played.   Enjoy!!
B.G. BHAJI
B.G.(which stood for British Guiana in Bill Rogers' time) was probably his most popular song. It was re-made by other artistes and was also used in commercial jingles.
WEED SONG
Old time Guyanese Shanto Song from the 1930's sung by Bill Rogers. It's about a woman selling medicinal plants
JIMMY BLACK PUDDING AND SOUSE 
As one comment said: "Love this old song, as it brings back memories of Hunt`s cook up served late night at Bourda Market green and also Nut- Channa man at Camp Street by the jail".