By Tamica Garnett –  November 21, 2020 – Guyana Chronicle
– Roy Beepat lauds 'phenomenal' business climate
OWNER of the Giftland Mall Roy Beepat on Friday announced that plans are afoot to build a 12-storey, 400-room, multibillion-dollar Radisson Blu Hotel next to the Giftland Mall.
The Radisson Blu is one of seven distinctive hotel brands under the US-headquartered Radisson Hotel Group, one of the largest and most dynamic hotel groups in the world, with over 1,100 hotels in destinations globally.         
The investment, Beepat said, is expected to be somewhere in the vicinity of US$80 – 100 million, and the building is set to be situated on a section of the Giftland Mall's current parking lot.
"We have three acres on the car park; that's about 130,000 square feet. We're only going to use 90,000 square feet of that, but we're going up 12 floors, which would give us over one million square feet in space," Beepat explained of the grand plans for the Hotel.
He added: "Four floors will be hotels with 100 rooms each. We'll also have 200 apartments and rooms for things such as banqueting, conferencing, and business floors with business services. We're hoping to bring five fast casual restaurants, such as Red Lobster, Olive Garden, Banana Breeze."
PHENOMENAL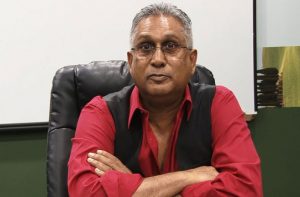 Describing the business environment as "phenomenal", Beepat said there is no time like the present to get involved in major investments in Guyana.
"There's nobody in business who I've spoken to who isn't overjoyed with the direction the country is going," Beepat said, adding:
"The Giftland Group will continue to expand on different areas and avenues, which were previously looked at but weren't feasible at the time, but now is, due to the upcoming demand, and the change in the economic climate. We're so optimistic, and we understand that there is going to be need for more hotel rooms, so we had our application for a 400-room Radisson Blu five-star hotel that will be going up in the next few years."
Beepat also commended the Government for playing its part in fostering an encouraging business environment, especially for local investors, as they, too, try to get in on the pie.
"We have a Government that understands business, and they're doing everything within their power to make sure it flows. The fact, that they've put an ease on so much taxes makes it easier for consumers to spend. So the environment is filled with optimism," Beepat said.
All forecasts have been predicting massive growth in Guyana's economy over the next few years, due to the country's recent but abundant oil and gas industry, for which production began last year. Guyana, with its new-found oil wealth, is on the cusp of economic transformation, and has already received the title of "investment capital of the region and possibly the world".
Several investors have particularly been focused on the hotel industry.
The Government had recently put out Expressions of Interest (EOIs)and requests for proposals for investors to build hotels in Guyana. The aim, as outlined by the President, Dr. Irfaan Ali, is to provide at least 2,000 first-class rooms, making Guyana "a conventional destination".
Aside from the Radisson brand, some of the key players in the hotel industry, like the Hyatt Hotels Corporation, and the Hilton Hotels and Resorts, are said to have already submitted EoIs to the Government of Guyana.
MAJOR OVERHAUL
Beepat noted that aside from this newest project by the Giftland Group, plans are also in the works for a major overhaul of the Giftland Department Stores, and the expansion of Giftland's FoodMaxx Supermarket brand.
"The Foodmaxx Supermarket, we plan to make that the Number One supermarket in the Caribbean by next year. Right now, we have been gaining tremendous market share; most of our customers say it's a phenomenal experience," Beepat said.
This year, amidst closed doors and a severe decline in business, due to the COVID-19 pandemic, the Giftland Mall celebrated its fifth anniversary since opening at its Liliendaal, East Coast Demerara location.
Though there was not much of a celebration due to that situation, Beepat noted that the year does mark a turning point for the business, and has paved a clearer path for expansion and development.
"For the first five years, we suffered because the cost of building the Mall had its effects on our goods and services. But we're now past that, so we're looking to be the old Giftland, like we were on Water Street, where anything you can imagine you can get here," Beepat said.
"In terms of Giftland Stores, we want a complete re-do. The stores have been there five years, so we're going to completely refurbish it, and bring it into a more modern unit, and increase our product line," he added.
As pertains to challenges during the COVID-19 pandemic, Beepat said the hardest for him was having to put staff on the breadline, as the business navigated the pandemic. However, things are now turning towards a brighter future.
"I think we all faced challenges, and having our staff on the breadline. We tried as much as  could to keep as many as possible employed, and we have been able to bring all of our staff back on. That was our biggest challenge," Beepat said.