– Badal confident of full occupancy by December next year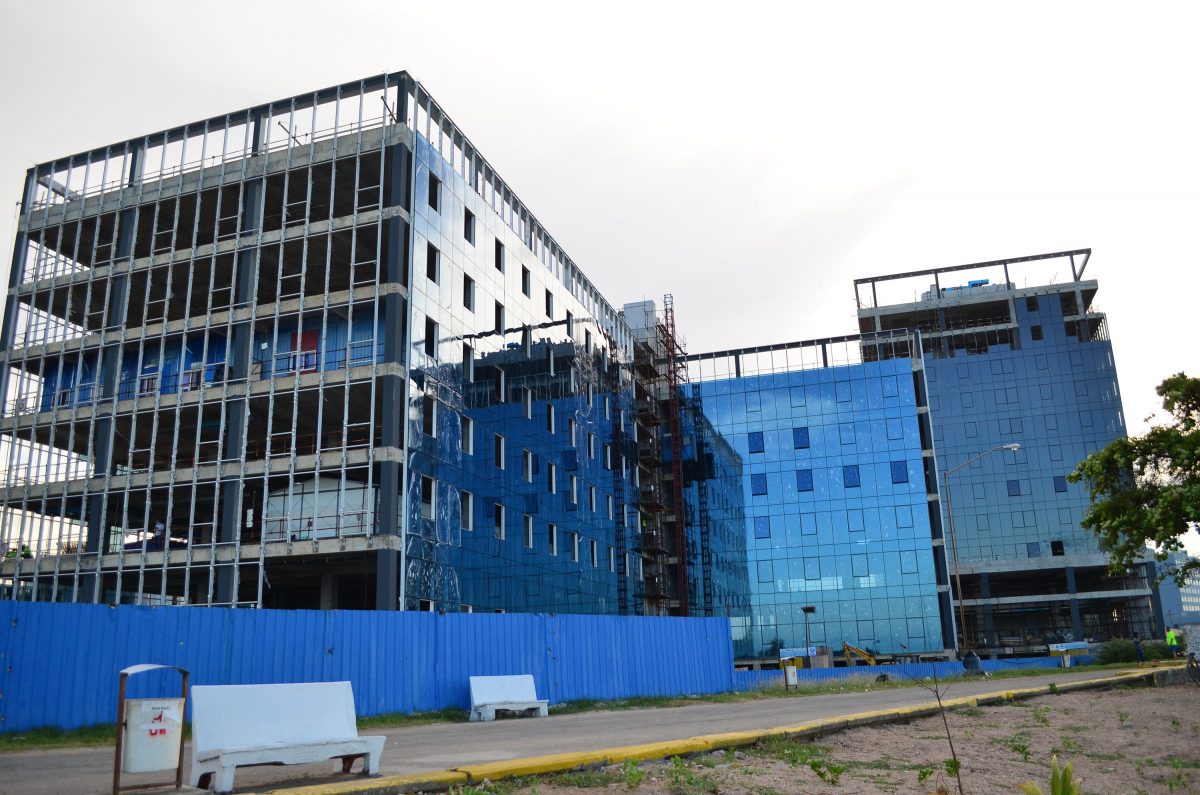 The  COVID-19 pandemic has deferred the opening of the US$100M Pegasus Hotel expansion projects from December of this year to May of 2021 but hotelier  Robert Badal is confident that the entity "will hold its own" and be the inspiration needed for local investors.
"I would say it has been delayed by about six months. Now we are scheduled to complete by May 2021 and I am optimistic that we will have full occupancy by December of next year," he added.     
"COVID has significantly affected works on (the) Pegasus Suites and Corporate Centre project," Badal told Stabroek News in an interview. He explained that during the March to August period of lockdown, works had to be first halted and then limited because of technical personnel being out of the country.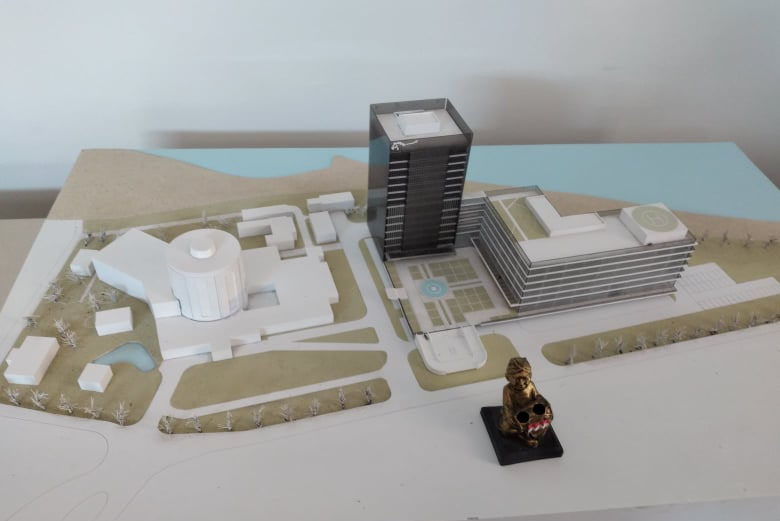 Badal's vision for the remodeling of the area he owns near his iconic Kingston hotel is a seven-storey, state-of-the-art corporate office complex adjacent to a fifteen-storey tower offering luxury residential accommodation.  These buildings will be accommodated on the eastern part of the property. It has been described as the largest investment here by a Guyanese.
Badal has said that the entire complex will offer the most innovative, mixed-use facilities on par with any first world facility of the same nature.  It will also be complemented by the food and entertainment facilities currently offered by the Pegasus Hotel.
Facilitated through financing by Republic Bank, the project is being undertaken by China Harbour Engineering Company. The facilities will also be equipped with the latest building management systems and a curtain wall providing floor to ceiling views of the Atlantic Ocean and the city of Georgetown's skyline.
And beginning a transition towards green energy, an initiative which he firmly advocates and believes in, Badal said that the facility will have on top of the roof a 30,000 square feet solar panel system to power it.
On Friday,  he informed that about 90 percent of the structural work has been completed and it was the technical aspects to be done.
"All the raw construction is completed and a lot of the infrastructure on the ground; our sewerage, our water system, the car parking area those are 80%. All the raw construction is near completion. What remains is the technical aspect; the plumbing, the electrical, the HVAC, fire optic layout for internet for broadband, our ceiling flooring, elevators… those are the things that remain to be done," he explained.
Workers have returned to the over 300,000 square feet buildings and will continue to work under the current guidelines and restrictions.
And because the recent elections stalemate coincided with the COVID-19 lockdown here, Badal said that the impact wasn't as hard on the project expansion as it was on the Pegasus Hotel, which saw a 90% decline in business during the five-month period.
But as the country opens up and there is a  boom in the oil and gas sector, he said that interest has restarted in occupancy for the two buildings.
Footprint
"I have seen more interest and as we expand our footprint in the oil and gas landscape here in Guyana,  I think more and more people will require this facility and I have no doubt in my mind that by 2021 we will achieve full occupancy. Any political problems or obstacles then will affect that; in that if people don't come to invest it will affect the occupancy," he reasoned.
He says that as he sees new-found interest by the international business community and multinational corporations here he feels that the "the business landscape needs to adjust to a higher level of business activity" to meet those standards and needs.
"No point we have a (flood) of investors and because of bureaucracy, low capacity of roads and ports and so forth they get frustrated and leave. A gradual return of business  is what we need and as we adjust to a higher place, we can get to that. We have already seen with the last budget; with building materials (having VAT) removed and the new President [PPP/C's Irfaan Ali] making  it clear he wants a very investor friendly environment and has developmental plans, that we are moving in that direction. So I think we are on the right trajectory," he said.
Badal, who contested the March 2nd  elections but didn't win a seat in parliament,  echoed similar positions to those earlier this year when the then APNU+AFC government had rushed, days before the elections, to sign off on deals for new hotels here with foreign investors at Ogle. He said that he is not intimidated by competition as long as there is a level playing field.
Then, he had told this newspaper that he felt "The local private sector is discriminated against. We are treated as aliens when it comes to investment opportunities by governments. It is the same policy that the PPP/C had and the APNU+AFC is doing the same."
He had said that he believes that a local conglomerate of investors could have undertaken the same projects if they were given the support extended by government to the Ogle investors. He said that he does not believe that government has confidence in its people and it is a shame to see.
Competed favourably
On Friday, he reiterated that with new hotels coming, they must not be given preferential treatment.
"My contention was that Marriott must put its money to build its own hotel. That taxpayers' money must not be put on hotels. What this country has seen is locally owned hotels competing very favourably with international brands. We have competed favourably and it is not a level playing field (as)  international brands can come and be treated better than what is offered to local hotels. We can't subsidize the strengthening of the Marriott brand. Six years now they (have been)  opened and haven't yet paid any taxes whereas Pegasus has paid so much taxes. Before the elections also, these new hotels were turning the sod, they never had building permission, never had financing, never had (Environmental Protection Agency)  permits, nothing and yet the former (finance) minister was turning the sod. Discrimination against local Guyanese," he said.
"The other brands are coming but I am not threatened. I am never threatened because competition brings out the best of us and we even support each other. I am never threatened by new entrants to the market I serve. Once they have their money I am happy they are making an investment," he added.
The Pegasus, according to Badal, has a great advantage as not only have locals been the pillar behind its stellar services but that it serves as motivation and inspiration for aspiring entrepreneurs and brings national pride.
"We have an advantage and our advantage is our staff, my business experience, my hard work, my critical thinking, in addition to the good name that the Pegasus has built over the years and the loyalty of locals. Pegasus has held its own since we started in 1969. It went through so many owners; international flags and it ended up being locally owned. I could have given it to an international flag but then what is left for Guyanese? When our youngsters graduate from the University of Guyana and see only foreign brands, what kind of model are we exposing them to? What are we doing to them, teaching them, exposing them to, when we don't develop our own capacity? Pegasus is a local pride and it is in the interest of everybody that we keep the Pegasus as a local brand," he said.
"I can give it up and go somewhere and live off of the profits. But the sense of pride that I get knowing that I am a custodian of Guyanese hospitality, that was built and strengthened by Guyanese and what Guyanese feel proud about is what grounds me. That is how you get a national label. We have few national labels: Banks DIH and Eldorado brands. Pegasus will be that number one  local hotel brand. It is part of our need to diversify our business, to  increase capacity but also to put my footprint on something I have built myself and leave a legacy. Youngsters coming up will look up and say 'this is the best building we have seen and it was built by Guyanese for Guyanese and can sustain the community'. They can say this long after I am gone. Pegasus did that before me and I want to do the same," he added.
He said that he trusts that as with Guyanese spreading the word of their local brand, foreigners will come to experience it and will also share with their counterparts and his business will grow from strength to strength.
For now, he hopes that COVID-19 rates will fall and be subsequently eliminated, even as he forges ahead with his project.
"The project will finish in May and we are working diligently to meet that target and hopefully … we can create more jobs make more people happy. For now, we take it one day at a time," he said.