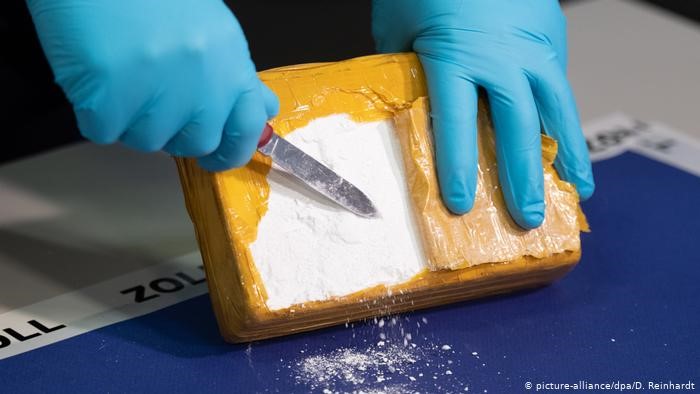 Authorities in the German port city of Hamburg have found over €300 million worth of cocaine in a cargo shi p container from Guyana containing rice.
According to Deutsche Welle,  Hamburg authorities discovered 1.5 tons of cocaine in a freight container, one of the largest quantities ever seized in the northern German port city, a spokesperson for the Customs Investigations Office said on August 10, 2020..
Rice from this country has been used on several occasions to conceal cocaine.  Some rice exporters from this country have previously been implicated in such shipments.   
The massive haul, which has an estimated street value of around €300 million (US$353 million), was hidden between sacks of rice in the container which came from Guyana, local newspaper Hamburger Abendblatt said.
"The 1.5 tons of cocaine seized may be a highly pure drug, which would be tripled in price for street sales," the Hamburger Abendblatt quoted an official as saying.
The container had arrived in Hamburg's port at the end of June on the 300-meter-long container ship, "CMA CGM Jean Gabriel."
The container was to be loaded onto a feeder ship together with 11 other transport containers and then ultimately carry the cargo to Poland. As a result, the container was temporarily stored at the Hamburg terminal.
Investigators at the Joint Customs and Police Investigation Group (JIT) had reportedly received a tip-off about drug smuggling, Deutsche Welle said.
The container in question was then taken to the city's Waltershof customs office and examined in a testing facility. Officers found 47 large packages hidden between the rice sacks and within those packages, a total of 1,277 small parcels with cocaine, the report said.
The parcels all had various symbols on them, including a cat's face, the Gallic rooster, and the Ampelmännchen (red and green traffic light symbols shown on pedestrian signals in Germany). Several hundred of the packages were marked with the same logo.
Authorities presumed the cocaine was to be distributed from Poland to bulk buyers all over Europe who would then sell the drugs to street dealers.
A variety of commodities from this country have been used to conceal cocaine including timber and pepper sauce.
——————
Germany's Cocaine-in-rice bust: Guyana's anti-drug agency launches investigation
Demerara Waves – August 11, 2020         
Deputy Head of Guyana's Customs Anti-Narcotics Unit, Lesley Ramlall on Tuesday said local drug agents have launched a major investigation into Germany's bust of 1.5 tons of cocaine  in a consignment of rice that German authorities said originated in Guyana.
Mr. Ramlall said he has already asked the Guyana Revenue Authority (GRA) for records of all rice shipments to Europe over the last  six  months.
CANU, he said, is also in contact with German law enforcement agents and the United Nations Office on Drugs and Crime's (UNODC) Container Programme to ascertain the number of the shipping container, considered a major piece of information to determine whether the drugs and rice originated from Guyana's shores.
"We don't know the container, The container speaks a lot because that will go right back to the shipper," Mr. Ramlall told News-Talk Radio Guyana 103.1 FM/ Demerara Waves Online News. He said such information would aid Guyanese investigators in determining whether the drugs was placed in the container in another country.
He said CANU has so far not questioned anyone because that would amount to a "ghost hunt" without any information.
The Head of CANU said he was already in contact with his counterparts in Germany.
The container had arrived in Hamburg's port at the end of June on the 300-meter-long container ship, "CMA CGM Jean Gabriel."
German authorities said they discovered the  1.5 tons of cocaine, worth more than US$300 million, stashed in a shipment of rice believed to have originated from Guyana. The cocaine was en route to Poland.