On paper, New Jersey native Nadia Jagessar seems to have it all. She is beautiful, amiable and financially independent. She also has a close, supportive family system. However, it is that system that appears to put her at a disadvantage in the new Netflix documentary series "Indian Matchmaking," which ushers us into the messy, unfiltered world of Indian arranged marriages. 
.
Nadia, 32, who was born and raised in America is different from the other Indian "clients" featured in the series because she is not only an Indian American, she is also Indo-Guyanese. Jagessar, an Event Planner, openly admits that it has been difficult to date Indian men in America because of their prejudice against her Indo-Guyanese background.     
.
Nadia's story is a familiar one. The business owner has tried conventional dating, dating apps and even having her family and friends set her up. But her proud Guyanese culture is perceived as a stigma in the eyes of the Indian men she was going on dates with. After being single for the past six years, she decides to engage the help of a professional matchmaker.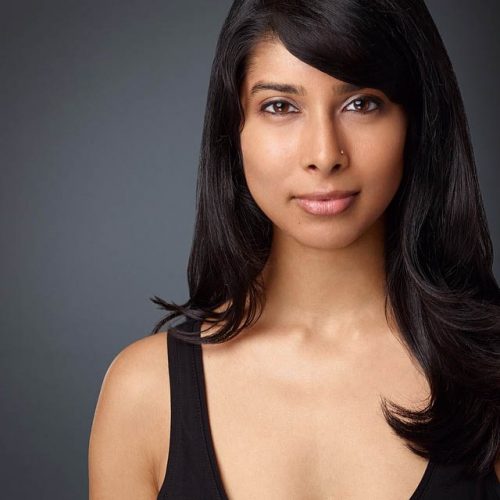 Enter Sima Taparia. She boldly describes herself as the best matchmaker in India. Sima Taparia or Sima Aunty as she refers to herself sees marriage as being "between two families." So while she approaches the process with a personal touch, by asking each client their preferences such as physical attributes and personality traits for their potential match, she also places strong emphasis on the family background, reputation, social class and financial compatibility.
The various stages of the matchmaking process makes for an interesting watch. Aunty Sima  collects information from her clients and their families, which she calls bio-data (it looks like a relationship resume). She is very meticulous with each client, going so far as to not only visit their homes to inspect how they live but also to inquire how often they use the various rooms therein. In one instance, she even asks a client, 'How often do you use the kitchen?' Sima Aunty thinks being a good cook is a key requirement to finding a good husband. Her point of view may sound antiquated to some but to Indian women worldwide, this is nothing new. In Guyana, Indian women are told at a young age, 'You must know to cook a perfect, round roti in order to find a proper husband'.
This may seem like a joke to non-Indians but it is deeply embedded in our psyche.   In the case of Nadia, even the matchmaker admits that Nadia should have her pick of husbands based on her impressive 'bio-data.' But in reality she has limited options in the Indian community and Sima Aunty even deems her "hard to match" due to her Guyanese heritage. As an Indo-Guyanese woman, this is very upsetting to see given that we live in an era where strong, successful women from all walks of life, whether they may be homemakers or presidents, are celebrated. We are also taught that one's heritage should be treated with respect and not viewed as a burden. So it is unsettling to see our Guyanese culture treated with disdain. Ironically, the community that is treating Nadia Jagessar like she is an outsider happens to look exactly like her.
The series highlights the pressures, apprehensions and stigmas seemingly perfect clients, like Nadia, can face. We see them in the uncomfortable moments where the old-school sensibility of Sima Aunty collides with the wants and needs of these modern men and women both in India as well as in America. It shows the pressures that millions of young Indians are facing today. We bear witness, in particular, to the unequal role the women in the Indian society as the series progresses, regardless of which side of the ocean they are on.
The female clients are characterised as "inflexible," "fussy" or "hard to match" by Aunty Sima. We see this in the treatment of Houston-based lawyer Aparna Shewakramani. Like Nadia, Aparna, 34, is beautiful, confident and open to her dating flaws. She admits that she spent over a decade studying and had very little time for relationships as a result. She is considered picky because she chooses not to move forward with a potential match whose future plans are more laid back than hers. Sima Aunty's reaction to Aparna's refusal is to dismiss her as rude and exhort her to change her way of  thinking and speaking. An Astrologer she visits at the behest of Sima Aunty also told Aparna to change her viewpoint.
It is unfortunate that Sima Aunty's old school mentality deems a modern woman like Aparna Shewakramani a problem instead of supporting her choices. It is also uncomfortable to see that the matchmaker does not admit she did not listen to Aparna's criteria carefully and thus matched her with someone that wasn't appropriate for her. In contrast, she doesn't ask two of the male clients based in India, Pradhyuman Maloo and Akshay Jakhete, to change their mannerisms to suit any matches. Both of them are similarly career-driven and have strong family backgrounds. They are not deemed inflexible after rejecting over a hundred proposals combined. Instead, Sima Aunty keeps showing them more options as opposed to Aparna, who gets one potential match at first because the matchmaker believes that she won't be able to make up her mind if she has many choices.
To its credit – and possibly its viewers' discomfort – "Indian Matchmaking" doesn't shy away from the truth about arranged marriages in Indian Society. We see the good and the bad and we are left to draw our own conclusions. We cheer for our favourite clients as their faces fill with joy when they finally connect with their potential partners. At the end of Nadia's storyline, aptly titled, 'I want to see you again,' we are shown a positive future for her as she is matched with someone who she seems excited to share a future with. But the show does not pull any punches.
.
While the series showcases the American Indian society as being more open to dating from a diverse background, it also highlights the need to address and remove this stigma that Indians from India attach to dating someone from different social or geographic backgrounds. We also see the unjust treatment the modern Indian women face. In that regard, "Indian Matchmaking" may serve as more than just a 'cringe watch.' It can also be a starting point for frank, open dialogue towards removing the hurdles faced by the young Indian generation regarding marriage and reassessing the role of women in Indian society.