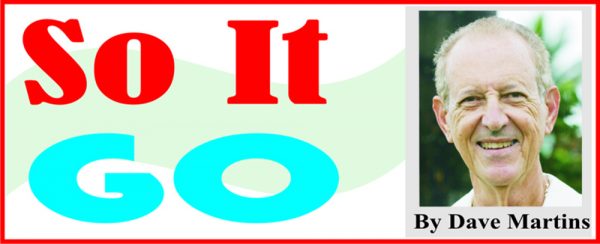 It struck me recently that we become so caught up with all the myriad things that make up our individual lives that we are often unaware of how so many pieces in that maelstrom are operating almost automatically for us like signposts or landmarks that speak to us silently but vividly letting us know when we're on course and when we're not. One of the early ones for me, growing up on West Dem, was on my bicycle trips from our house in Vreed-en-Hoop to my mother's Barcellos family home at Hague, some eight miles away.
Coming back home after a Hague visit, on my Rudge sports model, a sign-post for me on the red dirt road was the twin concrete strips starting at the wide turn at Crane that let me know I was only a mile or so from home. For a youngster like me, 11 years old and riding alone, that was my security signal – almost home.  I doubt anyone else saw the concrete strips that way, but that's how it worked for me – a landmark.  We have these things operating in our lives, at the back of our minds somewhere, fully on automatic, steering us on in total silence.         
 There is an array of these signposts in our lives. For me, when I started travelling the Caribbean, on my trips flying into Guyana, the first sign I was nearing Guyana, coming in from the region, was the Essequibo shoreline of the mighty river. On a clear day, even at 10,000 feet you can see the wave action taking place on the beach below; the constant shifting of the sea leaving a white fringe of foam on the rim of Guyana; the whole thing looking like a painting when the clouds allowed…landmark. Get your belongings together, we're only a few minutes out.
Similarly, on the ground now, driving in to the city, the Demerara Bridge on your left is another landmark signaling that your journey to town is almost at an end.  And also, on a separate journey to the east, the Conversation Tree at Mahaica, another landmark declaring you're roughly halfway to New Amsterdam, all is well.  Another striking sign post on that drive coming back is the solitary brick chimney at Chateau Margot, pointing straight up in the air, visible from a long way off, heading east or west, a remnant of the sugar estate that once operated there…..everything else is gone, but some wise person, with influence, said "let the chimney stay" and so it does, unadorned, but standing at attention in the sky, virtually shouting at us, "Remember your past and your history, remember what once was here, teeming with people, grinding cane and churning out molasses, making their way through life before your time." It is a silent process, you don't even think about it; it is like breathing, how these messages arrive. That chimney at Chateau Margot, just a chimney, nothing else, but a grand sight – you can see it from miles away, touching some silent spot in your soul somewhere.
Another moment like that comes when someone shows you a photo of Georgetown, tells you it is Georgetown, but you cannot recognise which area, until you spot the shape of St. George's Cathedral, or Stabroek Market, seen from above, yes, but they are landmarks for the eye so that you can now immediately pick out High Street and above that Water Street, and back down to the Carnegie Library.  One look, and you know.
 I've mentioned before, coming in on a Guyana Airways flight from the interior, and the pilot, at about 2,500 feet, looks down at a house on the ground that tells him he is on course to land at Atkinson Field, straight ahead; the landmark confirms what the gauges in the cockpit show – he's on course.
In a similar vein, heading for Hague as a school boy on a West Dem bus and falling asleep, only to wake up to see we're passing the Den Amstel Police Station on the right and you know you're two minutes from home. What a sudden sweet orientation that is from a mute landmark.
Or, east of Georgetown, the abandoned frame of a koker on what was once dry land but is now in six feet of seawater, and you know what village that is on the East Coast road to your right… the abandoned koker is the sign post. We use them all the time almost fully automatic.  Just recently, an online post from Andrea-Salvador de Caires of a full-grown palm tree and her note saying to someone, "Do you remember how long ago it was when you helped us with this palm placement?  Look at it now!"
Each time, a landmark triggering a secure feeling, a warm memory. They permeate our lives, day after day.