The APNU+AFC Coalition during yesterday's tabulation made significant gains, managing to decrease the lead held by the People's Progressive Party/Civic (PPP/C) in the General Elections to 7,073 votes. …with 2,063 of 2,339 boxes of ballots counted.
With just over 88% or 2,063 General Statements of Recounts tabulated the Coalition has amassed 188,112 votes compared to 195,185 earned by the PPP/C. This includes the complete tally for all electoral districts with the exception of District Four., which has 276 boxes remaining to be counted.
.
SEE TABULATED RESULTS BELOW
..
At close of count on Thursday, June 4, 2020, the PPP's lead against APNU+AFC narrowed to 7,073 from more than 18,000, announced three days ago,   
(see article for June 3, 2020).
PPP/C leads APNU+AFC by 7,073 votes with 88% of boxes tabulated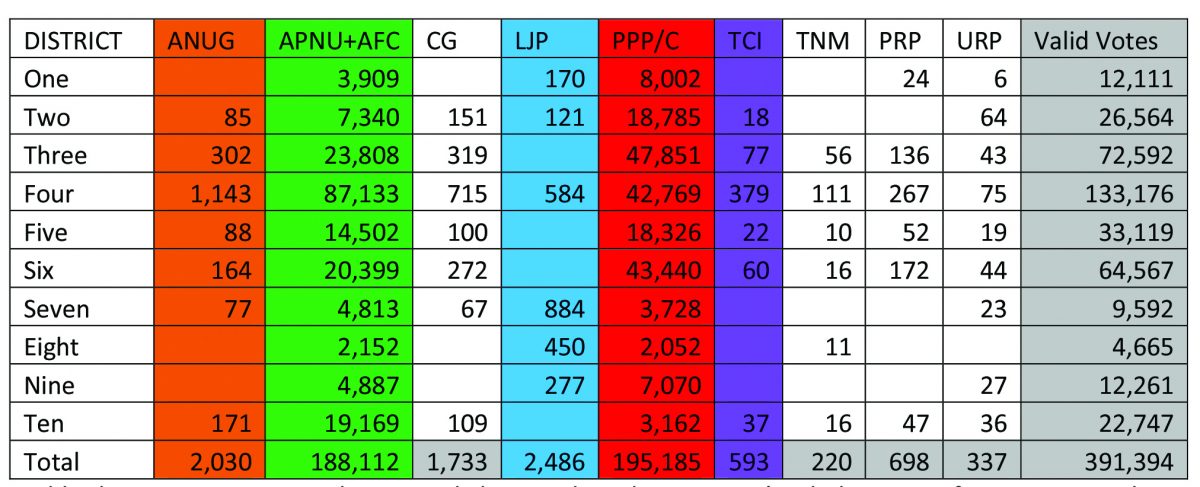 It has been predicted that the recount exercise being conducted at the Arthur Chung Conference Centre, Liliendaal, Greater Georgetown , on the remaining 276 boxes of ballots will be recounted by Monday morning.
PPP sources  say that votes from its traditional East Coast Demerara strongholds have not been counted yet and this will almost certainly see the PPP widening the gap between its nearest rival , APNU+AFC.