Recline or don't recline – it's your call, but the greed of airlines in shrinking space to reap profits makes them the true villains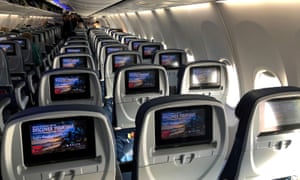 Ariveting piece of cinema has captured the world's attention, sparking endless debate about the perils of life under capitalism. No, not Parasite, but a 30-second video of an altercation on an airplane posted to Twitter. Like the Oscar-winning film, it reminds us how the baked-in incentives of greed and competition pit us needlessly against one another, robbing us of our humanity in turn.
The video, which has swiftly marshalled partisans on either side of a longstanding and heated debate about the relative merits of ethical reclining, was shared widely after being posted by a reporter from a Fox news station in Washington on Wednesday.