In Bong Joon-ho's flawless tragicomedy, a poor yet united family bluff their way into the lives of a wealthy Seoul household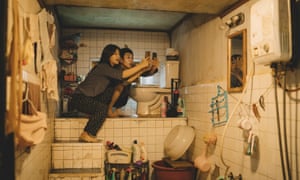 The ideal way to experience South Korean auteur Bong Joon-ho's awards-garlanded, international box-office smash is with as little prior knowledge as possible. So if you're reading this before seeing the film, and you've managed to avoid the whirlwind of publicity it has attracted since winning the Palme d'Or last May, it may be simpler to just stop and head straight to the cinema.           
Because, at the risk of adding to the hype, Parasite really is the kind of remarkable experience that makes modern movie-going such a joy. I saw it for the fourth time last week and I'm now desperate to view the black-and-white version that Bong recently unveiled at the Rotterdam film festival.