– drivers say minibus owners also demand 'impossible' fees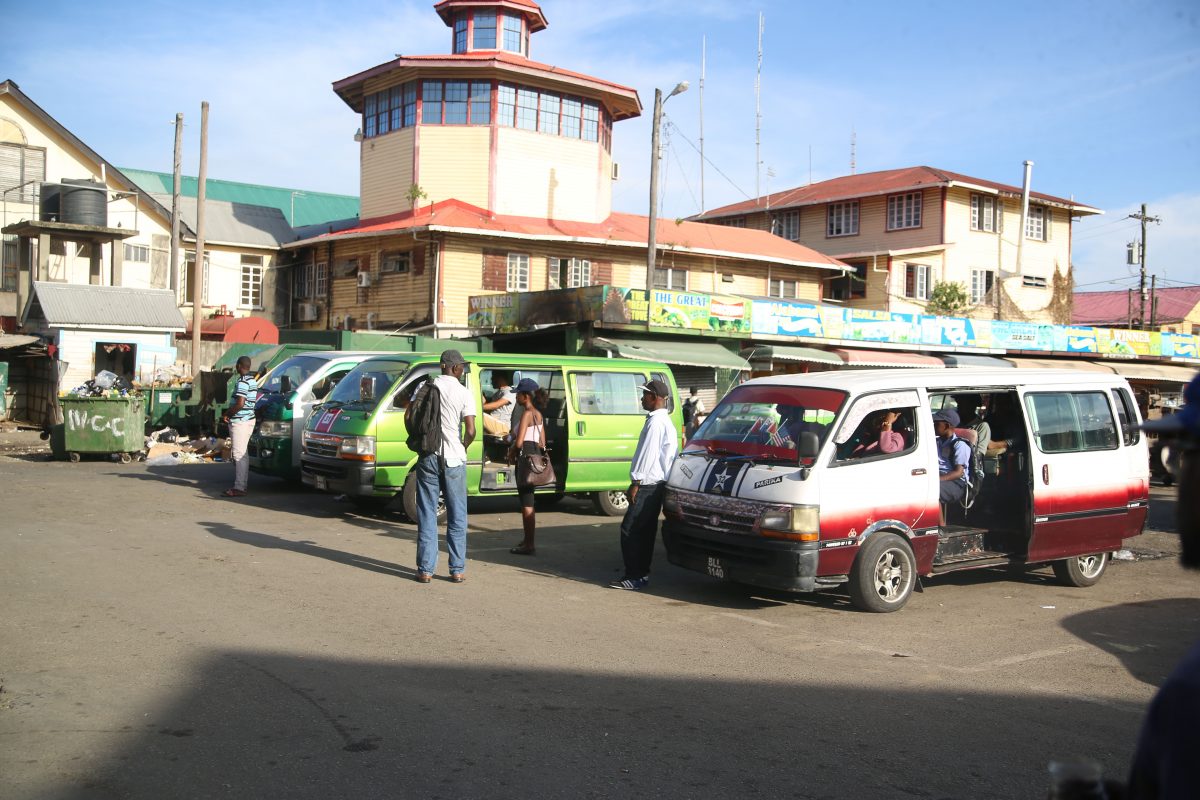 Corrupt police ranks play a major role in the continuing misconduct of mini-bus operators, who, according to commuters, break traffic laws on a daily basis with the knowledge that they will not face any legal consequences as they can bribe the police.
Persons allege that some members of the Guyana Police Force's Traffic Department are accepting bribes from mini-bus drivers and conductors who are caught breaking traffic laws. They said that such transactions contribute to a reckless culture that results in accidents, including fatal ones, which continue to occur on a regular basis. According to commuters, knowing that the police would turn a blind eye once they are paid a bribe, those mini-bus operators will continue to break the law.         
A number of persons recently recounted to Stabroek News their experiences with mini-bus operators while traveling to their various destinations.
"Public transportation in this country is probably the worst in the world and I have witnessed first-hand the traffic crimes that many bus operators commit. I travel five days a week with a bus to go to work. I get into an empty bus and then five minutes later I getting squeeze up because at least five persons have to be in a three-person seat. Then they start speeding and playing loud, loud music that can make people deaf. Those same things causes accidents. We can't tell them to stop because is one big cussing gon start up and we still have to reach work. What is worse is that at nights is the same thing and we still have to pay double or triple the bus fare, depending on where we are going," Ryan Defreitas said.
When asked why he doesn't report those things to the police, he responded, "Why? Police don't solve problems, they are the problem. These driver will go in, pay $10,000 or less or more for the matter to be dropped. Nothing don't come out of reporting these things to the police. This has been going on for years and look, we still here. Nothing ain't changing and nothing will change unless the police change," he said.
Sardine
Another commuter, Ashmini Lall, told this newspaper that she uses public transportation daily to get to and from work, and almost every day, she has witnessed drivers breaking the law but she no longer reports what she sees because most of her complaints have gone unheeded by the police. "Is nah like we know what kinda bus we going in. I stop it and if it get space, I jump in but after they drive off one setta loud vulgar music start play and we can't hear nothing. Not even them conductor hear anything because when I call for them to stop, they passing the place and they speeding too and sometime me a feel like a can a sardine. Twenty people in a small, small bus," she said, before adding that even if a passenger asked the conductors to turn down the music, the conductors, especially the young ones, would get disrespectful and put that person out.
Meanwhile, Kevon (only name given), said that most minibus operators have no consideration for the safety of their passengers. He said despite the fact that there have been numerous reports of accidents in the country lately, the drivers are continuing to break the law. "Just the other day I gone in a bus and they driving so speed the breeze slapping me face hard, hard. I had to jump out the bus before I reach where I de going 'cause I reading about all them accidents that happening and me na deh pon that," he said.
When asked what he would suggest persons in authority do to curb traffic offences, he said, "Well, I did observe that when certain policeman deh out pon the road them bus driver does communicate with each other and when they hear which and which one deh out they does make sure they don't overload and them thing. They driving at moderate speed. They should put police like that out not them one what does take the bus to a corner and collect money. You does know them. The bus gon be over full and they allow us to go," he said.
"I think almost everybody who uses buses has had a bad experience with bus drivers and their conductors at least once in their life," 50-year-old Joan Solomon said. She revealed that she had several bad experiences with bus operators which resulted in her picking and choosing which bus she travels in although it is quite a task for her.
"I went into this bus like three years ago and after it drove off it started playing loud indecent music. I was not feeling well that day so I politely asked the conductor to turn the music down and slow down the bus and he turned to me and said, 'Ole granny, if you ain't like the music get out the bus and catch another'. He told the driver to stop and we had an argument but I went out the bus and into the rain. Since then I start catching bus that have female conductors or a matured man driving it. It get some bus drivers that follows the law and I always travel with then even if I have to stand on the road for an hour," she said. She added that she had reported at least two of her experiences but after noticing that bus operators were still breaking the law she no longer bothered.
Impossible
Some mini-bus operators, who were willing to speak to this newspaper as long as they remain anonymous, recounted and made similar statements about traffic police and their acceptance of bribes. They also said that the reason why many drivers break the law is because the owners of the mini-buses are asking for an impossible amount of money from a day's or week's work.
One driver said it is a daily struggle for those who drive a bus which belongs to someone else. He said that the owners tells the drivers the amount of money they are expecting for a day's or week's work and the amount of money they are asking for is impossible to make in one day or week.
"People invest their money to buy buses and give other people to work or drive it with a very high target for the day and as such they have to race down the road to make this money. Then they have to deal with the police and so forth. Then they gotta pay the tout which is why they break all the traffic laws because they gotta make money like everybody else," he said. He recommended that owners of minibuses drive their own vehicles before suggesting that the reason why most bus divers continue to break the law is because police are taking "a lil raise" whenever they catch those bus drivers in the act of breaking the law and, in turn, the drivers continue breaking the law.
"If the police is more strict, there would be less accidents. So when the drivers do wrong thing they got people to represent them because they are friends with the police so they continue to do it knowing that they cannot be penalised. An individual cannot enforce the law. The law will have to do its own thing to enforce certain things to get in place," he stated.Another driver made similar statements saying that owners of the buses are asking for more than what can be made in a day or week. "They asking for $30,000, $40,000, $50,000 and that's impossible to make in a day. Is nuff of we working here and all a we gotta make lil bread but no matter what we gotta make that target or else they'll find somebody else to drive the bus," he said.
He also thinks that reaching their daily or weekly target is why drivers speed, pays touts and bully other bus drivers for their space. "They wanna do the impossible thing that can't happen dez why accidents and them thing happening," he added.
The driver subsequently said that police are playing a major role when it comes to the breaking of traffic laws. "When it comes to certain things, bus men just stubborn. Police gotta deal with this but them is the same. Nonsense can't stop in Guyana 'cause police them on the road, they are friends with the hot plates bus drivers them so they gon do like they charging them or carrying them to the station but when them carry them around the corner and collect something and them bus drivers come back and is same nonsense again so I don't know. Is the police gotta put a stopping to it cause if they stop taking money and do what they gotta do, things gon change but if they  keep taking money, the bus them gon come back and do what they have to do then it can't stop. They should straighten it out but the police is the one them that ga change. Change they styling and stop talking bribes," he concluded.