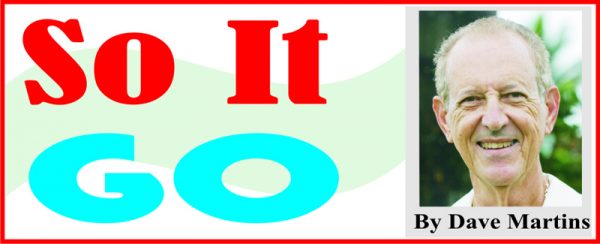 Following my frequent exhortations for us in Guyana to tell the story of stalwarts among us as useful knowledge for our young people, I'm doing my own bit for one of them, the well-known sports commentator and organiser Reds Perreira, or the Pomeroon Man as I often refer to him.
We are family – his mother Claudia is a daughter of my father Joseph Francis Martins, from his first marriage, prior to his marrying my mother, Zepherina Barcellos, after his first wife passed on – but that is not in play in spotlighting Reds who is genuinely one of Guyana's stalwarts for his stellar work in Caribbean sports over the years. Living now in St. Lucia, he was recently honoured by the West Indies Cricket Board for his 50 years of contribution, with 150 cricket commentary broadcasts, and the column below on Reds is totally in Reds' own words – I am simply the conduit.
Looking Back: The Game Of Cricket – By Reds Perreira       
By Reds Perreira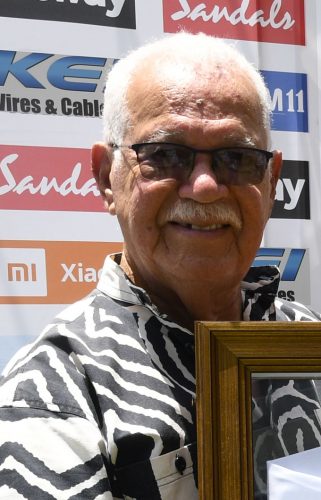 Coming from the Pomeroon to Georgetown at the age of eight, I had very little knowledge of real cricket. In our riverine area it was referred to as "ball play" and games took place at various parts of the Pomeroon River, namely Martindale, Charity, Jacklow, Petersgill and Siriki.  The event was not just cricket but part of a total social activity because after it was over those who came by motor boat, launch, or by paddle, stayed on to take part in the other half of the social activity. This portion was powered by gas lamp, musical instruments like a guitar, banjo, violin, mandolin etc. and a fair amount of rum drinking and dancing.
The dangerous part of the day's festivities would be after we had thoroughly enjoyed ourselves and were embarking on the journey back to our respective homes under the influence of alcohol. As you can imagine back then, there was no coaching and no cricket played at the school level. But the players from the Pomeroon who had spent some time in Georgetown or on the Essequibo Coast had picked up some basic skills of the game.
I must note that cricket in the Pomeroon did get a shot in the arm when a St. Stanislaus College team came down to play a number of matches, in the school break, and were housed at Martindale School. The St. Stanislaus players demonstrated basic good cricket skills, which assisted in the batting and bowling areas.  The best pitch was at Martindale Primary School since they had a turf wicket, which had been put together by the nearby farmers. With no roller available they were able to create a smooth compact surface by the use of a large Dutch bottle. This facility was financed by my grandfather Joseph Francis Martins, and some of his colleagues, who built that institution to provide an educational opportunity for their riverine population.  I myself attended that school. Petersgill and Jacklow had grounds created from basically a sawmilling area, which tended to be soft and subject to fires on a very hot day. This meant buckets of water had to be placed near the boundary during the game; hilarious but true.
I moved to Georgetown to St. Mary's R.C. and got an opportunity to play some cricket in the ground across the road opposite to the Brickdam Cathedral. It was a very small playing area, more suited to football, but the priest at the church had created a pitch which allowed us to at least engage in more practice than matches. There was, however, some opportunity to play against other schools. I remember Christ Church and Sacred Heart players were extremely good at the game. As I settled down to school life, but returning to the Pomeroon to spend my school holidays, I gradually became acquainted with the cricket grounds in Georgetown. With the help of ZFY and later Radio Demerara, I picked up knowledge of the competitions being played and some of the outstanding players.
My father was a fairly strict person, and I was not allowed to go to matinee and to watch cricket on the same day. Nine out of ten times, I would choose to go watch cricket. I had, of course, to do all the chores in the house for my mother, e.g. go to La Penitence market to buy fresh greens and fruits, run errands in general, and ensure the yard was tidy with all the garbage put away. It was only after completing that commitment to the home, I was given the princely sum of $2.00 and off I went with my sister's bicycle to begin my cricket education. The competitions being played at that time were Case, Northcote, White, Raja and Frank Cups. The annual meeting of Demerara vs. Berbice for the Jones Cup was also a competition attracting large crowds and these events were one way for the players, with good performances over three days, to attract the selectors, and I was a frequent spectator.
My first stop would have been at the GCC before peddling over to the DCC; making my way to the EICC (later Everest) on Camp Street, then up Thomas Lands to take in the action at the BGCC and Transport and Harbours Cricket Ground before finishing my rounds at Malteenoes. The Case Cup competition did attract a lot of interest and the crowds were in the hundreds. Because of this interest, the public clubs were able to collect 50 cents to enter the grounds; included were the DCC, which was not fenced at the time, EICC and Transport. If you hadn't paid your admission, you would have had to stand on the road, in the hot sun, to watch the play some distance away. The majority of the Case cup teams were made up of the more experienced players and in some cases the British Guiana national representatives.
The GCC's team included Peter Bailey, Bruce Paraideau, George Camacho, Keith Barker (Barbadian pro), Lenny Thomas and later Leslie Wight, with John Trim and Norman Wight leading their attack. The DCC was led by the outstanding Berkeley Gaskin, who would go on to play two test matches against England in '48. It also included the hard-hitting Herbie Dyer, the talented all-rounder Bruiser Thomas, solid opening batsman Haniff Mohammed and a young Philbert Blair emerging. The EICC, thanks to the organizing skill of Dr. Ali Shaw, had tapped into the young Berbice talent of Kanhai and Butcher etc. and supported by the likes of Jackie Wailoo, Norman Rampat, off-spinner Norman Abdool and opening bowler Hussein, produced a competitive side. The BGCC had the British Guiana star batsman Robert Christiani, Harry Christiani, Test wicket-keeper Clifford McWatt, Charlie Agard, and Brian Patoir, while the all-rounder Lloyd Cornelius and Charlie Stayers joined later. The team was further enhanced by the talent of Clyde Walcott, while in the bowling department David Jezza Hill and Wing Gillette carried the bulk of it. A bit of trivia few cricket fans remember is that Robert and Harry Christiani's mother and Brian Patoir's father each brought a picnic basket complete with tea to the ground, whenever their sons were playing. Transport and Harbours was well led by Toby Rollocks, who later played for the National team as a left-arm spinner. Along with the Haynes brothers, Joe Elvis and Carlton Reece, it was a side made up of not many national stars, but they had great crowd support and played well as a unit. Malteenoes, operating along Thomas Lands, was skippered by Glendon Gibbs and included Pat Legall, and Ossie Gibson, a talented batsman who never got selected for British Guiana. Wicket keeper Norman Maynard rounded out the team.
The cricket circle in Georgetown attracted a number of personalities. there were the well-known hailers Jack Waterloo and a gentleman referred to as Bowtie, who kept the crowds enraptured with their smart and witty comments. Sydney Gonsalves was known as the memory-man, and this 6'2" character would reel off the dates of players' birthdays and dates in their family background along with a lot of historical data of colonial British Guiana. His popularity grew as he turned out also to be a radio personality on many of the shows. Vendors also were personalities in their own right. The vocal Barney Johnson kept up a flow of verbals as he sold his ice blocks. His voice was strong and overwhelming for a man of about 6'4". The channa man was known as Base, and sold his channa in neat brown paper bags. His personality was in total contrast with Barney Johnson, as he was quiet and gentle and said very little. A similar description could be given to Persaud, whose fare was dhal puri, potato balls and the inevitable channa. Barney was not too happy with the competition from the other ice block vendor, Freddie. Barbadian Joe sold black cake and pine-tarts in his big brown basket, which was always full.
As inter-colonial cricket was played more often at Bourda, a personality named Saul would entertain, especially the South Stand's packed audience, with a one- man display of bowling, batting, taking catches and giving decisions as the umpire, in a well-demonstrated and funny pantomime. Saul was also known for his ability to use "big words" in hilarious speeches that would draw crowds.
On my way home to Charlestown, if I managed to save a little of my pocket money, there was Sue's Mauby Shop on the eastern side of Camp Street between Robb and Regent. Mauby at Sue was a specialty along with a butter flap and black pudding; with the bit of change left, I could pick up a pinetart and a patty at Ms. Daniels' bakery at Camp and DiUrban, adjacent to Lot 12.
A number of events further strengthened cricket in British Guiana. A key one was the appointment of Clyde Walcott as the Bookers Sports organizer, which literally changed the face of cricket in the country. The game was really a Demerara-centered event and the Walcott cricket programme for the sugar estates, supported by Robert Christiani, ensured conditions for cricket in those areas became much better. Improved facilities augmented by a coaching programme and inter-estate competitions lifted the standard of cricket, especially in the Berbice area and the East Coast of Demerara. It was not too long after that the East Bank estates entered a team in the Division 1 competition, with Walcott being part of their line-up before playing for the BGCC.
The other important event in the development of cricket in British Guiana was the decision by the West Indies Board to play an inter-colonial series in British Guiana in 1956 during the month of October, because of the good weather that prevailed in Guiana in that month. This allowed the best of the West Indian players to display their skills, which impacted on crowd support for the games. There were also a number of positive developments as the E.W. Swanton team toured British Guiana with a number of international stars. Tours also came from Pakistan, with the Pakistan International Airlines team and the Hyderbad Blues being among the first. Another plus for the game was the Indian Cricket Association of Trinidad that sent strong delegations to British Guiana, helping to elevate the standard of our club cricket.
The annual Dias Cup cricket competition among St. Stanislaus College, Queen's College and the Berbice High School was another significant cricketing event. St. Stanislaus, in particular, was helped by the annual visiting team from the Trinidad and Tobago Catholic school, Mount St. Benedict, while Queen's received good opposition from the Harrison College team from Barbados under the leadership of the late Sir Conrad Hunte.  Trial matches to select the British Guiana team grew in attendance after the Clyde Walcott involvement with the sugar estates as more Berbician players got the opportunity to be selected for the various Trial matches. Such was the extent of the growing crowd support that a Trial Match was played on Boxing Day in order to select the British Guiana team for an early match in January which attracted 4,000 people.
During the mid-50s and beyond there was a tradition when the British Guiana team was selected, that then Secretary of the Cricket Board, Kenny Wishart, would stand on the lower tier of the GCC steps and announce, in a loud voice, the names of the players chosen. The public was invited to attend and great debate followed when certain players were not included. Case in point was Ossie Gibson, the elegant Malteenoes player who scored 114 runs in the last Trial match one year, but was omitted. Such was the talent at the club level that many players never broke into the National team e.g. Bud Lee, Haughton Dolphin, Eddie Francisco, Joe Texeira, Joe Hazelwood, Ronnie Willock, Julian Archer, Leslie Fernandes, Eddie French, Dowlat Ram, Rupert Roopnaraine (who later played for Cambridge University), Algie Soloman, Charlie Agard, and Cecil Pilgrim who, unfortunately, fell ill with rheumatic fever.
Cricket was well-supported by the British Guiana media houses with B.L. Crombie carrying all major cricket scores at 7:55p.m., on his radio programme, seven days a week, and he produced that 5-minute package for 26 years. His work was supported by some outstanding cricket writers, namely Jake Croaker, Charles Chichester, Rick Ferrier, Julian Mendes, Macdonald Dash, Seddie Wiltshire and Bruiser Thomas after his playing days. It was a delight to buy the Graphic, the Argosy or the Chronicle on a Monday morning to see the coverage of Case Cup matches which included full scoreboards with all the details. In those days the newspaper editors would provide all the necessary space to cover not only cricket but other emerging games in British Guiana, without having to cater for present-day advertising which can take up substantial parts of the paper.
The radio broadcast of regional and international matches was of a high standard considering no one had formal training. The commentators were, Herman deCaires, Claude Vieira, Harry Cressall, Peter Bailey, Clyde Walcott and later Brian Sadler. These men treated listeners to an excellent picture of what was taking place at Bourda. Accompanying them in the commentary box were the official scorers for the British Guiana Cricket Board, John Barnwell and Ron Legall.  The outstanding umpires in my early days of watching Case Cup cricket included J.R. Da Silva, E. S. Gillette, Bagg Menzies, A.B. Rollocks, after he retired from playing, D. Yansen, and the fast-emerging Cecil Kippings.
The 1951 British Guiana/Barbados meeting at Bourda allowed me to see my initial First Class game, and it turned out to be a marvellous experience. The West Indies were touring Australia at the same time and the Barbados team was badly affected by the loss of the 3-Ws and Roy Marshall, with British Guiana losing only Robert Christiani and John Trim. It was a great spectacle to see the two represented teams take the field. Barbados batting first got to 397 all out, with Norman Marshall getting 134 of those runs. The Guianese opening pair of Leslie Wight and Glendon Gibbs produced a record-breaking opening partnership of 390 runs, with Gibbs scoring 216 whilst Leslie was not-out 262. That partnership set a West Indies First Class record that stood for over 50 years before it was broken by the Jamaican pair of Chris Gayle and Leon Garrett. Guiana rattled up 692 for 9 to then bowl Barbados out for 385 runs, Gaskin took 6 for 84. The opening partnership between Wight and Gibbs was almost impossible to believe as they were not-out at lunch and at tea, and walked off the field at close of play unbroken in their partnership. Incidentally, they both played one Test match each, Wight at Bourda in '53 against India and Gibbs against Australia in '55 at Sabina Park.
The very first match at the regional level was played in Barbados at the Garrison Savannah on February 15 and 16, 1865. Barbados 74 and 124, British Guiana 22 and 38. The first regional match in Guiana between Guiana and Barbados was played at the Parade ground on September 11 and 12, 1865. Barbados 111 and116, British Guiana 82 and 146 for 8. In those early days there was no water cart on any ground. Water for the players was provided by two attendants, one with a tray of glasses, the other with a huge water jug. At the GCC, spectators placed bets on who of the pair would get back to the pavilion steps first.
My first taste of Test cricket was in 1953 when India toured the West Indies under the captaincy of V.S. Hazare. They were an outstanding batting side, with the aging Hazare supported by V.L. Mandreker, P. R. Umnigar, V.H. Mankad and D. G Padkar, with openers Punkaj Roy, M.L. Apte and S.P. Gupte. England toured the West Indies in '54 under the leadership of Len Hutton and the team included Peter May, Dennis Compton, Tom Graveney, Trevor Bailey, T.G. Evans, Tony Lock, Brian Statham and Freddie Truman. There was more Test cricket in 1955 when Ian Johnson led Australia to the West Indies with A.R. Morris, R.N. Harvey, K. R. Miller, P.J. Burge, R. Benaud, R. Archer and W. A. Johnston. Pakistan toured the Caribbean for the first time in 1957 under A.H. Kardar playing at Bourda.
In August of 1956, I convinced my father, the late John Perreira, to give me a trip to Trinidad to watch the 1956 West Indies Trials being played to pick the team to England in 1957. He knew I had made many sea trips to the Pomeroon and booked a passage for me aboard a Bookers-owned coastal vessel. This was by no means a luxury trip as it was on the deck and cost $35.00. It was my luck that we arrived early one morning in Port of Spain. After customs and immigration cleared the ship, I headed straight to the Queen's Park Oval on Tragarete Road. I proceeded to the ground and met the Secretary of Queen's Park who was Deryck Murray's uncle, and he provided me with a ticket for all the matches. Just by coincidence, I found a small guest house across the road from this world famous venue.
The '56 Trials were a delight for me, as I was seeing some players perform for the first time. I was well acquainted with Kanhai, Butcher, Soloman, Gibbs, Paraideau, the 3-Ws etc., but was seeing for the first time Wesley Hall, Roy Gilchrist, Gerry Alexander, Jackie Henriques, Frank Mason from St. Vincent, Alec Reid from Dominica, and Evelyn Gresham from Grenada. Also included was Andy Ganteaume, who had a debut century against England in 1948, but had been overlooked for the tour of India and England in '49 and '50. Fellow Trinidad openers Hammond Furlonge and Nyron Asgarali, along with the spin twins Valentine and Ramadhin, also tried out for the team.
It was a wonderful experience for a 16-year-old cricket-mad boy to be at the Queen's Park Oval watching these players take part in formal Trial matches in order to make the West Indies team touring England in 1957. Later in life I was told a story from someone I trust, that the original captain named for that tour of England was Allan Rae. There was a tradition, however, to send the team chosen to the then President of the West Indies Board, Sir Errol DaSantos before release to the Caribbean public. He then informed the selectors he had promised John Goddard, as a reward for his success in England in 1950, that he would again lead the side in '57. To cut a long story short when the team was announced Goddard was captain and Allan Rae did not even make the touring team.
Several people have asked me to comment on my most memorable sports event. There were a few, but I have to say the 1975 World Cup Match, West Indies versus Pakistan is at the top of my list for the drama surrounding the final result.  It was sheer thrills. Pakistan had made 276 and had us on the ropes.  But Murray and Roberts, in a last wicket stand, added 64 runs in an unbelievable fight back, and WI scraped home in a nail biting finish as we won by 1 run.  We had been 204 for 9, game basically lost, but our last wicket stand added 64 to get a win out of what had been looking like a sure loss. I will never forget that match. It was electric; the crowd standing and cheering. Clive Lloyd would later make mention of West Indies players crying in the dressing room. A miraculous win indeed.
Looking back, I end where I started, in the Pomeroon River. One of the unique things of my formative years watching what I described as ball play was the emergence of a family team known as the Benn's Eleven. This team was comprised of fathers, uncles, brothers and cousins. Such were the combined talents of this family that for years they dominated cricket in the Pomeroon River. In all my years of covering cricket in British Guiana/Guyana, I have never seen one family anywhere, produce a competitive team as they did at that time. Me and my late older brother, Desmond, who played for St. Stanislaus whilst he was at school, had our own competitive matches under the house at 39 Russell Street. In one such "bottom house test match," he made 242 runs not out, with stops for lunch, tea and water breaks. I was eventually saved by my late mother, Claudia, who came downstairs at 5 o'clock and ended the game. Such was my love of the great game of cricket.
THE TRADEWINDS – Cricket In The Jungle