None of the four top Democratic candidates poll consistently above 30% – ranked-choice voting, however, can determine who people actually support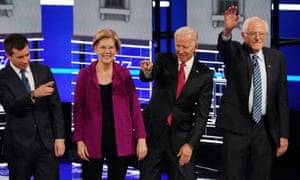 Democrats in Iowa will caucus in early February, barely two months away, and finally cast the first votes of presidential nomination season.
There's an elite tier of four candidates: former vice-president Joe Biden, South Bend mayor Pete Buttigieg, the Vermont senator Bernie Sanders and the Massachusetts senator Elizabeth Warren. None of them, however, poll consistently above 30% in national surveys. Many Democrats see one or more of them as too old or too inexperienced; too far left or too moderate.