– six months after earlier application rejected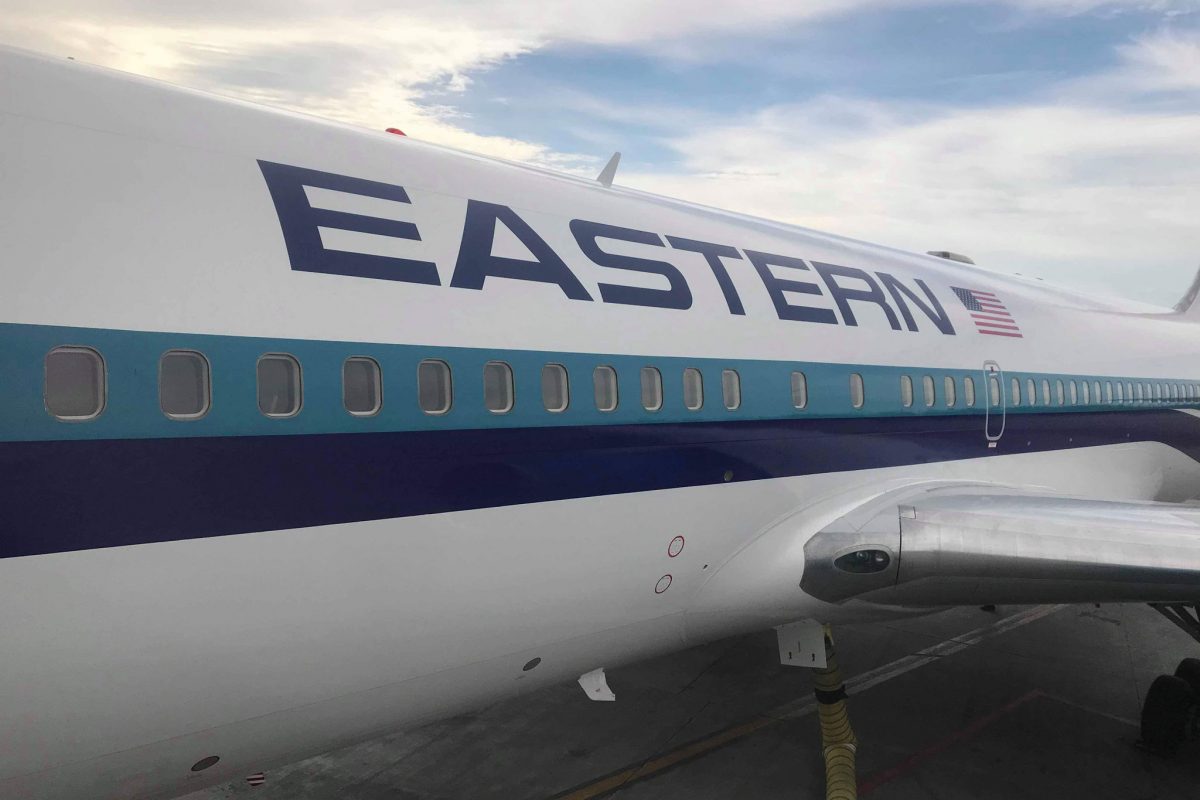 Six months after an earlier application had been rejected by Cabinet, Eastern Airlines has been given the green light to operate scheduled non-stop flights between the Cheddi Jagan International Airport and John F. Kennedy International Airport, New York.
This was disclosed yesterday by Minister of State Dawn Hastings-Williams during the launch of Air Services Limited's new routes to the Upper Mazaruni.
Hastings later told Stabroek News that the airline is expected to begin operations on December 8th.         

"To my knowledge, we [Cabinet] have received their application and [granted] the approval to have their services offered here," Hastings-Williams said.
It is unclear what has changed in six months to enable approval for the former Dynamic Airways, which had encountered a host of problems here before exiting the market.
When contacted, Director-General of the Guyana Civil Aviation Authority (GCAA) Egbert Field said that the company has followed "due diligence and approval has been given to them to operate between Georgetown and New York."
Field noted that the company is no longer connected to Dynamic Air-ways and has followed international regulations and transitioned and restructured itself under new management.
According to the airline's website goeasternair.com, it will be providing connections to unserv-ed markets with economical flights.
"Eastern Airlines provides the most direct and economical flights to underserved markets around the globe. Our first routes serve direct from New York City to Guayaquil, Ecuador and Georgetown, Guyana…," the website states.
The airline promises to offer premium seating facility that will allow comfort.  "We've reimagined the flying experience and provide the ideal combination of price and value with more leg room and more comfort, we allow you to explore beyond the expected," it further states.
"Eastern Airlines was launched by seekers, adventurers…and above all, fliers. Our passion for aviation is unmatched in the universe. Our attention to detail is focused on the tiniest mechanical check and the cobalt blue stitching on Seat 17B. We've been planning the return flight of Eastern Airlines for a long time. Get ready for curiosity, wonder and takeoff. It's time to spread your wings," the airline adds.
While the company's logo is a map, Eastern Airlines said that it is not tied to any one geographic location, but represents the universal space all share as global citizens among the places they fly.
For each destination, a unique logo is used. The logos are conceptualised and inspired by "the local colors and geography of each individual market. The three main rivers of Guyana and the colors of its national flag for example, inspire our supporting logo for Georgetown," the website states.
Booking options for flights between New York and Georgetown, however are not available at the moment and prospective customers are asked to leave their name and contact information.
An article published by airwaysmag.com reported that the carrier is expected to launch services with a fleet of second-hand Boeing 767-300 and 777-200 aircraft.
Mark Porter, CEO of PA Coastal Airways Route Consultants, told Airways Magazine that the new Eastern is expected to acquire a fleet of several Boeing 767 and 777s, with at least five second-hand 777-200s joining in by May 2020.
Third rebirth
The article also noted that this is the third rebirth of the carrier.
In a letter addressed to the airline's employees, current Eastern Airlines Chief  Executive Officer Steve Harfst noted that "in support of the development of our new corporate website and the promotion of our new business plan, we have been working very hard getting the new Eastern Airlines ready for take-off."
Harfst confirmed in his letter that the airline's intentions are big. "We have been very busy investing in the infrastructure necessary to promote a successful scheduled service network," he wrote. "We believe that there are strong market opportunities open to Eastern Airlines to provide limited frequency, non-stop service between international markets and the United States."
In 2018, Eastern Airlines applied for nonstop flights to Guayaquil (GYE), Georgetown (GEO), Anchorage (ANC), and Jinan (TNA), in China, from its proposed hub at New York (JFK).
"Eastern will give back precious time to our passengers by saving them from multiple stops and the hassle old airport connections," the CEO wrote in his letter," highlighting the fact that the airline's business plan will be focused on a point-to-point rather than hub-and-spoke network, the website reported.
The company is now headquartered in Wayne, Pennsylvania, USA.
Field earlier this year said "Eastern Airlines is a reborn Dynamic Airlines that went through the bankruptcy court and they now have this official name of Eastern Airlines. We carried out our standard process in evaluating the documents presented to us for safety, security and economics and we gave our analysis, confirming that the documentation presented to us was authentic and followed the standards set out by the home state, the United States. It is more or less a verification of those documents that the GCAA does."
According to Field, the report was then taken to Cabinet by Minister of Public Infrastructure David Patterson, who then advised him that the application had been rejected, Stabroek News reported back in May.
ecember last year, just a year after quitting Guyana, the rebranded airline had applied for a three-year licence with plans to ply the Georgetown-New York route once every week.
After serving the Guyana-New York route from the middle of 2014 with numerous delays, cancellations and even once running off the runway, Dynamic Airways quit the Guyana market in October, 2017. Hundreds of persons were left stranded, even as the airline assured that they would get refunds on their purchases. Only in May this year were passengers able to get their refunds.
The North Carolina-based company had filed for bankruptcy in the US in July last year and after quitting the Guyana market.
The Guyana to New York route is currently being served by Caribbean Airlines and later this year American Airlines will inaugurate their service and JetBlue will also be flying this route next April.