– Shuman says third force needed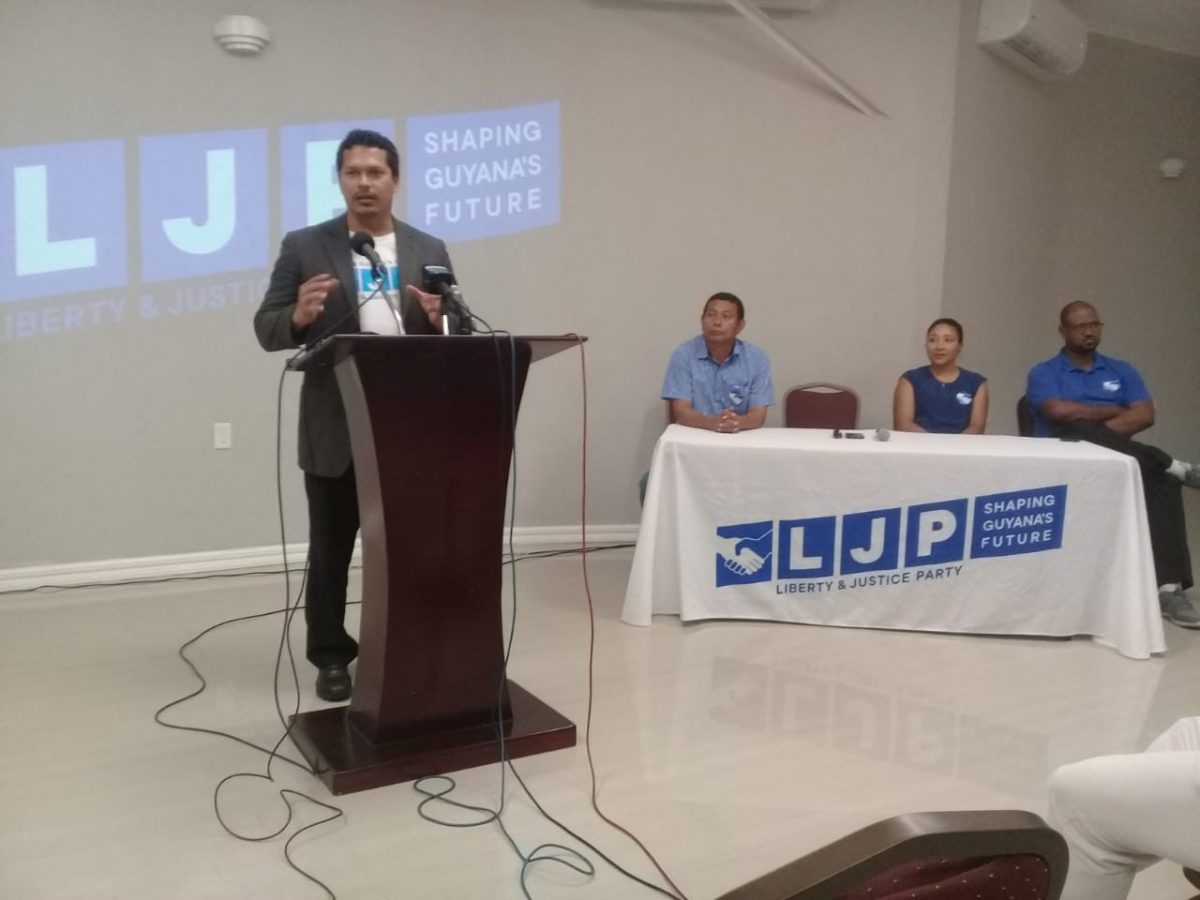 The Liberty and Justice Party (LJP)  has decided against joining with another party at the moment as it believes it is in the nation's interest to have a "balancing" third force, according to Chairman and presidential candidate Lenox Shuman.       
The party has not closed the door on coalescing in the future although Shuman told a news conference yesterday that a non-negotiable term of any potential coalition with the People's Progressive Party/ Civic (PPP/C) or A Partnership for National Unity+Alliance for Change (APNU+AFC) in particular, must be the opening up of the presidential and prime-ministerial posts to Guyanese of any ethnic group.
Last month, Stabroek News had reported that Shuman had engaged in discussions with APNU about possibly coalescing.
——————————————
Shuman wants measured approach to oil production
He said that if given the opportunity to govern Guyana, ExxonMobil, the oil giant will have to "slowdown" oil production.
His main reason was that Guyana is not prepared to handle the Oil and Gas Sector. If Exxon is allowed to speed up production, then Guyana will lose the opportunity to benefit heavily from its new found industry.
The LJP presidential candidate said that he was made to understand that the Energy Department is hiring experts to assist Guyana in key parts of the sector.
As a leader, he said even though it is necessary for Guyana to seek assistance because of its inexperience, Guyana should be given ample time learning the business of oil and gas.
He highlighted that these experts will be foreigners and it is not guaranteed that they will look after the best interest of Guyana.
Shuman added that with the current pace of ExxonMobil to empty Guyana's wells, the oil would be finished long before Guyana can learn how to obtain maximum benefits from its resource.
With a controlled pace he said, the life time of our oil industry will be extended and Guyana will have the opportunity to educate itself on how to benefit greatly from its wealth.
Shuman also said, if his party wins the upcoming March 2020 elections, it intends to renegotiate the entire Production Sharing Agreement (PSA) that Guyana has signed with ExxonMobil.
———————————————
PPP abused, exploited Toshaos (Leaders) in Indigenous Communities – LJP's Shuman
By Guyana Chronicle – November 8, 2019
… Shuman says many were cussed, chased by Nigel Dharamlall
LEADER and Presidential Candidate of the Liberty and Justice Party (LJP), Lenox Shuman, said Indigenous People were exploited and abused under the People's Progressive Party/Civic (PPP) Administration.
Shuman, who once served as the Chairman of the National Toshaos Council (NTC) and Toshao of St Cuthbert's Mission, made the statement during a press conference at Duke Lodge on Thursday. According to him, many Toshaos and Indigenous People suffered at the hands of PPP/C Member of Parliament, Nigel Dharamlall, when he held the post of Permanent Secretary of the Ministry of Amerindian Affairs.
"Many of the chiefs, many of the Toshaos who visited the Ministry of Amerindian People's Affairs during the PPP tenure were cursed and chased out, and verbally abused by the then Permanent Secretary, Mr. Nigel Dharamlall," Shuman told reporters.
The LJP Presidential Candidate said there are numerous allegations of abuse on the part of the PPP when treating with Indigenous People.
"There has been in our view an exploitation of Indigenous Peoples from the PPP. They go about and say that they would have employed close to 2000 Indigenous People with the CSO programme when we know in fact, and this is not speculation, this is a fact, that what they did was to pay these young people – one to vote for them and two, to spy on communities," Shuman told reporters.
The Community Support Officers (CSOs) Programme was an initiative introduced under the PPP/C. Shuman said under the CSO programme, Indigenous People were paid to spy on villages.
"So they weren't public servants, they were party spies who were being paid. They were paying people to spy on small communities," he contended.