—  as brothers' battle moves from courts to streets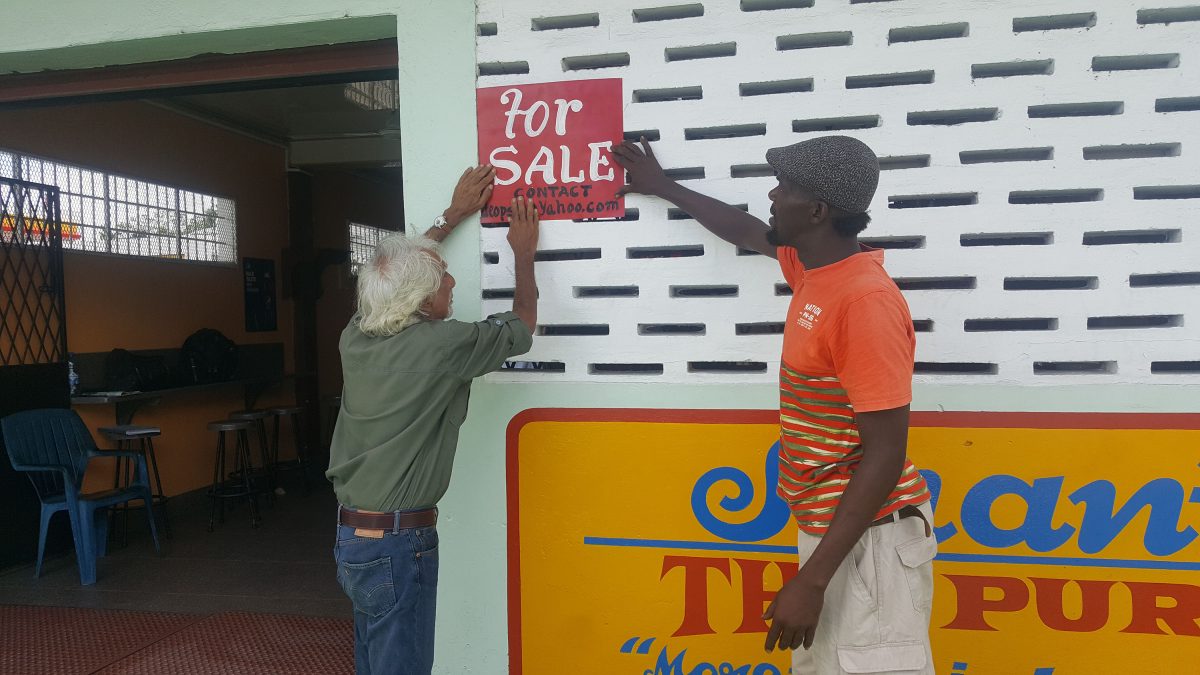 Going strong since pre-independence Guyana and famed for its cuisine, Shanta's Puri Shop is facing its sternest test yet as the battle between two brothers for the building and their mother's legacy has moved from the courts to the streets.
Established in 1936, originally as Betty's Café and renamed Shanta's around 1958, the storied restaurant has seen countless Guyanese and even celebrities – most recently Indian cricketer Virat Kohli – visiting to have a bite.   
Parbati Persaud and her husband Kampta established the restaurant at the 225 Camp and New Market streets location in 1936 but after her death in 2003, two of her sons, Deodat and Premdaat Persaud, became embroiled in a dispute for the building that subsequently wended its way through the courts.
"I want to probate the will that my mom left me to do and to divide, I stress, equally, to all of her beneficiaries but I can't because of the holdup from my brother [Premdaat], who believes that he alone should have the property. The court has already ruled and he lost but won't give up," Deodat told Sunday Stabroek in an interview last week.
"We have been in the courts since 2009 and during this time, it saw the death of my stepbrother, who died a poor man when he should have at least gotten his due. I don't want this to continue. It doesn't look good at all but this is what we are faced with and I am sure my mother must be sad," he added.
In a case that went all the way to the Court of Appeal, a decision was made in July 2018 that upheld a High Court ruling that the occupant of the 225 Camp and New Market streets building, Premdaat, had no legal authority to do so. A ruling was made in favour of Deodat.
Stabroek News reported last year that following the death of businesswoman Parbati Persaud aka Parbatti Persaud, her two sons became locked in a legal battle to gain control of the property. Premdaat had taken over the business, claiming that the property was sold to him prior to his mother's death.
However, Deodat, who was named the executor of the woman's estate, had argued that there was no evidence to support such a claim and had asked his sibling to vacate the property.
It has been indicated that based on two paragraphs in Parbati's will, the trustees, now only Deodat, "is to call in and convert into money i.e. to sell the residue of her estate." Court documents had indicated that a letter from Deodat's attorney had said that the residue includes the property located at 225 Camp and New Market Streets, its furnishings, fittings and business accessories. The proceeds of that sale were to be divided equally among the Parbati's five children, inclusive of the first named plaintiff, Deodat and the woman's stepson, Toolsie Persaud. Toolsie died last year.
While the court has settled the Shanta's property dispute, which paved the way for its sale, Deodat said that his brother, who continues to occupy the building, refuses to move or allow access to the property for viewing from prospective buyers.
Deodat, in an advertisement last month, announced the sale.
But when he visited the establishment last week to put up 'For Sale' notices on the property, he was met with hostility from the staff and his nephew.
While he entered the shop, he was prevented from accessing the rest of the building and the security guard present, in the presence of this newspaper, told Deodat that he was not welcomed.
The man, nevertheless, went ahead and placed the sale signs on the building. But no sooner were they erected, the current occupants tore them down and hung 'Not for sale' signs of their own.
Deodat told Sunday Stabroek that he was "beyond frustrated" and feels saddened that his older brother would cause such trouble over an establishment his mother and father struggled to build.
Relating the story of how Shanta's came to be, Deodat said that his mother Parbati, who was called Betty, was born here during Guyana's colonial era, in 1920.
She married Kampta and from that union she bore five children – Premdaat, Deodat, Sabatee, Hame and Shanta. Kampta brought to the marriage a son, Toolsie, and Parbati saw him as her own, telling everyone she had six children.
In 1936, she and her husband started the business at the same location where they lived and named it Betty's Café. Her youngest child, Shanta, was born in 1953 and she kept her mother's company in the shop most of the time. Shanta, Deodat said his mother would recall, loved to sing and dance and brought her parents much joy.
But in 1958, at just five years old, Shanta passed away and this devastated her parents. To honour her memory, Parbati changed the name of the business to Shanta's Delicatessen and later Shanta's Puri Shop.
When Guyana became independent in 1966, Parbati moved to England and everyone else stayed at the 255 New Market Street residence. In 1993, Parbati wrote her will which stated that all her children and her stepson would be given the property and business.
At that time, it was occupied by another tenant and Deodat, who was the executor of the will, returned and had the tenants removed.
In 2003, Parbati died and Deodat said he tried to get oral settlements with his older brother but eventually had to resort to the courts to have the matter settled.
He said he is "tired" and just wants his brother to understand that his mother would not have wanted them fighting. As such, he said, he proposed that Premdaat purchases the property and business at market value and the proceeds will be distributed among the siblings and Toolsie's two children.
However, the name Shanta's must be kept as part of that deal.
The other proposal is to "let the business remain a trust and everyone continues to get money through the life of it."