–  presidential candidate silent on matter
Stabroek News – October 11, 2019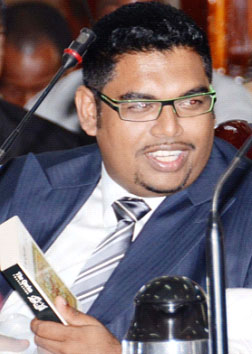 Ali has not responded to requests from Stabroek News for more details on the proposal and instead pointed to an interview posted on his Facebook page on July 1, 2019. In that interview, Ali indicated that the 50,000 jobs will come from the mining, forestry, environmental, and other sectors.  He, however, did not source the figures he cited and while he spoke about how some jobs will be created, the figures did not amount to the 50,000 promised.   
Stabroek News had asked Ali to explain how he intends to deliver on his promise to create 50,000 jobs. Apart from directing this newspaper to the July 1 interview, the PPP presidential candidate, who thus far has kept press interactions to a minimum, also asked Stabroek News to message him via WhatsApp if there was need to clarify anything in that interview. Messages requesting clarification were sent up to September 25th but, to date, Ali has not responded. An attempt to reach him by phone was also unsuccessful as it went unanswered.
Previously, Ali had spoken about the proposal in broad terms. In April, in response to questions from Stabroek News, he said that some of the job-creation approaches will include but [are] not limited to: reorienting the spending in the budget towards job creation which can see 10,000 more jobs; 11,000 jobs resulting from the reopening of closed sugar estates; 5,000 jobs through the development and implementation of a pragmatic local content policy and legislation for the oil and gas sector; and another 15,000 from the expansion of several service-related sectors, including Infor-mation and Communications Technology (ICT). He has not provided further details.
President David Granger has issued a proclamation naming March 2, 2020 as the date for general and regional elections and the various political groupings are said to be compiling their manifestos. In April, Ali had said that with the PPP finalising its manifesto, the public would see an elaborate plan in terms of job creation, revival of various industries and the creation of new sectors. This plan is yet to be made public.
In his July 1 interview, Ali claimed that 39,000 jobs have been lost since the A Partnership for National Unity+Alliance for Change (APNU+AFC) coalition government took the reins of government in 2015. He, however, did not give the source of his statistics. He identified several sectors in which he proposes to facilitate job creation through various initiatives.
Mining  and forestry
In terms of mining, Ali claimed that in 2014, 3,000 dredges were operating in the mining sector, each of them employing about five persons directly, and facilitating indirect employment in businesses which service the sector. He alleged that since 2014, the "draconian measures" of the current government have caused investors to "hold back investment," reducing the  number of dredges operating by 40 per cent, and wiping out 6,000 direct jobs, and an undisclosed number of indirect jobs.
According to Ali, he plans to correct the contraction through tax concessions for small and medium scale miners. He said that he would also implement a 2 per cent royalty on gold and eliminate "onerous" documentation requirements placed on small and medium scale miners. He also promised to address issues of bad roads, high fuel costs, and allocation of mining blocks.
Ali claimed that such initiatives would stimulate re-investment, new investment, and replace the jobs lost, while adding more. He did not, however, clearly demonstrate how these actions would create the 6,000 plus jobs in this sector he has promised.
Regarding forestry, Ali said that in 2014, 25,000 persons were employed in the sector but since then, this number has fallen to 19,000. Again, Ali did not share the source of his statistics. The loss of these 6,000, jobs, he said, is attributable to bad policies, and incompetence by the coalition government since 2015.
Ali promised to stimulate activity in this sector by rebuilding community forestry organisations, returning concessions he said were taken from these organisations, and giving them additional concessions. This did, and will, he assured, provide its members with much needed jobs and revenue for members.
Ali also promised to incentivize value-added processing in the forestry sector. Various incentives were granted by successive PPP/C administrations to companies for value-added production but little has materialised. Millions in concessions were granted by the PPP/C government to Chinese logging company Baishanlin, and Indian logging company Vaitarna Holdings Private Inc (VHPI) which had operated here for years – since 2006 and 2010 respectively.  As part of their licences, both companies were required to set up value-added operations. However, in 2016, Baishanlin's concession were seized as they had not moved to value-added and they have since left Guyana, having never set up value-added operations.
Vaitarna, after limited movement on this matter and following warnings by the current administration to rescind its licence if it did not fulfil its obligations, started value-added operations in 2015, and has indicated that it has plans to scale up these operations.
Despite the companies not adhering to their promises for years, the PPP/C government never held the companies to account for their failures in setting up value-added facilities.
In his July 1 interview, Ali said that cheap energy is key to stimulating value-added processing in the forestry sector, and promised to address this issue. He also spoke of an intention to link goods produced in the forestry sector to the housing sector, while employing various strategies, including rebates, to stimulate demand for forestry products.
Ali also said that plans to invigorate the forestry sector include bilateral agreements to increase Guyana's market share in existing foreign markets, while also breaking into new markets.
Environmental Services
Ali also noted that the Low Carbon Development Strategy, pioneered by opposition leader Bharrat Jagdeo when he was President, and which saw Guyana receiving revenue in exchange for protecting its forests, was to be used to fund initiatives including community shops and other projects, including Amerindian land titling, which, he said, would create jobs for surveyors. He said that under his presidency, the initiative would be managed effectively towards achieving the goals established by the strategy.
Ali projected that under this strategy, at least 1,000 jobs would be created. He did not specify how these jobs would be created
He also referenced intentions to create jobs in financial services to allow foreign companies to offer their services in Guyana through local financial professionals. He did not say how many jobs this particular undertaking is projected to create if implemented.
Ali also promised to stimulate the technical services sector by streamlining curriculums to match the needs of society, thus allowing more employable technicians to be produced. He did not say how many jobs this undertaking is likely to create if implemented.
Further, in his July 1 interview, Ali proposed to examine the possibility of qualifying industrial parts as zero-rated items to incentivise investors to invest in this sector. He also promised to create a special fund to stimulate business and innovation, and said he would increase grants to small and medium sized businesses. These initiatives would be coupled with entrepreneurial training, linking entrepreneurs to innovation, and facilitating seed capital to entrepreneurs to allow them to enter the business market. He did not say how many jobs this undertaking would generate.
Rural enterprise development
Finally, Ali said that he would seeks ways to reduce the cost of production incurred by farmers in their operations, and find ways to make farming more attractive to young people. He did not say how his government proposed to accomplish this particular task.
Under this heading, Ali also mentioned the need to stimulate the processing of agricultural produce, the opening up of new lands to facilitate more farms, and the facilitation of mega farms. Again, Ali did not say how many jobs these undertakings are expected to create.
Despite not stating the number of jobs likely to be produced for most of the initiatives floated, Ali said that they, along with plans for the oil and gas, housing, and other sectors, will create the 50,000 jobs he has promised, and even more.
FRAUD CHARGES
Ali is currently facing 19 fraud charges over the allocation of house lots to fellow Cabinet members and other persons in the Pradoville 2 Housing Scheme during his tenure as Housing Minister. The basis of the charges is that the lands were sold far below market value. He has mounted a challenge in the High Court to have the charges dismissed. In August, Ali lost his bid in the Court of Appeal to have the matter stayed after Appellate Judge Dawn Gregory explained that having looked at the merits of the substantive appeal, it was clear that it had no arguable prospect of success. His lawyers have since indicated that they would file another application at the Court of Appeal for a stay.
Ali has also been dogged by questions about the authenticity of his academic qualifications since the announcement of his candidacy to lead the opposition into the next elections. In April, he claimed that he has made all his transcripts and certificates public on his Facebook page and said that he had no further comments on the matter. On Ali's Facebook page, no photographs, documents or any other material related to his qualifications were found by this newspaper.