—- cops awaiting legal advice after completing interview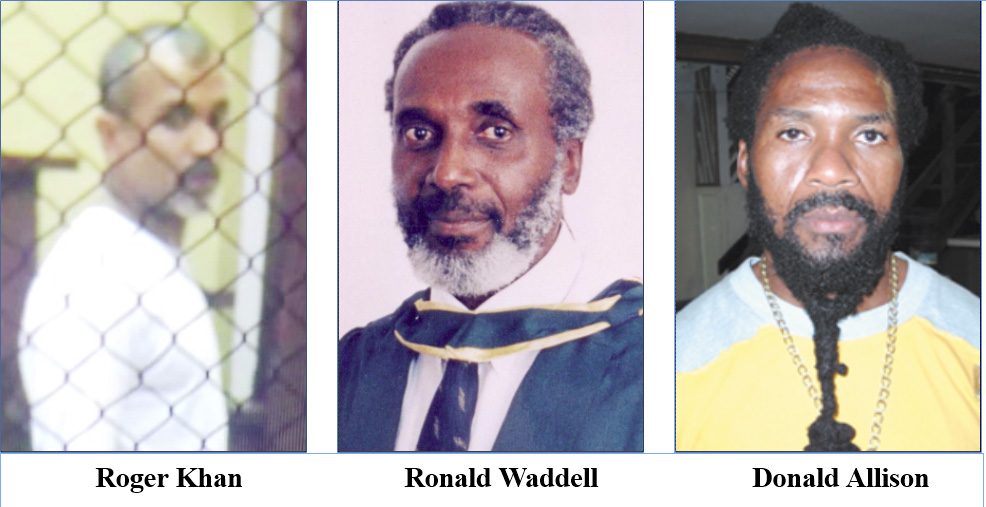 Following his return to Guyana, investigators yesterday concluded their questioning of Roger Khan about his alleged involvement in the murders of political activist Ronald Waddell and boxing coach Donald Allison and he has maintained his innocence.
Khan's attorney, Glenn Hanoman, told Sunday Stabroek yesterday afternoon that the interview process was completed and the police were awaiting legal advice which will determine the next step.       
Early yesterday morning, Khan was escorted from a lock-up where he was kept to the Criminal Investigation Department at Eve Leary for questioning. He remained in police custody up to last evening.
While Hanoman did not divulge details about the interview, he said the process lasted for about an hour and was conducted "professionally". "Video, audio recorded in my presence. The police were very cooperative," he noted.
He explained that during questioning, a number of questions including those relating to what occurred some 15 years ago were raised.
"Of course he maintained his innocence… he said what he had to say about all the allegations and all the questions they asked but he told them that he wouldn't want to say anything anymore after this interview. He answered as best as he could, all of the questions he was [asked]…he didn't remain silent, he tried his best to answer the questions… Questions were relating to 15 years ago and things like that, where he was and all of that, that aren't possible to answer," Hanoman related.
"He indicated at the end of the interview that he won't be willing to give any further statements afterwards. So the police have to see what they will make of that," Hanoman added.
He said the investigators did indicate that they might want to interview Khan again.  "But then he said that I already told you that I will have nothing more to say on any of these issues, that's it," Hanoman stated.
The attorney lamented the delay in the process of obtaining legal advice while noting that systems should be put in place for service 24 hours a day, seven days a week.
"Sometimes these investigations have a tendency of being prolonged. When they get legal advice, somebody intervene at DPP [Director of Public Prosecutions] chambers, they said you should have ask this question, you should have asked that question and then… that is one of the reasons why he said everything that he could say and remember about that period," Hanoman explained.
Khan arrived shortly after 11.30 pm on Friday at the Cheddi Jagan International Airport on an American Airlines flight from Miami.
Upon his arrival, the 47-year-old was whisked away under heavy police guard to the CID at Eve Leary, where he was processed.
After spending close to an hour there, during which time he was briefly allowed to see his attorney, he was transported to an undisclosed holding facility.
Hanoman later related that Khan told him that the police had explained to him that he would not be released and instead would be held for questioning about the murders of Waddell and Allison.
Waddell, 57, was killed in January, 2006.
At the time, it was reported that a dark-coloured car took the gunmen to the scene, where they were apparently watching Waddell's movements from the seawall. As soon as Waddell got into his car, two gunmen ran across the road and opened fire on the vehicle. They then ran back across the road, jumped into their car and sped away east along the highway.
Allison, meanwhile, was killed in September, 2005.  He was executed in a drive-by shooting carried out by men armed with machine guns. Allison, 43, came under a barrage of gunfire outside the Ricola Boxing Gym on the Agricola Public Road. He was sitting in front of the two-story building with a female student when the men pulled up in a dark coloured vehicle and opened fire. Allison, who sustained wounds to his head and upper body, was clearly the target of the attack.
Police had arrested freed murder accused Shawn Hinds and two relatives of dead 'hitman' Axel Williams, but the men were all released. It was believed that a city-based death squad with links to the underworld carried out the killing.
However, an informant for the US government, during the witness tampering trial of Khan's former lawyer Robert Simels, had claimed that Khan ordered the execution of both Waddell and Allison.
Selwyn Vaughn, a professed former member of Khan's alleged "Phantom gang" who was granted immunity from prosecution, had testified in the United States that he had served as the lookout for the hit on Waddell.
Vaughn said he was in a Burgundy AT 192 motor car when four other named members of the squad turned up and shot Waddell. He told the court he had been the lookout man who was tracking Waddell and he called Khan on his cell phone that night and reported that the talk show host had left his residence and his car was idling on the roadway. Within minutes, four members of Khan's squad, all former members of the Guyana Police Force named by Vaughn, turned up and shot Waddell.
Speaking about the murder of Allison, Vaughn said he was the lookout in that hit as well. Khan, he said, called him to ask for the location of Allison and after receiving the information members of the "Phantom squad" came out and shot Allison dead.
Khan is alleged to have been given free rein under the then PPP/C government to go after persons he determined to be criminals in the period following the 2002 jail-break, when five escapees triggered a crime wave the likes of which had never before been seen in the country.
He was eventually arrested in Suriname and was seized by US authorities in Trinidad while en route to Guyana.
Khan was released from a US prison in early July after serving almost ten years of a 15-year sentence for drug trafficking. He was sentenced after he pleaded guilty to trafficking cocaine, witness tampering and gun-running.
Media blocked
Although Commissioner of Police Leslie James had said Khan would be treated like any other person upon his return, there was an unusually large presence of uniformed and plain clothes police, as well as members of the Special Weapons and Tactics (SWAT) Unit at the airport for his arrival.
Khan also wasn't escorted out of the airport using the regular exit for arriving passengers; he was brought out through a side entrance in a heavily tinted white pick-up.
The police did not use sirens or lights during their exit and sped off with armed officers heading for the capital and a large contingent of media personnel following.
Members of the media who were making their way to the police headquarters from the airport on and others behind the police vehicle were hindered by the police along the East Bank Public Road.
After the vehicles escorting Khan had passed, two separate roadblocks were set up.
It is suspected that this was done to allow the "smooth" transport of Khan to Georgetown. However, media personnel felt targeted and deemed the action as a deliberate one set to delay them.
The first roadblock was set up at Grove. A barricade was used to block the lane of traffic heading towards Georgetown while the driver of a sand truck was instructed by a police officer to use his truck to block the other lane.
This resulted in the traffic being snagged for several minutes. A senior officer stood in the centre of the road and only removed the barricade after receiving a call from his personal cell phone.
Then at Diamond, a similar situation was experienced. The traffic was allowed to flow again only after a journalist called James and complained about the situation.
The roadblocks caused traffic congestion and no one was searched at the roadblocks neither was any explanation given as to why they were set up.