– describes harrowing experience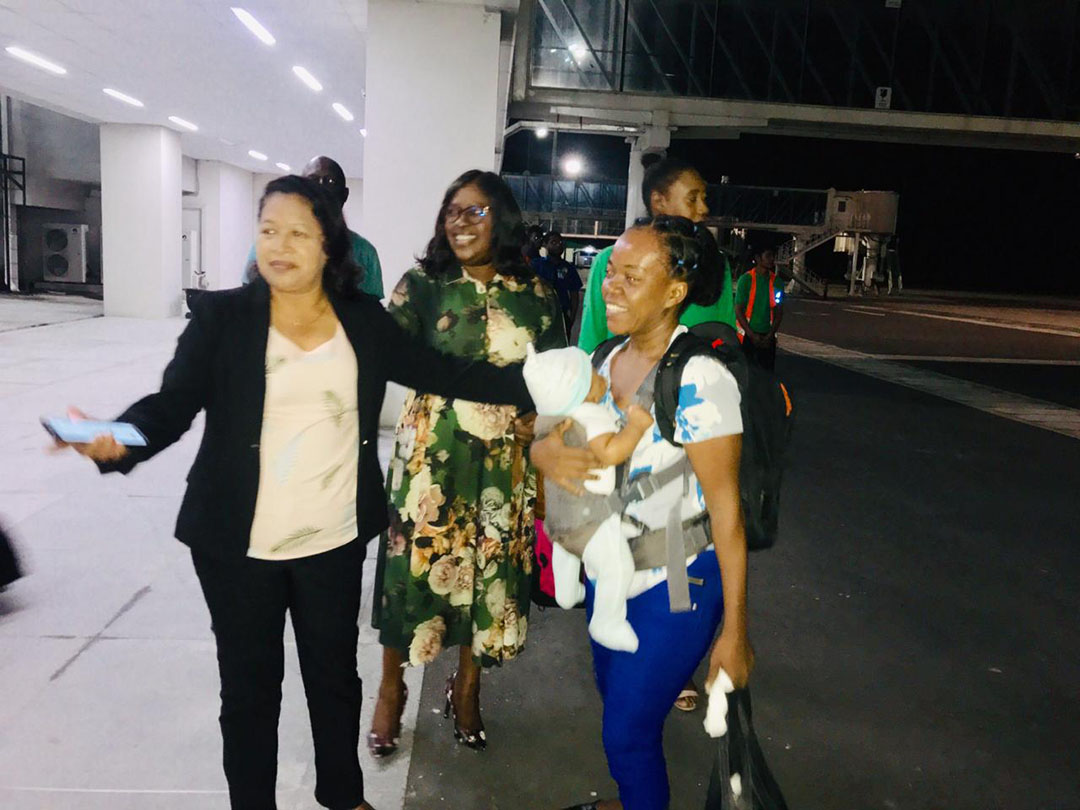 Still coping from the trauma of Hurricane Dorian that ravaged The Bahamas earlier this month, a family of five last evening returned to Guyana after seven years in hopes of starting life afresh.
"If we return [to The Bahamas], it is just to visit, not to work. It is really difficult to relive that experience," father of three Orin Grimmond told reporters at the Cheddi Jagan International Airport last evening ( September 15, 2019).       
Hurricane Dorian slammed into The Bahamas on Sept. 1 as a Category 5 storm, one of the strongest Atlantic hurricanes ever to hit land, packing top sustained winds of 185 miles per hour (298 km per hour). Bahamian Prime Minister Hubert Minnis has said the official death toll from Dorian stands at 50 but that hundreds of people are missing and it is expected to rise. The islands of Abaco and Grand Bahama were the worst hit.
With his two-year-old son in hand and his four-year-old daughter holding on to his leg while his wife held their infant daughter, Grimmond expressed relief at being home as he recalled watching the "boiling waters rise" and flooding his home in Marsh Harbour, the capital of Abaco island. He said that they were forced to clamber to the ceiling to escape the floodwaters.
"The experience is terrifying; it is traumatising to begin with. As a husband and father, I looked at my family and there was nothing I could have done to save my family. The water was rising and there was no way to save my family. I cannot say anything else but that it was a miracle we are alive," he said.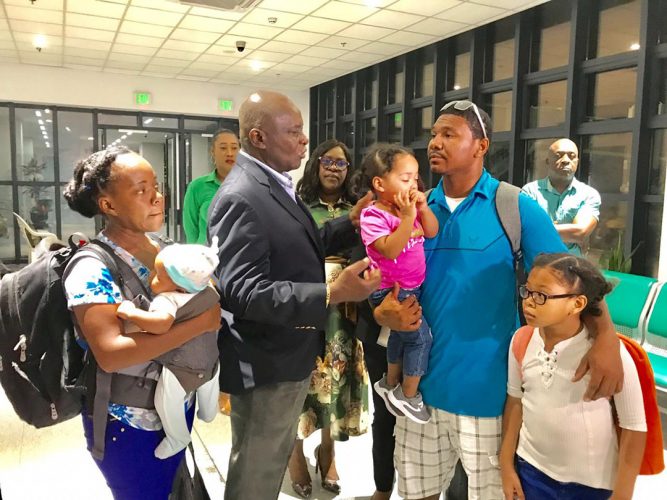 The Grimmonds left Lethem about seven years ago to work at the Long Bay Seventh Day Adventist School in Abaco. They will not be returning to The Bahamas and will relocate to their Lethem, Region Nine home later this week. Government will stand the cost of their accommodation until that time.
Grimmond said that he reached out to the Government of Guyana for help and wanted to return home since not only the hurricane but the looting of stores added to his harrowing experience. "People were going all over the stores because they were hungry, and when people begin to get hungry, when people are like that…it is a fight, every man for himself," he said.
He said that he was confident that the government would assist and they would receive aid from his homeland.
"It is my country after all. Despite where we go, Guyana will not refuse its citizens. No matter what happens, our families are there for us. We cannot let down my family. My first choice is to be home where my family is," he said.
Minister of Citizenship Winston Felix led a delegation of government officials including Minister of State Dawn Hastings, Minister of Foreign Affairs Karen Cummings and Civil Defence Commission head Kester Craig to the airport to meet the Grimmonds.
Felix assured that with 28 others expressing interest in returning, government will ensure that anyone wanting to come home will be able to do so.
"We do not leave Guyanese in a district outside of Guyana. We showed that in 2018 and it continues now," he said.
There has to date been no reports of missing persons, casualties or deaths among the Guyanese population living in The Bahamas, according to Honorary Consul for Guyana, Jairam Mangra.
Mangra had previously told Stabroek News that he was attempting to account for several of the 80 registered families in the country many of whom include teachers in the public school system. He had encouraged Guyanese nationals on the hurricane-ravaged island chain to identify themselves as Guyanese to emergency responders and to get in contact with his office. Persons whose family members had not been accounted for were also encouraged to file missing persons' reports.