-'We, who are strangers here, have nothing'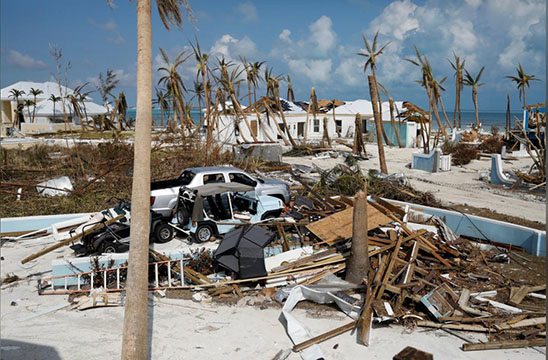 "The article Stabroek News published was really helpful in making people understand where we were and what was happening because communication was really poor. Everything was word-of-mouth even with the rescuers who came in.  Persons who had the need to communicate out were not able to, so that story was very helpful and as much as you are telling me now about help from the Guyana government, we have heard nothing about that. I think sometimes government officials operate in a cocoon. They need to come out of the cocoon and interface with persons so we feel they are representing our interest. Even today I don't how we can access help from the Guyana government," Cecil Simon told Stabroek News.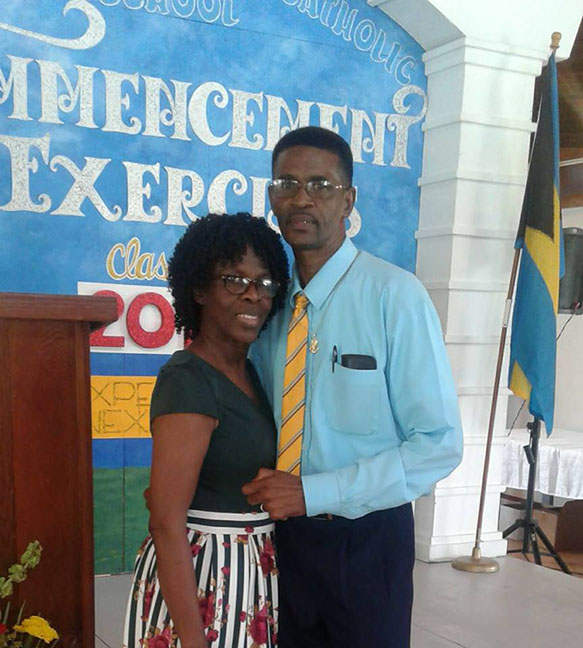 Following the passage of the storm, Great Abaco Island, where the Simons lived, was devastated, with all communications systems destroyed and government services severely hampered.
"There are two [telecommunications] networks, BTC and ALIV. BTC was completely down and ALIV was only receiving messages. Olive has an ALIV phone and we kept receiving these messages of concern but we couldn't respond," Simon said.
The lack of communication was only one of their worries as they found themselves in a wasteland reminiscent of those "old western movies where everything was just gone."
"Places built to the highest codes crumbled. When you look at the building standards in the Bahamas, it is second to none yet they failed. They couldn't withstand the storm. The roofs and walls collapsed like paper. The newscasts keep saying the winds were 185 mph but these winds felt like over 200 miles per hour and you had to contend with that plus rain and storm surges. That's a combination and half.  Steel and everything just crumbled. The place is like a wasteland; like an old dystopian cowboy film. There are gas stations with no gas, destroyed food stores and hospitals with no roofs," Simon said.
He stressed that while they were warned that the storm was coming and took every precaution, it just wasn't enough.
"Nobody was prepared for it to be so bad. We put everything in place. We took all precautions necessary and remained in our apartment because our house is on a ridge. These people have been through many storms before but even buildings identified as shelters crumbled, their roofs caved in.  That's why the government system became crowded. Nobody expected a Category 5 hurricane for four days," he lamented.
Describing the storm, Simon said it hit at about 2 am on August 31 and stayed for four days.
"At about two Saturday morning [August 31], that's when the whole thing started to show its face. It picked up momentum on Sunday [September 1] and battered us for Sunday and Monday and waned on Tuesday but there was still rain. We were warned prior to the storm about precautions and we took them but within the space of a couple of minutes, the storm surges submerged all the vehicles on the street and when it really gathered strength on Sunday, those vehicle became tin cans flipping and flying. The winds were howling and the rain was beating down at a pace. You couldn't see outside and we spent a lot of time hoping that at least the roof wouldn't go. We could feel the breeze pulling on it, it really wanted to come off but it held," he shared.
Simon is grateful for all those who prayed for him and his wife but as a "practical man," he is also grateful for the Stabroek News article published on Wednesday, which highlighted to his employers that he and his wife were considered missing.
"My principal has said to me they left our names with the evacuation system but though we visited the government support building several times, there was no one to talk to. Things were chaotic and there were no specific directions about what to do," he explained.
Eventually, they were able to hitch a ride with a former student to the Marsh Harbor airport where there was one taxi driver working.
"I'm not sure how he got gas because even the defence officers and emergency officials had no vehicles but we were able to pay him to take us 65 miles to Treasure Cay. That's where we [were] told that we were to be a part of the evacuation system," Simon recalled.
He explained that while they and some others were able to make it out, they now face a new challenge as they have nothing with them.
"When they bring you to Nassau, we, who are strangers here, have nothing. The scale of the operations is something else. They [Bahamian government] did make the effort and are still making the effort but are hampered by poor transportation and communication. How do you reach everyone on mainland Abaco and the cays?" he questioned.
Looking for a way out
According to Simon, several Guyanese, including six who worked with him at St Francis De Sales Catholic School in Abaco, are currently in housing provided by The Bahamas' National Emergency Management Agency.
"All we walked with was hand luggage. [We] packed up other essentials in the house. We were brought to Nassau and we are staying with a cousin. The Catholic Board [their employer] has arranged a meeting on Monday to discuss the way forward," he related.
Simon repeatedly stressed that Great Abaco Island is completely devastated and those persons still on the island are looking for a way out.
He explained that since school opened on August 28th, all the teachers were on the island when Dorian hit and therefore are in need of assistance.
"There was classroom preparation and workshops two weeks before the opening so we were all here," he noted.
Sunday Stabroek reached out to Guyana's Civil Defense Commission (CDC), which is coordinating government's response to Dorian, for information on efforts being made to assist and possibly transport Guyanese impacted by the storm.
Senior Response Officer Salim October told this newspaper that a WhatsApp group was established to offer logistics support to Guyanese on the islands.
He indicated that permission has been granted for the necessary process to be activated through the Department of Citizenship with support from the Minister of State.
On his Facebook page, October posted, "If there are any Guyanese on here who are affected or know of those who are affected by Hurricane Dorian in the Bahamas please contact me via PM or WhatsApp 592-662-0671. We at the Civil Defence Commission have set up a WhatsApp group to receive such updates and reports. All we require is a telephone number and name and designation to add to the group. We are also welcoming members of the Bahamas Guyanese Association."
Up to press time, this post had been shared 22 times and October indicated that no one had requested assistance.
Asked for a possible contact person in The Bahamas whom persons could interface with, October identified the President of the Bahamas Guyanese Association, Carol Swaving but could provide no contact information for publication.
According to the Ministry of Foreign Affairs' website, Guyana's Honorary Consul in The Bahamas is Jairam Mangra, whose offices are at Suite 12 Bayparl Building 18, Parliament Street, Nassau, The Bahamas. His office number is (+1 242) 328 2883
Meanwhile, the Guyana Teachers' Union has reached out to its membership to request support for the many teachers of Guyanese nationality who have been affected by Dorian.
A post on its Facebook page indicated that the union is soliciting financial donations of whatever amounts which will be sent to the teachers' union in The Bahamas. Donations can be made directly to the GTU Head Office in Georgetown or through the respective GTU branches. All monetary donations must be channeled through the Branch Treasurer, the post said.