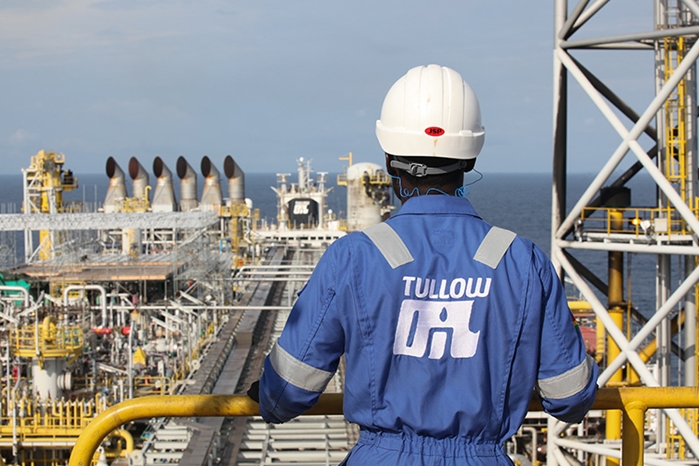 Following its recent discovery of oil in commercial quantities offshore Guyana, the United Kingdom-headquartered Tullow Oil will shift operations from its Trinidad base to local shores and plans for its first shore base here are in the pipeline.
"We don't have a local shore base at the moment. [We] were running things from Trinidad but the plan is to use a shore base in Guyana in 2020," Tullow's Head of Communications George Cazenove told Stabroek News last week. He added that the location of the local facility "has not yet been decided."           
In the meanwhile, Trinidad is expected to see a rise in oil-related services to Tullow.
Last Monday, Tullow announced the discovery of oil in commercial quantities in its Orinduik Block offshore Guyana. Its first exploration well, Jethro-1, is estimated to hold more than 100 million recoverable barrels of oil. Tullow spudded the Jethro-1 well on July 4th this year. The company will start drilling a second well, Joe-1, this month.
Tullow operates the Orinduik block with a 60 per cent stake, while France's Total SA and Toronto-listed Eco Atlantic Oil & Gas Ltd each own 15 per cent, with state-owned Qatar Petroleum holding the remaining 10 per cent.
Eco had sold 25 per cent of its initial 40 per cent stake to Total last year and Reuters reported that the French oil giant in turn sold 40 per cent of its stake to Qatar Petroleum last month.
In May, Cazenove had indicated to this newspaper that Tullow will focus heavily on developing local content here. "Wherever we operate you would see that our local content policy is sound," he had said, while explaining that to train locals rather than be reliant on an overseas workforce would also be more affordable for the company. "It would be better, and yes cheaper for us, to have training of locals, as much as possible. Local companies and locals must benefit from the operations," he said.
A number of local firms, most in partnership with overseas companies, have invested in providing shore base facilities and most are providing services to oil major ExxonMobil which has made 13 major oil discoveries here and plans to begin production next year.
It is unclear if the shore base companies currently have the capacity to simultaneously serve another oil and gas company.
Of those currently operating, ExxonMobil has an exclusive contract with Guyana Shore Base Incorporated (GSBI), which provides all the food, water and other supplies for the oil firm's offshore operations. GSBI Chief Executive Officer (CEO) Robin Muneshwer has said that development of the facility is being done in phases and there are plans in the pipeline to provide fuel bunkering and a third berth for vessels.
Further, in June 2018, shipping company John Fernandes Limited (JFL) inked a multi-million dollar shore-based support contract with Saipem, a key contractor for ExxonMobil. JFL's CEO Philip Fernandes had explained that Saipem, one of ExxonMobil's tier one contractors, had been contracted to supply and install the risers and umbilicals connecting the subsea operations with the Floating Production Storage and Offloading platform. Saipem, in turn, subcontracted, the shore-based aspects of the job to JFL.
Also, in September 2018, gold magnate Nazar 'Shell' Mohamed made a big investment in a storage facility at McDoom, East Bank of Demerara (EBD), which is expected to serve ExxonMobil's current offshore works.
In January of this year, Danco Logistical Contractors Inc (Danco) and Consolidated Supply Management (CSM) of the UK, signed an agreement that would see them building and operating a shore base at Craig, EBD. Executives of the company had said that the eight-acre site, at Lot 233-235 Buzz Bee Dam, is expected to be transformed into a US$18 million CSM-Danco facility, which its owners hope will support oil and gas operators and their prime contractors here from October this year.
Tullow's recent discovery is of significance as it is the first commercial find outside of the Stabroek Block, which has seen ExxonMobil hitting 13 major oil finds since May 2015. Stabroek News has reported that Tullow's discovery will likely attract even more investor interest to the Guyana basin and also puts the issue of local content and Guyana's preparedness for the sector to the fore, since this country could not provide the company with the required oil and gas workforce expertise.
In the agreement between the government of Guyana and Tullow and its partners, the oil companies only have to pay US$25,000 or $5 million for the training of locals.