Kashif is the Executive Sous Chef at The White House.     
.
He completed his secondary education at The Bishops' High School and started a career in banking, but left all of that behind when he migrated to the United States just after completing a semester at the University of Guyana.  
. 
Kashif comes from a family of Chefs and developed a love for the culinary arts from an early age.He has great memories of his mother being in the kitchen whipping up dishes for him and his siblings.His interest in food blossomed after he moved to the United States and got accepted into the International Culinary School at The Art Institute of Washington.
 .
While there, he was recognised as a "genius in the kitchen" with "gifted hands" for any dish that he cooked.When Kashif completed his training, he added more flavour to his credentials following a stint of work and study in Italy.He embellished his culinary skills at The Zeppelin Ristorante in Orvieto and was also a member of the Alpha Lambda Delta National Honor Society before graduating from the Culinary School of the Art Institute.Within seven years, Kashif traveled and worked at different corners of America, gradually becoming a culinary savant.Some of his notable portfolio entries include Las Vegas, New York, the French Ambassador's Residence, Sheryl Crow and Kid Rock concerts and the Grammy Award Ceremony. Kashif says he has become increasingly grateful to the "erudite chefs" who taught him along the way, sharing their techniques, recipes and some of the great secrets of cooking.He offers high praise for Christophe Tanneau-Kervran, Stephan Carter, Angelo Sosa, Lorenzo Polegri, Chris Beischer, Alicia Stewart, Cristeta Comerford, and Robert Gatsby.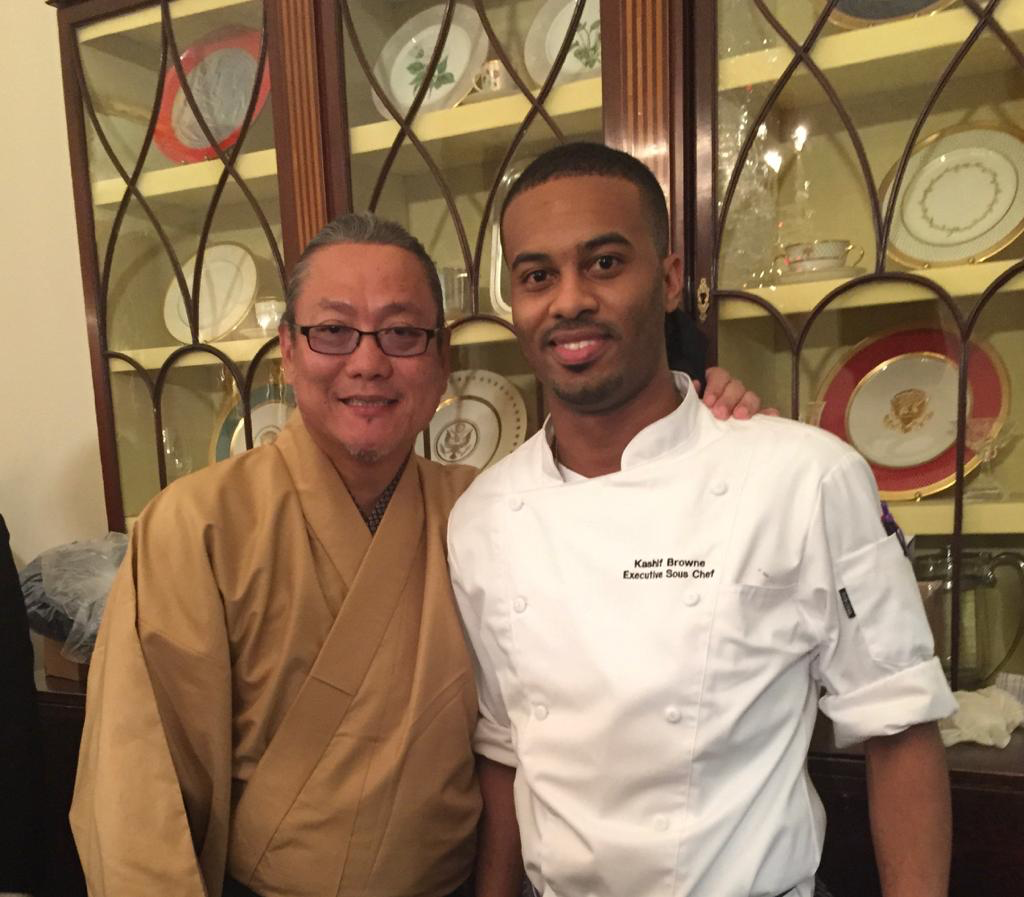 He said his extensive knowledge of various cuisines would not be possible without their instrumental efforts.
While Kashif raves over his French and Asian Cuisine, he said he also always ensure he delivers Caribbean, and more so, Guyanese flavour in all of his dishes.
Over the span of his slice and dice career, he has moved from being a Saucier to a Sous Chef, to Executive Sous Chef and now has a full-time job at the residence of the White House, where he caters to the First Family of the United States of America.
Kashif remembers his roots and often recalls growing up with his family in Carmichael Street, Georgetown, attending the St. Margaret's Primary School and his enjoyable years at The Bishops' High.
He is married to Guyanese Dental Surgeon and his high school sweetheart, Dr. Sulan Fung and together they have two sons.
With an eye for detail and quality, Kashif has also been climbing the ladder to greater success, while building a family of his own.
Over the years, he said he has lived his life through the philosophical words of Albert Einstein, who once said, "try not to become a man of success, but rather a man of value.'