Stabroek News  – 28 May 2019
For Babin, growing up with a proud Guyanese grandfather, Michael De Abreu, was more than interesting. As a child, he would tell her stories and interesting facts about a country far away from Canada. In addition to that, De Abreu, who is currently in his early eighties, would cook Guyanese dishes such as curry for Babin, who immensely enjoyed the meals of a country she had never visited until now.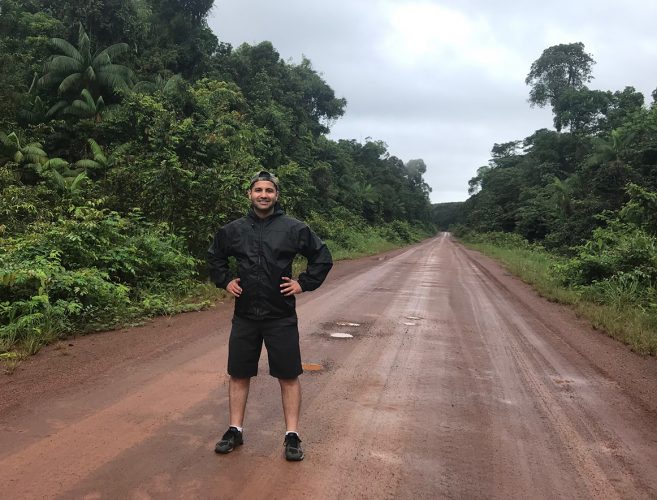 Observing her grandfather's behaviour when in the company of her Guyanese family, was one of Babin's main inspirations for visiting. "When my grandfather is joined by the rest of the Guyanese family the accent and belly laughs return instantly! Coming to Guyana was never the question for me, it was the question of "when?" Babin revealed in an interview with Stabroek News via email.
Babin was born in Edmonton, Alberta, Canada and was raised speaking French, since her father is a French-Canadian.
In 2013, she received her Bachelor's Degree in Human Rights and Global Studies at the University of Winnipeg, after completing a semester abroad at the United Nations University for Peace in Costa Rica. In 2016, she received her Masters in Social Work with a focus in International and Community Development at the University of Calgary.
The 28-year-old, who works as an investigator in child protection for Canada's provincial government, is accompanied on the trip by her husband, Ahmad Saab, a pipeline engineer from Lebanon.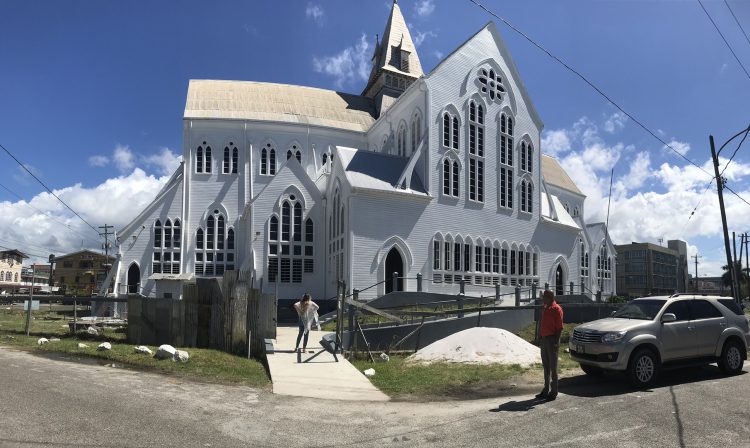 According to Babin, the lush green trees, palms, and hospitality, remind Saab of his home. "He loves Guyana so far, everything is so beautiful. I even caught him a few times admiring the stunning beauty of the Guyanese women! I cannot cast any blame because the Guyanese are beautiful," she said.
Since their arrival in Georgetown, Babin and her husband have spent the majority of their time in the city, enjoying the company of family and friends, in addition to participating in Carnival related activities.
"I may even be lucky this trip and convert my husband into a Soca junkie like me! I've lost track of the days and don't want to leave!" Babin disclosed.
In Georgetown, Babin's favourite experience was snapping a picture of the De Abreu house and St Stanislaus College, where her husband helped recreate her grandfather's class picture on the steps. For Saab, his favourite experience so far has been the Kes concert, which was full of dancing and fun, in addition to touring the John Fernandes companies.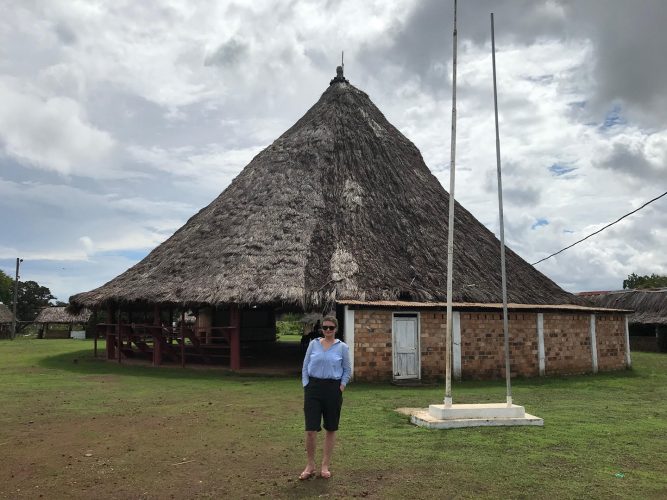 Apart from that, Babin related that their visit to the interior regions of Guyana was "an unforgettable experience", especially their short stay at the Iwokrama Lodge, which proved to be more than an incredible experience. "The wildlife, the beauty of nature, the trees, the rainforest, the people were all incredible," Babin revealed.
She added that during the trip to Annai, they visited the Bina Hill School, where they were humbled by the school's presentations on environmental protection. The couple also visited Kaieteur Falls, which Babin described as beautiful.
In relation to the people, she described them as, "kind, warm, helpful, hospitable and so funny too! This goes for everyone we met." The couple is especially thankful to Joan Amo and Christopher Fernandes, for their generous and warm hospitality.
Although they have tasted a lot of delicious foods during their stay, Babin stated that curry remains the couple's favourite dish.
They are still looking forward to visiting Bartica  and Arrowpoint Nature Resort and participating in more Carnival activities before departing the country.
Babin then disclosed that before coming to Guyana, she was constantly warned about the crime rate in the city, especially when she was on her way to Guyana from Trinidad. She went on to comment how unfortunate it was that Guyana is being branded as a very dangerous place, especially for tourists. "I understand there are precautions to take when traveling but luckily so far, I've only experienced warmth, kindness, hospitality and welcome from the community here," Babin commented. Furthermore, she said that due to a lot of emphasis on crime prior to arrival, she was surprised to have not encountered any negative experiences.
Other than that, Guyana was everything she expected, especially concerning Soca, Dancehall and Reggae music, which according to Babin, played everywhere they went, even in places "as remote as Annai."
Upon returning to her country, Babin plans to give good feedback about the country to her family and friends, in hopes that it will inspire them to visit Guyana. The next time she visits, she will be sure to bring along her mother and sisters, she said.
"Many Guyanese abroad love and miss their country, and do their best to remain connected and stay informed about the country's state of affairs. Guyanese culture is very much alive in other parts of the world, including Canada. The Guyanese humour, the belly laughs, the food and a variety of Caribbean music was always present in my life growing up," she noted. (Laurel Sutherland)