Underscoring the importance of "fact checking" before publishing, President David Granger yesterday urged the local press corps to be vigilant and verify information they receive before making it public since misinformation carries the propensity for severe repercussions, even if it is later corrected.
"You must be accurate…fact check," Granger said, in an address at his annual media brunch, which was held on January 06, 2019 at State House.     
It was his first public meeting with the local press corps since he was diagnosed and began treatment for Non-Hodgkin Lymphoma two months ago. And while his cheeks seemed darker in appearance and his head shorn, the president displayed more vigour compared to how he appeared for most of last year. His sense of humour was evident throughout his address, which he gave standing, and at one point, he fondly remarked that he would be meeting the press again next year at the brunch.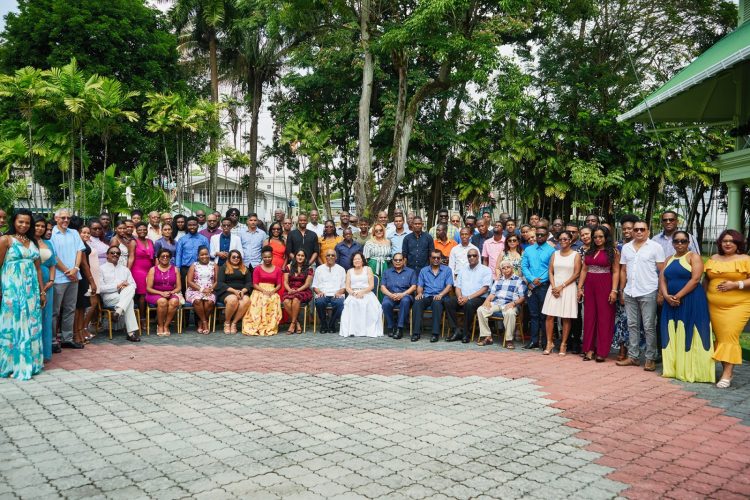 Using his own illness as a reference, the President thanked the press for its reportage of the sensitive matter and said that he has been open about his health since he was diagnosed. "I was very heartened by the tenderness and sensitive handling of the information," Granger said.
He informed that he could not have given a report sooner because he was not aware of his illness and Cuban medical personnel would not give a speculative prognosis. "The medical authorities in Cuba insisted on not telling me what disease (it) was until they had concluded the biopsy and had evidence of what it is. Once the announcement was made, I think everybody became an instant expert on Non-Hodgkin lymphoma and that is the way it should be," he said.
And while he did not name him, Granger made reference to the late Barbadian Prime Minister David Thompson, who died in 2010 from pancreatic cancer aged 48, and who had not informed the nation of his condition until he had mere days left to live.
"I am not blaming him or Barbadians, but I try to be open with the media to let them know when I leave the country and when I come back.  I would like to thank you. Things could have gotten worse. Some people made some exaggerated reports about my demise but here I am. Thanks for the good wishes and prayers I received," he said.
President Granger spoke of the pillars of good journalism stressing that truth and accuracy, fairness, accountability and humanity must be taken seriously by all entering the profession.
And at a time when there is controversy over the successful no-confidence motion against his government which could see elections this year, the President highlighted the importance of fact checking information and the media's responsibility to the public.
"You must be accurate. Bert (Wilkinson) and I had the opportunity to study at the University of Maryland's college of journalism. In that journalism review office, there was a panel of post grads doing fact checking. If you hear that professor Thomas from the University of Kent was getting $4 million a month, you would have to check if it is true before you publish it. You don't publish and then beg pardon. So fact checking and accuracy is an important element in your social responsibility and I would ask that, especially this year, editors employ persons to check facts before reckless statements could be made which can be harmful to individuals and the public at large," he said.
He also pointed to the importance of reporting on ethnic matters in this country.
"Guyana's ethnic relations can sometimes be very volatile. When we speak of social cohesion, we speak of various ethnic groups' ability to respect one another and to trust one another. That is why I feel the element of public trust. When somebody reads something in the newspaper, it has been checked. Did X appoint the Vice Chancellor of Guyana? No, the University of Guyana has its own procedures…somebody has to check. When you publish an article claiming five, ten, 15 persons are of one ethnic group or some are being discriminated against, this can be very harmful for social cohesion," he said.
"When we look for tendentious arguments claiming that there is some hidden hand appointing people from only one group or another group, a good journalist would do their  research and ensure the article which comes out is accurate and truthful and doesn't cause harm," he emphasised.
"You are free to make some remarks but not free to go… and shout fire in a cinema and trample people to death. I think sometimes, reckless journalists shout fire unnecessarily," he said.
The president added that his government will support the Guyana Press Association (GPA) in helping to edify its members on good journalism
"During the (Neil) Marks' regime I had promised money for training…training of the press association. I'm committed to providing assistance to help you publish the history of your press association and I am also committed to assisting in strengthening one of the four pillars of journalism and the first is schooling. I think we all know that we would not go into a plane if the pilot hasn't been trained and we wouldn't go into surgery if the doctor hasn't been trained.  And people handling public information must be trained. I have always insisted that journalists must receive education in journalism. The money is available. I hope (current GPA President) Nazima (Raghubir) picks it up…I would like to feel that everyone entering the profession of journalism is given some education, schooling on journalism," he said.