The scramble for Africa has moved on, but Britain hasn't
Theresa May danced across the continent – but the UK needs to stop arrogantly assuming Africa will fill the Brexit trade gap
While the British media dined out on Theresa May's Africa trip last week, Africans are still reeling from the reporting. Sky News captioned Uhuru Kenyatta as "president of Africa", while the BBC gave the title he should have had, "president of Kenya", to his rival, Raila Odinga.      
There are a million metaphors in Britons declaring an African superstate based in Kenya – who knew our broadcasters were such pan-Africanists? – and declaring an Odinga coup. But the reality is that there is widespread cluelessness in Britain about the political and economic situation across the continent today, and it shows.
****************
China defends plans to spend $60bn in Africa over three years
Beijing's investments in the developing world are coming under increasing scrutiny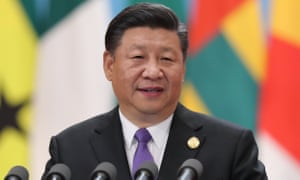 Chinese officials have been forced to defend plans to spend as much as $60bn (£46.8bn) in investment, aid and loans in Africa over the next three years, after accusations the plan could saddle developing nations with too much debt.
The Chinese president, Xi Jinping, announced the figure in Beijing at the Forum on China-Africa Cooperation, which is held every three years. In a break with a trend in which the amount increased at each meeting, this is the same sum as was pledged at the last summit in South Africa.    
While the details of the spending remain vague, Xi outlined a few specific areas such as emergency food aid, agricultural development, scholarships and vocational training programmes. He said the figure would include $20bn in credit lines, $15bn in grants, interest-free loans and concessional loans, and $10bn for "development financing". There was no information on which countries would receive the bulk of the investments, and Xi also said private companies would be encouraged to invest $10bn on the continent.
"China does not interfere in Africa's internal affairs and does not impose its own will on Africa," he said. "What we value is the sharing of development experience and the support we can offer to Africa's national rejuvenation and prosperity."
Continuing to defend China's plans on the continent, Xu Jinghu, the special envoy for Africa, said: "It's senseless and baseless to shift the blame on to China for debt problems".
China would conduct studies to avoid causing debt problems as it rolled out Xi's plan, she added. "These projects will take into account their development prospects so as to help African countries achieve sustainable development and avoid debt or financial problems."
But in a recent editorial, Grant Harris, a former top adviser on US policy in Africa, accused China of creating a "carefully laid debt trap".
"Chinese debt has become the methamphetamines of infrastructure finance: highly addictive, readily available, and with long-term negative effects that far outweigh any temporary high," he wrote.
The Malaysian prime minister, Mahathir Mohamad, voiced similar concerns during a visit to Beijing last month, and has cancelled more than $20bn in planned Chinese infrastructure projects.
"We do not want a situation where there is a new version of colonialism happening because poor countries are unable to compete with rich countries," he said.
In the lead up to the opening of the China-Africa forum, Xi spent the day welcoming African leaders, including the Sudanese president, Omar al-Bashir, who is wanted by the international criminal court for crimes against humanity.
And in a sign that China is unlikely to listen to criticism over its financing plans, the official news agency, Xinhua, said: "African lions are surging forward, China's development is unstoppable."