For decades it has been synonymous with timeless chic – but now joyful, attention-grabbing colours are pushing it out of the wardrobe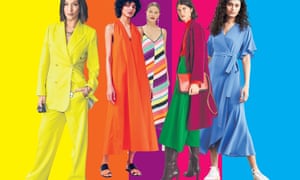 New Yorkers do it. Parisians do it. Fashion types, Swedes and architects do it. In fact, name any stylish tribe and you'll find that they do it. Wear black, that is – a colour that has come to signify so much: rigour, elegance, sex appeal, piety, formality, slenderness, even wickedness.                 
Recently, however, black's supposedly timeless status as the go-to hue for the chic has been thrown into the shade. And maybe that is no bad thing.