---
The Barbados Labour Party (BLP) will form the next government, led by its first female prime minister, and based on unofficial results, it will do so without any official opposition.
Counting continued into the early hours of this morning, but Democratic Labour Party (DLP) leader Freundel Stuart conceded defeat and the BLP's Roebuck Street headquarters erupted in celebration as prime minister-designate Mia Mottley, the island's first female leader, delivered her victory speech just before 4 a.m.     
While the 52-year-old Mottley acknowledged there would be celebration, she said it was not a time to gloat but to unite the country to take it forward, and she reiterated her commitment to keeping the BLP's campaign promises.
Pointing out that today was pay day, she told jubilant supporters that she wanted to give Barbadians a "thanksgiving celebration" this weekend.
She announced that all schools would be closed today, and that with the exception of supermarkets and banks, she had advised businesses to close at 1 p.m.
Mottley said a Cabinet will be appointed by Monday.
_________________________________________
Barbados elects Mia Mottley as first woman PM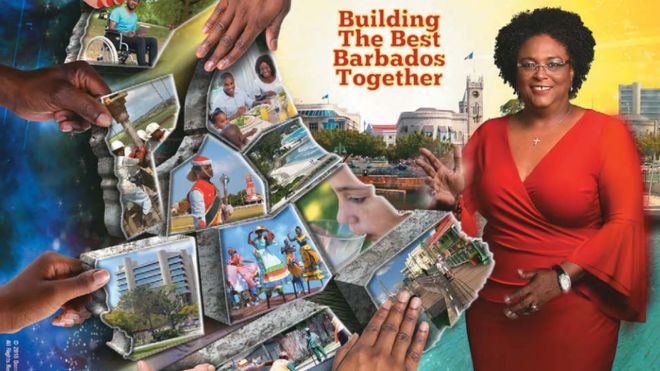 The Caribbean island of Barbados has elected its first woman prime minister since gaining independence from Britain in 1966.
Mia Mottley led her Barbados Labour Party (BLP) to a crushing victory over the Democratic Labour Party (DLP).
Ms Mottley, a 52-year-old lawyer, is reported to have once told a teacher at her secondary school that she would become the country's first female PM.
The BLP won all 30 seats up for grabs in the House of Assembly.
MORE ON WIKIPEDIA: MIA MOTTLEY: https://en.wikipedia.org/wiki/Mia_Mottley