Entrepreneurship on Robb Street yesteryear
This Nostalgia seeks to record the enterprises on Robb Street in the old days, and pays tribute to the Mom and Pop's businesses, when Georgetown was a thriving, flourishing business community. Now don't get me wrong, business is still flourishing, but yesteryear there was no VAT, no street vendors blocking up the pavements, no styrofoam plastic containers choking the drains and no minibuses crowding the thoroughfares.
It would be easy to take you on a wandering trip along Robb Street from Water Street to New Garden, but grouping the genres of businesses located there, would be more interesting and relevant.
For entertainment there was the Metropole Cinema which opened on Robb Street around 1935 with the Merry Widow and was destroyed by fire September 7, 2004.    
It was the Xanadu of the Georgetown cinemas and became our supreme movie palace from the late '50s under the dynamic ownership of Robert Sookraj. He introduced the 'power doubles,' featuring a new double every day in February 1960, and was often sold out every weekend. Sookraj finally owned 16 cinemas in Guyana, 9 in Trinidad, and 11 in California. A shining example of Guyana enterprise by someone with outstanding business acumen although he had only a third standard education.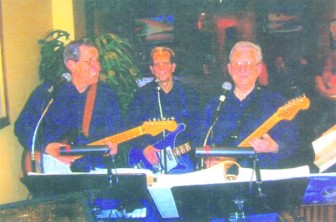 Off-screen entertainment in the shadows of the Metropole included the charisma of Barney Johnson, the nefarious exploits of Bruk-up, the talent of sign artist Fenty, doorman Trenton controlling the pit entrance, and the vendors – the menacing Reggie, the polished bass with his yankee-twang, and Garamy.

Tin Pan Alley
Robb Street was our local Tin Pan Alley. Gems Records was the pioneer of our local recording industry and the 'bridge not far enough' that brought our local artistes to prominence. This stable was a literal who's who of Guyana talent – Billy Moore and the Four Lords – Harry Whittaker and the Jazz Quartet, etc.
Al Seales the founder of Gems and the patriarch of Guyana's music – a visionary long before his time. Even the Mighty Sparrow recorded his first hit, 'Jean and Dinah' at Gems, and Melody recorded there too. Al Seales led one of our top bands, the Washboards, and many of our local bands bought their musical instruments from Gems with easy lay-away terms.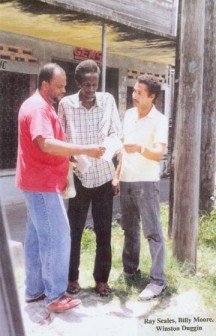 Photo: Ray Seales, Billy Moore and Winston Duggin at the site of Gems in 1995 on the occasion of the passing of Al Seales (Ray's father):
At King Street corner, was ACE Advertisers, another pioneer, Vivian Lee who challenged, and brought many artistes to the airwaves with his radio shows. These included Lord Coffee, King Fighter, Lord Canary, Johnny Braff, Lennox Greaves and Doreen Gravesande.  Vivian Lee took over the laundry premises of his father and converted it into a top advertising agency.
In the late seventies Vic Insanally purchased the agency, which became GuyEnterprise, and up until today the foundation of many of our top local products was established through the marketing programmes of this agency.
I refer to this neighbourhood as our local Tin Pan Alley, as it spawned the best of our musical talent. Calypsonian 32 was a fixture at Robb and Wellington, and Lady Guymine recalls hanging out there with him. This area featured the point where the leaders of brass and wind bands would congregate and wait to be hired for gigs. All things musical, from records, equipment, brass and pan and turntable needles, to a variety of talent were readily available. (Pick pockets, panhandlers, hustlers and later choke-and-rob were also present.)
Cyril Shaw, our foremost entertainment promoter who introduced top international stars like Brook Brenton, Sam Cooke, etc, to Guyana operated from Robb Street.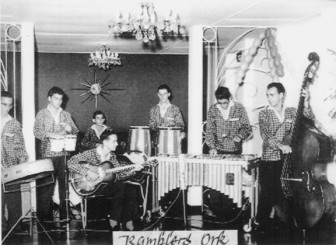 Two popular local pioneering bands started on Robb Street. Two corners eastward at Alexander Street, the three Serrao Bros – Bing, Bernard, and Maurice – in 1951 started playing string instruments and bought their first amplifier from Gems in '53. In addition, the Ramblers String Orchestra debuted, leading the way for the Rhythmaires, Combo Seven, Young Ones, Telstars, and Mischievous Guys to follow. The Ramblers in 2011 is still a popular band in Toronto, Canada. It is Guyana's oldest musical band, surpassing Byron and his Dragonnaires in terms of years.
And a further two corners away going east at Orange Walk, Quo Vadis was our top tramping steel band by 1955, spawning yet another champion group – the Marabuntas under Pemya (Cedric Williams) in the same tenement pan yard. The Jordanites at the street corner opposite cleansed the soul with nightly prayer meetings under carbon lamps. At this south-eastern corner there was an Animal Clinic next to the St Barnabas Manse.
With all that sweet music around, Robb Street was the mecca to ensure good music didn't go to waste. The Dog & Bone, our first Black Light Disco, was opened over Humphrey's Jewellers, while Rendezvous and Guiding Light towards Camp Street were popular dance venues. Green Shrimps, east of Camp was a popular meeting place for creative artistes in the seventies. At Light Street, the Frolic Hall hosted dances for the Masonic Lodges and Friendly Burial Societies. Opposite Dog & Bone adjacent to the Post Office, the Weithers Bros opened the three-storey nightclub, the Chinese Dragon.
********    2018 UPDATE    *******
Guyanese Entertainment Showcase – Featuring The Ramblers, Winston Duggin – Toronto – June 24. 2018
Download: 2018 Guyanese Entertainment Showcase Flyer
Guyanese Entertainment Showcase – The Ramblers, Winston Duggin and others – Nugget Banquet Hall – Toronto – June 24. 2018
********
Here is the iTunes link to:  The Golden Years by Bing Serrão & The Ramblers on Apple Music
www.bingserraoandtheramblers.com
*********  2018 UPDATE END ******
Food and drink
Of course if ya fête, ya got to eat, and Robb St was our oasis. National was the top Chinese restaurant.  For chicken in the rough there was Oasis, whose Lionel Grimes claimed to have introduced the basket serving. There was also Dr Ali Shaw's Farm Fresh, which together with Rendezvous had delicious chicken take out. The Ricebowl, a three storey restaurant next to GuyEnterprise came in the seventies. Today Golden Pond and Golden Island opposite each other at Albert Street, both cook powerful Chinese food.
Cicely Ting-a-Kee catered delicious Oriental cuisine from her home, opposite Farm Fresh,  and provided meals for the Legislative Sittings at the Public Buildings. Today her daughter Marjorie Kirkpatrick continues this service. Below their cottage, Gary Lee carried on his father's business, Littlewoods and Vernons Pools, where each week patrons sought the elusive 8 draws in the English Football League.
Before the banlon years when bread was king, Tang's was tops, while Yhip's at Alexander Street had a good butterflap. Tang's mechanised bread slicer seen through the bay window was a daily attraction, as were their crab backs.  Off Bourda Market Hunte's and Pemya's cook-ups were a supper delight for the city's night owls.
With belly full, we needed a drink, and Robb Street was our fountain. Houston's Blue Label at Camp Street matched Russian Bear Black and XM Royal, while popular rumshops included Hand-In-Hand at High Street and Araujo's Grapevine at Cummings Street. Of course if wine was your preference, Sue-A-Quan's varieties aimed to please. And water coconut was plentiful on Robb Street outside the market.
Nifty's Soda Fountain offered a delicious, unique cocktail shake with a tangerine flavour, while Ma Fraser's Food and Liquor Restaurant, and Van Veld's Parlour with skittle table had a regular clientele. Club Nizam-de-Bam Bam with billiard tables and also CYO were adjacent fun spots. Oscar Jones (OJ) opened Club Seven two doors west of Metropole, which was previously a Chinese restaurant. Oscar later moved to Sheriff Street and offered refreshments including black pudding to foreday morning.
But Robb Street in the bustle of our commercial trade, also figured prominently in our political history. The Jagans bought Claude Vieira's school to establish Freedom House by the late forties and organised the PPP in 1950. It was at the Metropole that the PPP split in 1955, and that corner was the centre of much political agitation at one time or another.
Stores
The huge fire in 2001 which started at A H & L Kissoon, at Robb and Camp Street destroyed several businesses on the southern face of Robb Street east of Wellington Street. Kissoon started in the late forties next to the alley selling Sudena gabardine at $4.95 a yard, then bought out Bernard's Harware at the corner and started their furniture empire.
For electrical supplies there was Semco, Oscar Green, Allan Lee, David Yhann and Milton Pydanny in the seventies. Mohamed's – Little Mo – established a popular electronic and record store west of the Metropole and introduced four channel sound via Sansui. The Sue-A-Quan brothers – Jules, Neville and Garbo – could build any amplifier at their electronic outlet next to Midget.
Hell, nearly forgot bookstores, in which Stan Headley's Midget matched Fogarty's and SPCK for school supplies. There was also Chasberth at Bourda Street and Michael Forde Bookstore at Freedom House.
Schools would be the Bedford Methodist opposite Bourda Market and 'nuff commercial schools off Albert Street, where we waited to offer a drop home to aspiring secretaries.
Rachpaul's drugstore was opposite Farm Fresh; Walker had a laundry service west of Alexander Street, and there was a postal outlet off Albert Street.
The Guyana Marketing Corporation opened an outlet at Alexander Street, and Nigel's Supermarket at Light Street is one of the largest supermarkets in Georgetown today. There are also lots of bicycle, scooter and motorbike outlets east of Orange Walk.
Taxi drops around the city were available from Tower Garage, which challenged Booker's Service with their Morris Minor fleet. John Mohamed, the owner, also introduced a bus service opposite the Georgetown abattoir on Water Street. Carey's Woodworking Establishment opposite Tang's bakery specialised in turning wooden parts for the popular rocking, Queen Anne and Berbice chairs. Clubland next door catered for the youths as did CYO in the next block.
The Guiana Graphic (F A Persick) was printed at Robb and King Streets, and today Stabroek News is west of Camp Street. Percy Armstrong, Forbes Burnham's brother-in-law, had a printery two doors east of Farm Fresh that published the Guiana Times Magazine. Sharma's Channel 6 is at Wellington Street corner today.
Agard's Parlour opposite Metropole was always wall-to-wall full when the first picture ended, and 'nuff trailer shown before the second. Before the milk pasturisation plant, fresh milk was available daily also at the Metropole Corner.
Princess Margaret's Guest House at High and Robb Street which was destroyed by fire, also housed Matt's Record Bar on the bottom floor. Before this tragedy, shopping downtown was a delight with the Christ-mas season's favourites played at Matt's, Ace, Affonso's on King Street and Mohamed's. Christmas morning Al Seales entertained the neighbourhood with melodies from Gems plus open house feed-up for his musician friends.
Before a tourist industry was even contemplated for the 'mudland,' the parlour at the northeastern corner of Robb and King Street offered balata curios, stuffed alligators, Dutch bottles and Amerindian artifacts. The Demerara Balata Co was in full swing then and the balata ornament, 'monkey climbing the coconut tree' was a popular favourite. A huge stuffed 12ft alligator was a visitor attraction. Allya remember the balata pork-knocker at the entrance of the temporary museum on the second floor of the Public Library after the 1945 Bookers Black Friday.
Opposite this parlour, Husquvarna sewing machines were introduced to challenge Singer and Necchi.
My award for MVB – Most Valuable Business contribution – on Robb Street yesteryear would go to Al Seales' Gems, with Tang's, Tower Garage and  Metropole as runners-up.
And eastward at the end of Robb Street was our famous Bourda GCC sward, where many cricket feats were recorded.