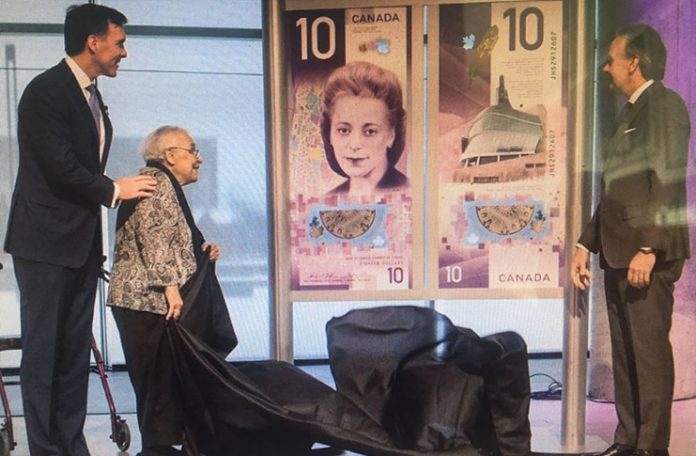 Image of a Black Woman on the new Canadian $10 bill
By Francis Quamina Farrier   
ON INTERNATIONAL Women's Day, another piece of Canada's history was unveiled; jumbo size images of the country's new $10 Bank Note were unveiled in the presence of Canada's Minister of Finance, Hon. Bill Morneau; the Governor of the Bank of Canada, Stephen Poloz; and a distinguished audience. The unveiling was done by Wanda Robson, an African-Canadian and Viola Davis Desmond, the sister of the person whose image graces the new Canadian $10 Bank Note.
You may wonder why I am writing about this (important) milestone which occurred in Canada earlier this month. Let me explain. First, Canada is a country in which tens of thousands of Guyanese reside and who will be handling this new Canadian $10 bill over the coming years. No doubt, that new Canadian currency will also be in the commercial Banks here in Guyana as well, and Guyanese at home will be looking and marvelling at its unique composition.
At the front is the image of Viola Desmond, a Black woman and at the back is the image of the Canadian Museum for Human Rights. In a previous feature article of mine in the Pepperpot Magazine of April 2017, and with the headline, "Introspective Poetry and Powerful Women", three paragraphs revealed the then upcoming release of this new Canadian $10 bill, and the story behind it.
On November 8, 1946, an African-Canadian, Viola Desmond, a beautician and entrepreneur and a woman of means, bought a ticket and entered the "WHITES ONLY" section of a movie theatre in the Provence of Nova Scotia, in Canada. Although there was no official law preventing non-whites from sitting in the "Whites-Only" sections of Canadian cinemas, Viola was dragged from the theatre by police, arrested, charged and thrown into jail where she spent 12 hours. She was charged with tax evasion; the tax on her ticket was proved to be ONE CENT short, and so, through no fault of her own, Viola Desmond was found guilty and fined $20.
Her husband Jack had told her to "let it go" when she expressed her desire to appeal the conviction, but encouraged by members of her church she secured the service of Frederick Bissett, a white lawyer, and the matter went to court. It proved to be very complicated with many twists and turns, but in the end cinemas in Canada changed their unwritten "Whites Only" policy, and Viola Desmond became a Canadian celebrity, much in the same way as Rosa Parks did in the United States of America.
Many years later, the image of Viola Desmond was put on a Postage stamp and at this time, there is a movement to have streets in Montreal and Halifax named after her. In a statement to the citizens of Canada on International Women's Day 2017, Canada's Prime Minister Justin Trudeau announced that the new Canadian $10 bill, which would have the image of Viola Desmond, would be launched on International Woman's Day 2018. True to his word, that took place on March 8, 2018.
In his feature address at the launch ceremony, Canada's Finance Minister said, "Viola is just one of millions of stories from women who've helped shape, build and influence our country." It is noteworthy to mention how that heroic act by Viola Desmond has benefited Guyanese who have made Canada their adopted country. Guyanese of colour can now go to cinemas in Canada with dignity and occupy any available seat of their choice. This is something which should never be taken for granted by those who have benefited, myself included.
At this time in Canada, the movie "BLACK PANTHER", with a strong cast of black characters, including two played by Guyanese, is at the top of the movie Box Office chart, as is the case in neighbouring America and many other countries around the world including Guyana, and Guyanese are as proud as ever that Guyanese are playing major roles in that record-breaking movie. Today, Canada-based Guyanese and those visiting, can sit anywhere in a cinema in Canada and enjoy this powerful, history-making, afro-centric movie.
Unlike the majority of my fellow Guyanese who went to Canada, my first visit to that country which was in 1969, was on a flight from Bermuda to the city of Halifax in Nova Scotia. That is the very city and province where Viola Davis Desmond was born and where she made her heroic mark on Canada's contemporary history.
My first experience of Canadian kindness was as follows: just after my wife and I got off the bus from the Halifax International Airport and were crossing the street to the hotel, a strong wind was making it somewhat difficult for both of us carrying our suitcases. There were no coasters or wheels on suitcases back then, so one had to lift one's luggage. A white gentleman approached us and offered to assist my wife with her suitcase, taking it all the way into the hotel lobby. A great first impression by a Canadian was made way back in 1969.
Since the release of the new $10 bill, I took a survey via email and telephone, with Canada-based Guyanese regarding the image of an African-Canadian being placed on that new $10 bill. Here is a sample from that survey:
Former Bishops' High School student, Dr Joy Agard-Mighty who is based in Ottawa, stated, "I am truly delighted that Viola Desmond's courageous act of defiance against systemic discrimination, has been recognised in this public and enduring fashion."
Toronto-based educator Peter Jailall responded, "I feel Viola deserves that honour".
Former GBC Technical Operator, Lawrence Blackmore, now based in Toronto, expressed the view that, "This gesture was simply inspiring to say the least."
Meanwhile, the former United States First Daughter Chelsea Clinton, who is scheduled to visit Canada later this year, tweeted, "This is beyond lovely."
Decades after her passing, Viola Desmond continues to make history in Canada. At present, a Canadian law firm has invited artists to submit paintings which will be displayed on the exterior of the cinema where Viola Desmond made her legendary stand for civil rights. Plans are also afoot to have streets in Montreal and Halifax bear her name. Canada is moving away from a history of slavery and segregation, to a country in which all men and women are treated with respect and human dignity.
Like Rosa Parks in neighbouring America, who started a movement against non-whites having to sit at the back of the bus, Viola Desmond has, by her brave actions, made life and living that much better for the tens of thousands of Guyanese who have made Canada and America their adopted countries. Bravo to two Women of African Heritage – Rosa Parks of the USA and Viola Desmond of Canada.
Also of note, is that although Canada had slavery of its Indigenous and African peoples for over 200 years, the country's third woman Governor General, the Rt. Hon. Michelle Jean, who was born in Haiti, is of African Heritage. She served in that post from 2005 to 2010. It's been a long and steep climb to the top for black people in Canada, but more and more, like Viola Desmond, have already reached the top of the proverbial ladder.
In closing, it would be appropriate to mention that Viola Desmond is the first singular woman other than Queen Elizabeth ll, featured on a Canadian currency. Also, that some 63 years after her death, a posthumous apology and pardon was officially handed down for her arrest and conviction.