By News Americas Staff Writer
News Americas, NEW YORK, NY, Thurs. May 29, 2014: Many knew her as the poet extraordinaire who gave the world the classic 'Phenomenal Woman.' But few knew the roots that had nurtured that voice stretched to the West Indian island of Trinidad & Tobago.
Yesterday that voice was lost to the world forever, as renown author and poet Dr. Maya Angely67ou, joined the ancestors at the age of 86.
Angelou had been suffering from heart problems in recent years. She passed away at her North Carolina home in Winston-Salem, Angelou's family said in a statement on Wednesday.
Angelou, then Marguerite Johnson, was the second child born to Vivian (Baxter) Johnson, a Trinidadian American nurse, whose father and grandfather had both migrated to the U.S. from Trinidad & Tobago on a banana boat and jumped off in Tampa, Florida.
There her grandfather learned to roll cigars and took care of his family even though he was an undocumented immigrant. He managed to evade immigration agents successfully all his life as Angelou wrote in 'MOM & ME & MOM' and "spoke often and loudly with pride at being an American citizen.   "[Read more]
Also Read: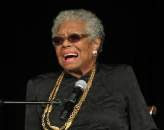 Carimah Townes, News Report: Maya Angelou, the esteemed poet, writer, and actress died 

Wednesday

 in her Winston-Salem home. The literary giant, most known for her autobiography, I Know Why the Caged Bird Sings, and Phenomenal Woman, a collection of poetry, was one of the foremost African-American writers and thinkers of her time.But society often forgets her legacy as a fierce civil rights activist, and someone who did not shy away from political controversy. Here are five facts you should know about Maya Angelou.  [Read more]